The Food Lover's Guide to Mexico City
From taco stands and Corona spots to fine dining and the flashiest cocktail bars, your complete guide to eating in the DF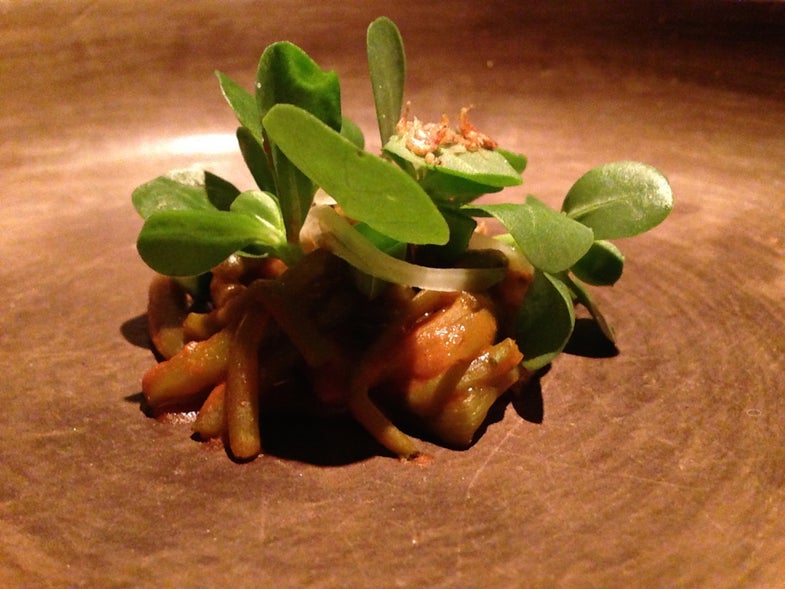 In Mexico City, the Distrito Federal (or simply "DF") of Mexico, food thrives everywhere. You can't walk down the street without inhaling the smell of hand-patted tortillas toasting over wood fires or spying dribbles of salsas around the corner. With over 20 million residents sprawling over enough territory to make Los Angeles look like a small town, Mexico City is frenetic, dizzying, inexhaustible. You could spend a lifetime exploring and not cover half of the city's delights. But here is a guide to get you started from must-visit avant garde cuisine and, of course, the tacos.
One thing to keep in mind in Mexico City is that comida, "food," also refers to lunch, the largest meal of the day, served between 1 and 4 p.m. It's a serious, lengthy event, often lubricated with cerveza and tequila. Those who generally treat dinner as their core meal would do well to restructure their circadian rhythms. Dinner, or cena, is often lighter—mezcal, a tamale or two—and it doesn't happen until 10 p.m. Additionally, it's a good idea to look up hours before venturing out; there is no disappointment like traveling to a far corner of the city only to find out your destination closed at 5 p.m.
Where to Eat
Cantina El Sella
Though everything is good at this cantina, it's the chamorro, a bone-in pork shank braised in its own fat, that you'll find on every table. Meltingly tender meat is flanked by piquant habeñero salsa, minced onion and cilantro, and hot corn tortillas to make your own tacos. Add an order of guacamole, fried parsley, and a barely-set eggy tortilla espanola and while away the hours. Don't miss the flaming ate con queso, either: postage stamp sized pieces of cheese and quince paste doused in Amaretto and set on fire, tableside.
Eje 2A Sur 210 (at Dr. Balmis), Colonia Doctores
(55) 5761 2727
Nicos
Nicos lies outside of the common tourist circuit, and it's where Mexican families dine together on Saturdays and where chefs go on their days off (take note: it's closed Sunday). Service is warm, not stuffy, in a comfortable dining room with a fully stocked mezcal bar. Their nimble kitchen, under the charge of Gerardo Vázquez Lugo, serves traditional but always interesting Mexican food more upscale than street far but more casual than the fancy spots. The menu changes with the seasons, which means mole in December, escamoles (ant eggs sauteed in butter) during specific months, and chiles en nogada at peak walnut season. Don't miss the pan de elote con rompope, a rich corn custard with eggnog sauce.
Nicos
Avenida Cuitláhuac 3102, Colonia Clavería
(55) 5396 7090
El Hidalgense
Only open Friday through Sunday, El Hidalgense serves some of the city's finest barbacoa, trucked in all the way from the neighboring state of Hidalgo where barbacoa reigns. The meat is wrapped in fragrant maguey leaves and steam-roasted over wood fire packed into underground pits. The meat is rendered rich and supple, served with blue corn tortillas, limes, radish, onions, herbs, avocado and three salsas, for DIY tacos. Beyond the braised meat there are lots of classic treats to try—pulque, insect dishes, and the house brand of mezcal.
El Hidalgense
Campeche 155, Colonia Roma
(55) 5564 0538
El Vilsito
By day, El Vilsito is an auto repair shop where mechanics change oil and tinker with loose brakes. By night, it's a bumping taqueria with waiters buzzing around and crowds angling for their attention. It's a pleasure to watch the taqueros handle the huge spits of tacos al pastor, shaving off meat and slivers of pineapple. Besides the al pastor, there's grilled steak, bistocino (steak with bacon and onions), and gringas, flour tortillas clobbered with cheese and pork al pastor, anointed with green salsa from molcajetes big enough to bathe in. Service is faster than a chop shop.
El Vilsito
Petén 248 (at Av. Universidad), Colonia Navarte
(55) 5682 7213
Super Tacos Chupacabra
What started as a popular nighttime taco street cart serving bistec, longaniza, al pastor, and campechano (that's a mix of all three) has now moved to a more permanent brick and mortar location under a highway overpass. In addition to the pitch-perfect tacos, there is a long bar of free condiments to customize your order: pinto beans, grilled onions, sliced nopales (cactus), crumbled potato, slivered onions marinated with habeñero, and more than a few salsas. Pro move: Bring your own spoon to scoop up any meat that threatens to spill out of your taco.
Super Tacos Chupacabra
Av. Mexico-Coyoacan Sn Local 1, Colonia Coyoacan
Pujol
Enrique Olvera's Pujol continues to live up to the mounting hype as, bar none, the most creative, clever, and well-executed take on contemporary high-cuisine Mexican cuisine. If you're going to visit one high-end restaurant in Mexico City, this is it. From the brooding one-year-aged mole madre to mini corn cobs with coffee mayo, peppered with ground chicatana ants to masterful desserts to the tortillas that smell like buttered popcorn, each dish will leave you giddy. At 1,375 pesos (about $80 US), it's still the most affordable fine-dining experience in the Western hemisphere.
Pujol
Francisco Petrarca 254, Colonia Polanco
(55) 5545 4111
Where to Drink
La Mascota
Servers assume that you will be having at least three drinks at La Mascota, which is why they set you with a paper placemat and cutlery when you sit down. Three's the minimum to be plied with botanas—free snacks of the day which often amount to a real meal, maybe chicken consomme followed by beef braised in guajillo sauce or snails in squid ink. Sip tequila chased with sangrita, a shot of spicy sweet tomato juice and watch the staff shift around the heavy wooden tables to accommodate large groups. The jukebox goes all the way to 11.
La Mascota
Mesones 20, Colonia Centro Historico
(55) 5709 7852
Bósforo
On a slim street in Centro, behind a velvet curtain, hides one of the best mezcalerias in town. Great music, a colorful crowd, in a raw, minimalist space with an energy that keep things interesting. Though Oaxaca is known as the spiritual heart of the mezcal movement, there are dozens of other mezcals, from San Luis Potosi, Guerrero, Jalisco, and Puebla to sample. The staff is knowledge and patient and can help steer you towards something you'll like. They are about to open another location next door that will be more focused on food; but of course, there will always mezcal.
Bósforo
Luis Moya 31, Colonia Centro Historico
(55) 5512 1991
Maison Artemisia
The second floor of Maison Artemisia transports you a corner of late 19th century Paris, all dark and cozy with plump chaise lounges, framed photos in golden, leafy frames, and traditional absinthe preparations. The amiable bartenders mix intriguing cocktails from their collection of spirits, rare liqueurs, tinctures, housemade vermouths, and other botanicals. No rum and cokes here.
Maison Artemisia
Tonalá 23, Colonia Roma Norte (55) 6303 2471
Tio Pepe
The stained glass window behind the bar spell out Hennessey in this gracefully aging neighborhood cantina on a corner in Centro's truncated Chinatown. There are no stools at the bar, just a long wooden counter to lean on and chat with shrewd bartenders and regulars. Look for a wooden booth for more privacy. Ice-cold beer plus roving snack men selling toasted, chile-spiced chickpeas make for the perfect casual place to relax and recharge.
Tio Pepe
Independencia 26, Colonia Centro Historico
(55) 5521 9136
Felina
A dimly lit cocktail bar on a desolate corner of Condesa recently renovated to accommodate more customers. Climb inside of the bungalow and perch on a long, low banquette that runs along the wall paired with clusters of petite chairs. The intimate bar serves perfect renditions of classic cocktails and inventive new ones using a wide array of herbs, fruits, and spirits by a rotating cast of bartenders.
Felina
Celle Ometusco 87, Colonia Condesa (55) 5277 1917
Pulqueria Las Duelistas
You can smell the tang of fermented agave juice, pulque, out in front of this Centro pulqueria. Push past the swinging double doors into a delightful frenzy of young pulque fans, punks, and locals sipping mugs of the viscous, opaque liquid. You can drink it straight or as a curado, pulque blended with fruit or vegetables in flavors like guava, mango, oat, or celery. If you don't care for pulque on first sip, don't worry, it's an acquired taste—tart, slightly effervescent, and vaguely probiotic, almost like a Mexican kombucha. It's essential liquid history of the DF—the tipple of choice before the beer-brewing industry arrived.
Pulqueria Las Duelistas
Aranda 28, Colonia Centro Historico
55 1394 0958
Where to Stay
The Red Tree House
The Red Tree House lies on a quiet residential street, insulated from the buzzier avenues of Condesa, yet a mere two blocks from the lush Parque Mexico, where fashionistas walk their well-groomed pooches. It's not aiming for five stars or hipster boutique status, just genuine warmth and hospitality with serene rooms, including some with attached gardens. The hotel can be a bit hard to find, so look for the red lights dangling from the trees to guide you home.
The Red Tree House
Culiacan 6, Colonia Condesa
52 (55) 5584-3829
Carlota
This is the hottest, hippest hotel in town. Newly opened in Colonia Cuauhtémoc, Carlota is all poured concrete, dynamic Mexican design, industrial chic with neon touches. On the bottom floor there is a lifestyle boutique, a restaurant, a bar, and a skinny, rectangular swimming pool. The roster of 36 rooms includes four suites (two with terraces), and the hotel is pet-friendly.
Carlota
Río Amazonas 73, Colonia Cuauhtémoc
52 (55) 5511 63
El Patio 77 An incredible 19th century mansion on a corner of San Rafael, a tranquil, neighborhood north of the trendy Condesa/Roma axis, renovated in 2009. Each of the eight rooms of this B & B is decorated differently and offers eco-friendly touches, such as solar power panels on the roof and a plant-shaded courtyard. It's an excellent option if you've stayed in Condesa/Roma before and want to see other, equally beautiful neighborhoods.
El Patio 77
Joaquin Garcia Icazbalceta 77, Colonia San Rafael
52 (55) 5592 8452
Las Alcobas
Plush settings in upscale Polanco. Las Alcobas is a boutique hotel off the main strip. A cucumber mint agua fresca is ushered with your baggage to your room, where handmade soaps and a deep whirlpool bath awaits. There's a small gym on the premises, morning coffee service, and two good restaurants on the ground floor: Anatol and Dulce Patria.
Las Alcobas
Masaryk 390, Colonia Polanco
52 (55) 3300 3900
Condesa DF
Housed in a 1928 French Neoclassical building on an angular corner, Condesa DF is first and foremost a hotel, but often seems like a clubhouse for posh scenesters. There are swanky turquoise and white rooms, with mid-century modern furniture and a central patio for good measure. Don't miss the rooftop bar with great views and loungey sofas. There's always a cluster of young, urban, socialites at the door, looking to party.
Condesa DF
Avenida Veracruz 120, Colonia Condesa 52 (55) 5282 2199
What to Do
WATCH: The Floating Gardens of Xochimilco
Xochimilco
The floating gardens, or chinampas, of Xochimilco are where you can catch a glimpse of the grounds on which the ancient city of Tenochtitlan were built. They're narrow waterways with dense patchworks of land constructed on top, like a vegetal version of Venice's canals. You can hire the brightly painted trajineras, flat-bottomed boats, to float through the canals pushed by youngsters with bulging biceps. Vendors in canoes ride buy selling tamales, elotes, beer, and even full mariachi bands, that will sell you a song.
Eat Mexico Culinary Tours
Cookbook author Lesley Tellez's culinary tours are deliberately small—never more than six people–to keep as little as possible between you and some of the city's best street food. Get ready to dive deep into the scrum of markets and busy taco corridors for a taste of the city that guide books often ignore. There's a variety of tours to choose from with different highlights, including a custom culinary tour that can be designed with specific interests and/or diet restrictions in mind.
Mercado de San Juan
Every market in Mexico City has its perks; Mercado de San Juan is all about diversity. There are vendors that specialize in fruits, vegetables, dairy, mushrooms, grains, dried chiles, seafood, and exotic meats like scorpion, deer, and iguanas. At some of the fresh fish stands you can order a plate of bite-sized, freshly sliced tuna loin, sprinkled with salt, lime, and soy, with toothpicks to eat while browsing.
Mercado de San Juan Ernesto Pugibet (between José María Marroquí and Luis Moya)
Arena Mexico
Is a visit to Mexico complete without watching grown men don masks and capes, climb into a ring, and start fighting? Arena Mexico in the Doctores neighborhood features weekly lucha libre matches of masked Mexican wrestling in all of its bawdy, screeching glory. The people screaming the loudest are often tiny little grandmas. Keep an eye out for micheladas, popcorn, and hot dogs too.
Arena Mexico
Calle Dr. Lavista #189, Cuauhtémoc, Doctores, Ciudad de México, D.F.
01 55 5588 0508
Scarlett Lindeman is a writer who splits her time between Mexico City and Brooklyn. She is the recipe editor for Diner Journal and is currently working on her PhD dissertation about Mexican restaurants in NYC. Follow her on Twitter.