Eat, Drink, and Party Like a New Orleans Local
Go beyond the tourist mainstays with our guide for a real taste of this utterly unique food city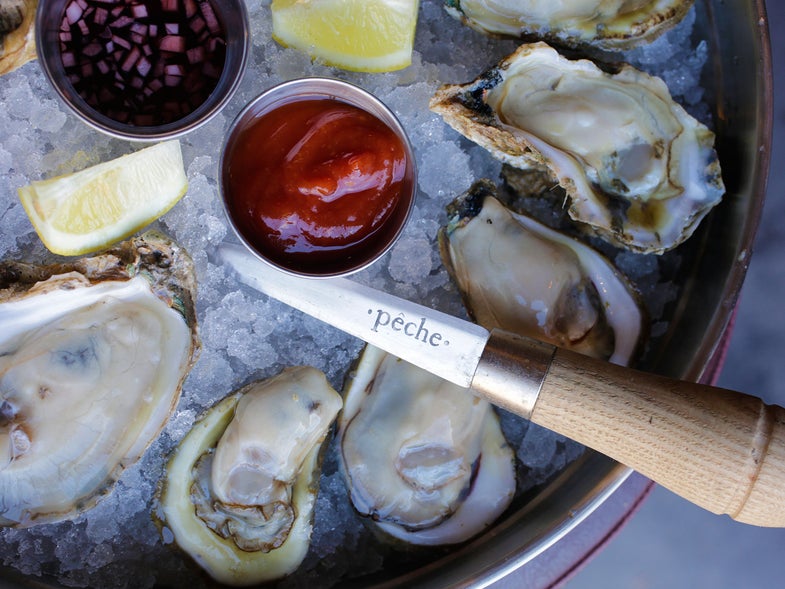 New Orleans, sometimes called "The City That Care Forgot," is luckily not a city where people forget to eat. Nope. Ours is a city where food is woven into every fiber of daily life. Whether it's a weekend crawfish boil, a pot of red beans simmering on Monday, or fresh-from-the-fryer beignets, this city lives and breathes food.
And it's a food culture that contains multitudes. Sitting on the banks of the Mississippi, the lively port town was founded by the French in 1718, ruled by the Spanish for 40 years, passed back to the French, and ultimately purchased by the U.S. in 1803. The Crescent City experienced plenty of Caribbean island vibes along the way, not to mention an influx of Vietnamese after the fall of Saigon in 1975. It's a well-seasoned gumbo of a city, with a long history of equal opportunity when it comes to good food.
Plenty of guides will tell you to hit up popular spots like Cafe du Monde and Commander's Palace—and you probably should—but there's a lot more to New Orleans than the touristy spots, which is why this list makes room for the burgeoning ranks of newcomers, along with some can't-miss old-school institutions.
Where to Eat
1,000 Figs
There are nearly 1,000 reasons to love 1,000 Figs, the cozy nook of a Mediterranean restaurant near City Park. But the best reason? The falafel feast. Expertly-fried-yet-pillowy-light chickpea fritters are plated with flatbread baked in their tiny kitchen, creamy hummus, crisp slaw, a melange of quick-pickled veggies (including local okra), and the wildly delicious dipping sauce schug. And for the latest in interactive dining, the drawers at each custom-built table open up to reveal your menus, napkins, and silverware.
1,000 Figs
3141 Ponce De Leon St #1, New Orleans, LA 70119
(504) 301-0848
Bevi Seafood
A trip to New Orleans wouldn't be complete without a po' boy, right? There are plenty of solid ones in town, but a new favorite on the scene is Bevi. They do all the divey po' boy classics—fried oyster, fried shrimp, roast beef—not to mention a crazy mash-up creation called "The Peacemaker," where plump, fried Louisiana shrimp meld with melty Swiss and juicy bits of roast beef debris in a surf-and-turf-meets-grilled-cheese. Bevi's original location out in Metarie is a convenient pre-airport stop, but they've recently opened a new location in Mid-City. Not just a sandwich shop, Bevi is also your best bet for expertly boiled crawfish (when in season), shrimp, crab, and raw (or fried) oysters.
Bevi Seafood
4701 Airline Dr, Metairie, LA 70001
(504) 885-5003
Willie Mae's Scotch House
Have you really eaten fried chicken if you haven't eaten Willie Mae's fried chicken? Debatable. This neighborhood fixture in the Treme was salvaged after Katrina thanks to the herculean efforts of the Southern Foodways Alliance and dozens of volunteers. Be prepared to wait outside for a table to open up, but it's all worth it once that chicken—this is what fried chicken dreams are made of—comes right out of the fryer and onto your table. The crackly dark brown crust is perfectly spiced with just a hint of heat, and the meat inside is unbelievably juicy. (We raise our drumsticks to Willie Mae Seaton, who ran the restaurant for decades and recently passed away at the age of 99.)
Willie Mae's Scotch House
2401 St Ann St, New Orleans, LA 70119
(504) 822-9503
Cochon Butcher
Right next door to its older sibling restaurant Cochon, this butcher shop-cum-bar has an awesome sandwich menu featuring meats cured in-house. Their muffaletta is a cheffy version of the classic New Orleans sandwich, first made at the old-school Central Grocery in the French Quarter (also worth checking out if you have the stomach space). Cold cuts like genoa salami, mortadella, and capicola are layered on a toasted sesame bun with olive salad to add that all-important briny tang. But Butcher goes beyond the classic sandwiches with its divine bacon melt, Moroccan lamb sandwich, and "Le Pig Mac," which encompasses two pork patties, special sauce, lettuce, cheese, pickles and onion (wowzers is right).
Cochon Butcher
930 Tchoupitoulas St, New Orleans, LA 70130
(504) 588-7675
Peche
Raw or roasted, grilled or fried—this is where locals flock for the freshest seafood in town. Another landmark restaurant from local chef-celeb Donald Link, it's equal parts simple and spruced-up. Grab a seat at the raw bar if you're in the mood for Gulf oysters, or sit a table and experience the whole fish, cooked on the wood-burning grill in the back (you'll smell it from your table). The rotating catch of the day is served whole—with eyeballs, gills, and all—so dig your fork in there (don't be shy) and pull back the crisp skin to uncover flaky morsels of meat.
Peche
800 Magazine St, New Orleans, LA 70130
(504) 522-1744
Coquette
Coquette's short, straightforward menu will make you think, "oh sure, this'll be good," but what comes out of chef Michael Stoltzfus and his partner Lillian Hubbard's kitchen is nothing short of mind-imploding. From crabcakes to cochon de lait to chocolate beignets, the duo is all about cooking New Orleans classics with refined execution while respecting the local seasons (even the flowers on the tables are Louisiana-grown arrangements). No matter what you order from the seasonally-rotating menu—and don't skip dessert, just don't—you'll start the meal off with the best table bread in the city; the kind that makes you nostalgic for free table bread, at least when it's this good.
Coquette
2800 Magazine St, New Orleans, LA 70115
(504) 265-0421
Willa Jean
Kelly Fields and Lisa White, chef-partners with John Besh, are two brilliant bakers. Their sticky buns will haunt your dreams, and their homemade Ritz crackers with pimento cheese will put the biggest grin on your face. Located in the Central Business District, it's not uncommon to see a table of suits power-lunching at this three-meals-daily-serving hangout, but the overall vibe couldn't be more down-home and welcoming, with a display of chocolate chip cookies and biscuits beckoning you at the front door.
Willa Jean
611 O'Keefe Ave, New Orleans, LA 70113
(504) 509-7334
Cafe Reconcile
This non-profit restaurant has a menu with a mission. Serving up hearty-portioned food—hello there, fried catfish with creamy crawfish sauce—Cafe Reconcile's menu is prepared by young adults from nearby at-risk communities. Alums of the program come back to help train current students. It's not just a stick-to-your-ribs soul food joint at its most beguilingly straightforward; it's also a window into the changing character of the Oretha Castle Haley corridor of the Central City neighborhood.
Cafe Reconcile
1631 Oretha Castle Haley Blvd, New Orleans, LA 70113
(504) 568-1157
Where to Drink
Bacchanal Wine
"Dreamy" is a pretty overused term these days, but it's particularly apt in the case of this wine shop/backyard garden restaurant. Walk inside to find open-it-yourself fridges stocked with wine and cheese—grab whatever looks good and they'll pop open the bottle, plop it in a bucket of ice, and plate your cheese with bread to enjoy in the back courtyard. Sit under the swaying crepe myrtle trees strewn with twinkle lights and listen to live music flowing nightly (cough, Monday nights with cellist Helen Gillet are sublime). This is one of those places that convinces you—myself included—to move to New Orleans someday.
Bacchanal Wine
600 Poland Avenue, New Orleans, LA 70117
(504) 948-9111
Barrel Proof
From the folks of Sylvain (another restaurant worth checking out—New Orleans just has too many), this bar is all about whiskey and beer. Page through the binder menu for an extensive array of picks from around the globe including Ireland, Scotland, Japan, and of course the South. Geek out to their selection or go with a $5 "boilermaker," AKA a shot of Old Grand-Dad whiskey and a glass of Schlitz beer—all while a taxidermy bobcat makes eyes at you from across the dimly lit room.
Barrel Proof
1201 Magazine St, New Orleans, LA 70130
(504) 299-1888
Solo Espresso
This closet-sized coffee shop is a destination for "serious coffee people." Every espresso drink is expertly made, right down to the artfully crafted foam design. Take a hint from the chilled-out shopdog Shinobi and grab a chair to leisurely sip your coffee. If you're in the mood for a sweet treat, check the pastry case for Port City Pantry's cookies baked with local ingredients like Louisiana pecans, cane sugar, and Acalli cacao nibs.
Solo Espresso
1301 Poland Ave, New Orleans, LA 70117
(504) 408-1377
Cane & Table
Tucked in the heart of the French Quarter, this best-kept-secret-feeling spot is an oasis in a sea of tourist traps. The bar focuses on Tiki-themed drinks like the Boss Colada (Baska Snäps with fresh pineapple and lime juice) and the Flu Cocktail (rye with ginger and Jamaican rum). Soak it all up with peas and rice with andouille sausage or ribs lacquered in a rum-spiked sauce with a side of papaya chutney. If the scene inside is too noisy, escape to the back patio for your own private Caribbean jungle.
Cane & Table
1113 Decatur St, New Orleans, LA 70116
(504) 581-1112
Where to Stay
Old No. 77 Hotel & Chandlery
Just a few blocks from the Quarter, this new boutique hotel is an exposed brick showcase with an Ace-esque vibe (also worth noting: The Ace Hotel is slated to open in 2016). From its mid-century modern dressers to funky art and graphic-design-accented laundry bags, every detail has been carefully considered in this stylish yet comfortable hotel. The lobby also gets points for its coffee bar and destination-worthy restaurant Compere Lapin.
Old No. 77 Hotel & Chandlery
535 Tchoupitoulas St, New Orleans, LA 70130
(504) 527-5271
Audubon Cottages
If you're questing for something quainter than the typical hotel, escape to the Audubon Cottages, just a block away from the Bourbon Street noise. The seven suite-sized cottages (both one and two-bedroom available) sit amidst lushly landscaped courtyards and a salt-water pool with top-notch butler service. It's like your own little private sanctuary—and the free breakfasts don't hurt either.
Audubon Cottages
509 Dauphine St, New Orleans, LA 70112
(504) 586-1516
What to Do
Vietnamese Market in New Orleans East
There's a sizable Vietnamese population concentrated in a one-mile radius of New Orleans East. In fact, the sub-tropical climates and water-adjacent land isn't too dissimilar from Vietnam. Wake up early on a Saturday morning (like 6 a.m.-early) to experience this community's farmers market in a strip mall parking lot. Grandma-aged women wearing conical bamboo hats shop for starfruit, pomelos, lemongrass, and banana leaf-wrapped pockets of glutinous rice. For some post-market sustenance, swing by Dong Phuong Bakery for a $3.25 banh mi on crusty French bread piled high with pickled veggies.
Vietnamese Market in New Orleans East
14401 Alcee Fortier Blvd, New Orleans East
Hollygrove Farm & Market
This urban farm has an indoors farmers' market open all week long. Shop for fresh veggies, fruits, and herbs grown right outside in addition to local dairy, meats, and more produce sourced from local farms around the city and all over Louisiana. Hollygrove's popular $25 box is like a CSA without the commitment—the rotating fruit & veggie roulette always comes with a few fun surprises (like heirloom eggplant and shishito peppers).
Hollygrove Farm & Market
8301 Olive St, New Orleans, LA 70118
(504) 483-7037
Southern Food and Beverage Museum
An entire museum dedicated to the history of all things edible and potable in the South? Why yes! It's not Smithsonian-sized, but they cram a decent amount of memorabilia into this Central City museum, including the original charred foundation of Ole Miss's The Shed BBQ shack. On Mondays, the museum hosts a lunchtime cooking demo with a focus on southern recipes. If the visit leaves you hungry (or thirsty), slide next door to the museum's restaurant, Purloo, for lowcountry fare with an open kitchen and antique bar.
Southern Food and Beverage Museum
1504 Oretha Castle Haley Blvd, New Orleans, LA 70113
(504) 569-0405
Mosquito Supper Club
This Cajun supper club wants you to feel like you're eating a family-style meal at your long-lost southern grandmother's bayou bungalow. Their marsh-to-table menus celebrate local shrimpers, crabbers, and farmers with heaping platters of stuffed crab and big pots of gumbo. Check the calendar for upcoming suppers, typically hosted in their French Quarter space on Thursday nights.
Mosquito Supper Club
810 North Rampart Street, New Orleans, LA 70116
Coutelier Nola
Since buying a whatever-ole knife just doesn't cut it (ha), Coutelier Nola—opened by a former chef—specializes in artfully crafted Japanese knives. From Togiharu to Takeda, this shop is a knife nerd's paradise. Bring your blunt slicer in to get wet-stone sharpened or take a class in knife skills. They also stock handmade spoons, cutting boards, aprons, and other fun kitchen tools.
Coutelier Nola
8239 Oak Street (at Dante), New Orleans, LA 70118
(504) 475-5606
Erin Zimmer is a writer, editor, and put-an-egg-on-it champion. She was previously the managing editor of Serious Eats, the marketing guru of the local food start-up Good Eggs, and is now developing an urban gardening project in the lower ninth ward of New Orleans.