Travel Through These 15 Cities to Eat the Best Tapas in Spain
Take a road trip through Spain with these 15 fantastic tapas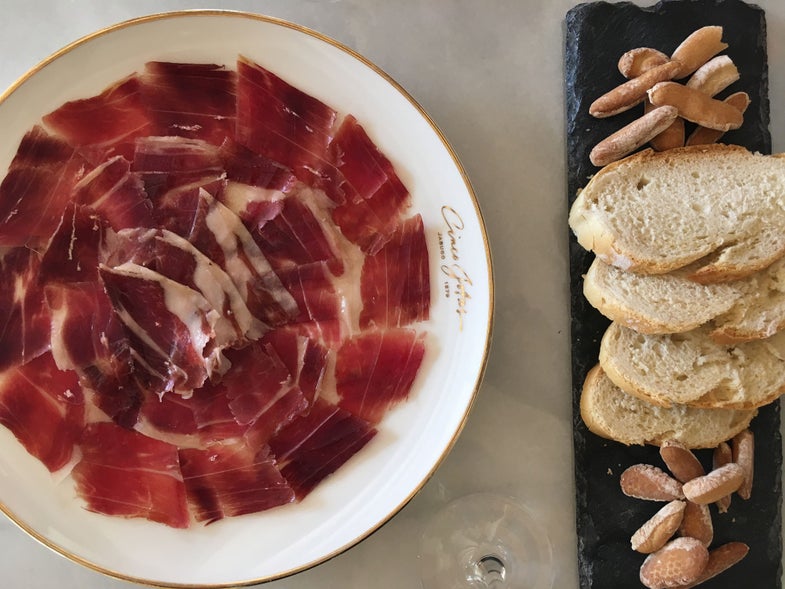 Afew nights ago, I met some friends for dinner at Entre Cáceres y Badajoz, a dusty old taberna in Madrid where black-hoofed hams dangle overhead and olive pits crunch underfoot. When we ordered a round of cañas (local slang for half-pints), they arrived with a surprise: a hefty scoop of steaming paella. ¡Qué aproveche! the bartender said with a wink as he plunged a handful of cocktail forks into the sunny mound. Like magic, with every ensuing drink came another mouth-watering new dish: There were potatoes dusted with smoked paprika, fried squid a la romana, mussels in vinaigrette, and weighty slabs of tuna-filled empanada. When we finally wobbled back out onto the street, we'd eaten the equivalent of a meal for the paltry price of the beers we drank. Such is the miracle of the tapeo. The origins of the tapa are murky, but legend has it that the term was coined by Alfonso XIII on a junket to Andalusia. When the king stopped in Cádiz at a bar called El Ventorrillo del Chato (still open today) for a glass of sherry, a clever waiter draped the rim with a slice of ham to keep bugs and grit out of the wine. The combination pleased the king so much that he ordered another glass "con tapa"—with a lid—and, so it goes, the tapa was born.
Of course, the idea that a Spanish head of state invented preprandial snacking is absurd, but the essence of the tapa—as a gratis, unfussy bite washed down by an alcoholic beverage—still resonates across Spain and beyond (a Google search for tapas produces 197 million results). Even as tapas have become unrecognizably cheffy and expensive, greasy spoons like Entre Cáceres y Badajoz remain packed to the gills night after night.
That's because they serve comfort food for free, a winning formula by any standard. For curious eaters traveling around Spain, the best part is that the tapas served at these sorts of abuelo bars reflect each region's terroir. Along the coast, you'll find platefuls of garlicky white anchovies or tender octopus, natural bedfellows of maritime white wines like manzanilla and albrariño, respectively. Head inland, and drinks come with a riot of ruddy cured meats and local cheeses. Though certain tapas are universal (hola, tortilla española), almost every locale has its own delectable specialty worth sidling up to the bar for. Here is a city-by-city guide to fifteen of our favorites.
Patatas bravas, "fierce potatoes" shrouded in a piquant, brick-red sauce, grace tapas bars the country over, but to try the dish in its birthplace, you have to head to the Spanish capital. Since the 1960s, when bravas became popular, rival tabernas have bickered over who makes the best spuds in town—and whether tomato is permissible in the famous paprika-laced sauce.
Where to get them: Docamar, where the bravas are so transcendent that they'll make you understand why the UN included them in The Potato Around the World in 200 Recipes.
Mediterranean summer on a plate, pa amb tomàquet is the dead-simple Catalan invention of hot bread rubbed with garlic and ripe tomatoes and drizzled with olive oil. Josep Lladonosa i Giró, a Barcelona-based chef and food historian, maintains that the dish was created in the early 20th century by railroad workers, who grew tomatoes next to the tracks to moisten the stale bread they carried.
Where to get it: Bodega La Tinaja, a cavernous restaurant in the El Born district whose DIY pa amb tomàquet—components served separately—gives you free rein over how much tomato and garlic to scrape across the crusty bread.
Empanadas are such an integral part of culture in Santiago de Compostela that the flat double-crusted pies are depicted on a 12th-century portico of the city's cathedral. Empanadas from Santiago de Compostela and the surrounding towns of Galicia are far and away the most prized savory pastries in Spain. They're irresistibly flaky thanks to a lard-enriched crust, and the fillings can range from chicken to octopus to cockles, which get their subtle sweetness from sofrito, a slow-cooked slump of onions and bell peppers.
Where to get it: Restaurante María Castaña, a granite-walled taberna in the Casco Antiguo where you'll overhear conversations in Gallego, the local language, while savoring empanadas filled with briny mussels or raisin-studded salt cod.
Cáceres: Migas
Imagine a homemade garlic crouton—crunchy, salty, and heady with olive oil—and now imagine a hundred of them, crushed up and fried with pork belly, chorizo, bell peppers, and smoky paprika. That's how they make migas in Cáceres, the UNESCO-protected medieval city an hour from the Portuguese border. The dish has roots in Roman and Moorish culinary traditions, but it remains popular throughout inland Spain today because it makes use of stale bread that would otherwise be tossed out.
Where to get it: Eustaquio Blanco, whose extra-crisp migas are crowned with a runny fried egg.
The gilda, a culinary ode to the Rita Hayworth character, is the quintessential first tapa on any txikiteo (Basque tapas crawl). A brochette stacked with olives, anchovies, and pickled piperrak (green chiles), it's a bracing mouthful designed to smack around your taste buds and whet your appetite. Swallow the gilda in one bite, in accordance with local tradition, or risk getting an eye-roll from the bartender.
Where to get them: Oliyos, an unpretentious bar in the Old Town whose gildas are unapologetically piquant.
Bound by the Atlantic Ocean on three sides, it's no wonder La Coruña is a seafood lover's paradise. Here, in the snug marisqueiras that line the cobblestone streets of the Old Town, you can happily slurp down dozens of dayboat-fresh critters—like Arcade oysters, langoustines, and goose barnacles—before tucking into the region's star dish, polbo á feira. This is octopus at its finest—boiled until tender, snipped into silver dollars over a bed of potatoes, and sprinkled with olive oil and paprika. Classic fair food (hence the name), polbo is meant to be enjoyed with copious cuncas of bone-dry albariño or ribeiro wine.
Where to get it: El Real, a no-nonsense cervecería on the isthmus between the Old and New Towns.
Logroño, situated in the heart of Rioja, may be best known as a wine town, but it takes its "champis" (mushroom canapés) almost as seriously as its vintages. On a screaming-hot griddle behind the bar, cooks first sear the mushroom caps until they begin to wrinkle and brown, then anoint them with garlic-parsley butter and burrow baby shrimp into the nooks where the stems were. Next, three caps are skewered onto a slice of baguette, and listo, the tapa is served. When you take a bite, the saline shrimp play up the meatiness of the mushrooms, whose juices trickle into the bread along with the residual melted butter. (Call me unsophisticated, but I remember that bite far more vividly than any Rioja wine I tasted.)
Where to get it: Bar Soriano, a family-run hole in the wall that cranks out 8,000 "champis" a week.
"Wrinkly potatoes" might not sound especially thrilling, but when you bite into your first papas arrugadas—salt-roasted baby potatoes dunked in a chile-cumin sauce called mojo picón—you'll be an instant convert. Canarian cuisine straddles Latin American and European traditions, and this dish is no exception with its New World potatoes and Portuguese-style sauce (mojo comes from the Portuguese "molho").
Where to get them: Arcon Tapas, an indoor-outdoor restaurant on Plaza Concejil whose papas come with two types of fresh-made mojo.
On the island of Mallorca, tombet is inescapable—and that's a good thing. Served as a light tapa or sidekick to grilled meats and fish, this late-summer specialty akin to ratatouille combines eggplant, tomatoes, peppers, and potatoes. Yet unlike its French counterpart, which can be gloppy, tombet remains al dente with each vegetable cooked separately.
Where to get it: Es Mutant, a homey restaurant on the outskirts of town yet undiscovered by the tour-bus crowd.
The northerly city of Oviedo is famous for its soul-warming fabadas, or pork-and-bean stews, and hulking cachopos, or fried cheese-and-ham-filled steaks, but when it comes to bar food, chorizo a la sidra—cider-braised sausage—is a (marginally) less soporific bet. Containing just two ingredients, this dish puts the smoky Asturian-style chorizo center stage, though admittedly I've been caught spooning up the reduced cider as if it were soup.
Where to get it: Tierra Astur Gascona, the Asturian equivalent of Eataly.
Chances are you've heard about jamón ibérico de bellota, that melt-in-your-mouth Spanish ham derived from acorn-fed pigs; maybe you've even been lucky enough to try it. But you haven't had the full jamón experience until you've savored it in situ in Salamanca. The dehesas just south of this ancient Castilian city are the ideal habitat for the Iberian hogs who snuffle along the scrubby forest floor rooting for acorns. Top-quality jamón is a standby tapa at bars around town, even if it's far from free.
Where to get it: El Mesón de Gonzalo, whose bartenders carve see-through slices from local Carrasco-brand hams.
Ask a Sevillano where to find the city's best spinach and chickpeas and they'll invariably point you in the direction of El Rinconcillo. It opened in 1670, and today white-clad waiters still chalk tabs on the wooden horseshoe bar. The historic establishment patented the popular dish decades ago, but the cumin-laced recipe is no doubt a holdover from the Moors and Sephardim who once thrived in the Andalusian city.
Where to get it: El Rinconcillo, where you might even bump into Harrison Ford, a newfound fan of this old-school dish.
As a general rule, the farther south you go in Spain, the more likely it is that your seafood will be fried instead of boiled, thanks to millennia-old Sephardic influences and an abundance of olive oil. In the port of Cádiz, arguably the oldest city in Western Europe, there's an entire genre of restaurants called freidurías dedicated to this summery cooking style. Their fryers bubble with diaphanous shrimp fritters, juicy shark nuggets, and thumbnail-sized baby squid. The perfect pairing? A glass of ice-cold manzanilla.
Where to get it: Freiduría Las Flores, especially if you can snag an outdoor table on the Plaza Topete.
Salmorejo is to gazpacho what cream is to milk. A velvety emulsion of tomatoes, garlic, bread, and olive oil, the chilled soup—native to Córdoba and recognizable for its garnish of diced jamón and hard-boiled egg—is featured on nearly every bar menu. Considering the city reached its golden age at the turn of the 11th century (when it was the largest metropolis in the world), this soup is a relatively recent invention as it hinges on tomatoes, an import from the New World.
Where to get it: Taberna Sociedad Plateros de María la Auxiliadora, a Córdoba institution whose salmorejo stands out for its garnish of DOP Los Pedroches jamón.
Spain's answer to beef jerky, cecina is an unsung Castilian delicacy of salt-cured, air-dried beef typical of the province of León. Packing the nuttiness of good jamón and the savory funk of a dry-aged steak, it needs nothing more than a hunk of baguette and some plummy Bierzo wine to be outstanding—but that, of course, doesn't keep local chefs from finding new ways to cook with it.
Where to get it: El Rebote, where every drink is accompanied by a complimentary cecina-flecked croquette.