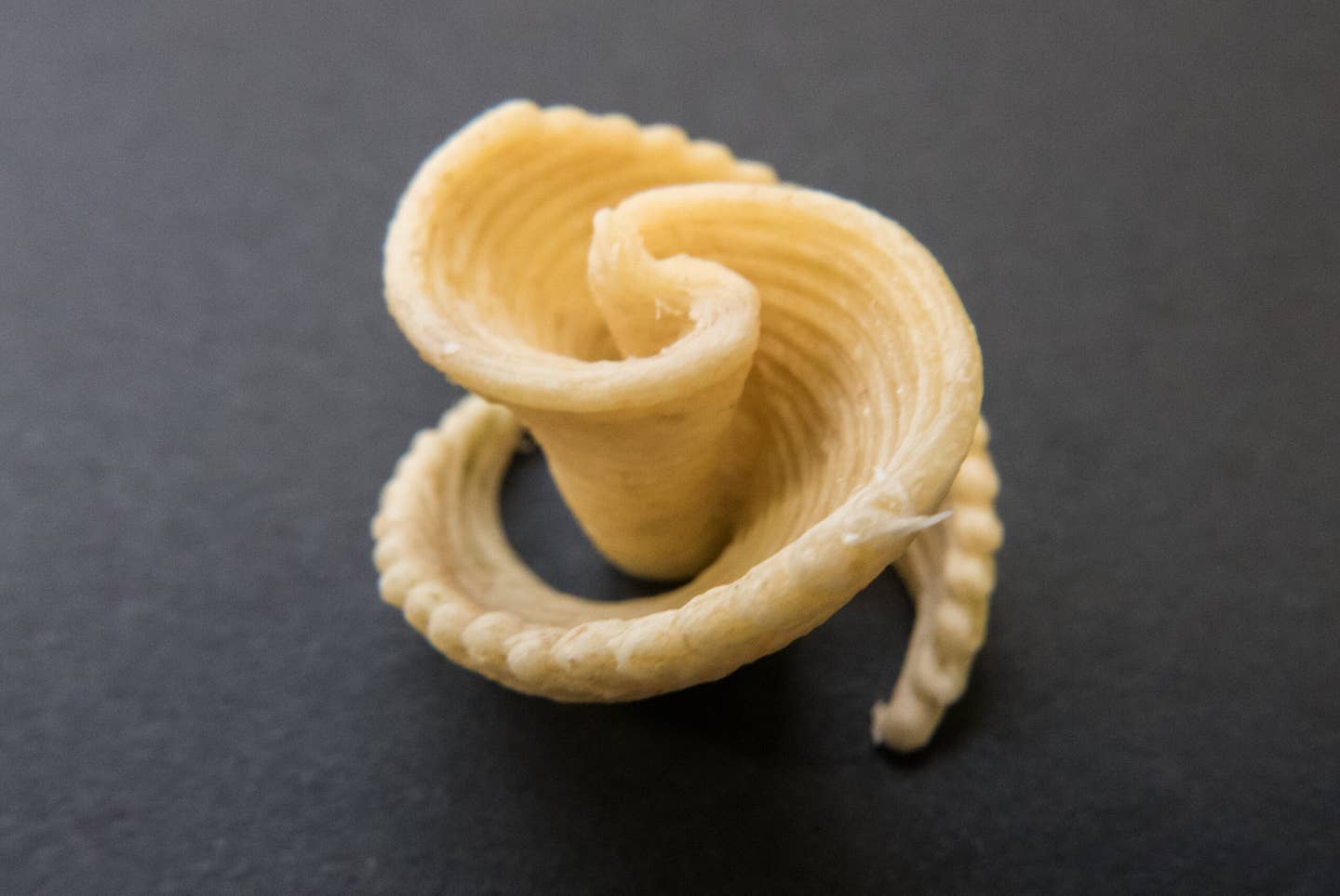 Culture
3D Printers Make Incredible Pastas Your Nonna Could Only Dream About
Hollow spheres? Blooming roses? Welcome to the future of pasta
If you could make anything out of pasta, what would it be? A miniature of your cat? Edible post-it notes? A chess set?
Well start sketching, because you can. 3D printing is here to make your pasta dreams a reality.
Every year, Barilla, the world's biggest pasta company, hosts a competition to create innovative new pastas for their 3D pasta printer. This year they received 1,300 design proposals, and are still in the midst of testing them out. But consider this past winner, Lune, a hollow moon-like sphere with crater-shaped holes for sauce to peek through. Or a pineapple-shaped pasta in development at the Barilla lab, with small holes to soak in sauce.
"It's something you can't really imagine," says Jacqueline Delgado, the business manager of Blu 1887, Barilla's food innovation company. "There are so many flavors and shapes that you don't realize you are eating pasta. It's hard to explain in words." Blu started to experiment with 3D printing seven years ago, and were able to build their own printer in 2015.
Pretty shapes are part of the fun, but the 3D-printed pasta is ultimately about innovation: using software to sculpt forms that could never be made by hand or mechanical extruder. The technology gives you the freedom to think about how geometry affects flavor and texture, and how a pasta shape interacts with a sauce.
Here's how it works: First you download your 3D model into the printer (it's the size of a small fridge), then load printer cartridges with semolina dough. And then you press print. The printer builds the pasta layer by layer, with a nozzle that moves along the X, Y and Z axes, spitting out the dough in a steady stream. It takes two to three minutes for the printer to make nine pieces of pasta.
"We want to astonish people," Delgado continues. "To give them pasta that can't be done with hands. For example, for one customer we made a pasta in shape of the Eiffel Tower. We want to create totally new experiences with pasta: it can be finger food, even sweet." She sees opportunity for custom pastas at special events like weddings, and in fine-dining restaurants.
The most interesting design proposal Delgado has seen? "Octopus!" she bursts in laughter. "Think about it, how it would look, if you would put it in a soup, and its arms would be all around! When you start dreaming—there are so many things you could do with pasta."
Pasta is just one application for 3D printers and food. The first 3D restaurant in the world, Food Ink, is serving printed fine dining dishes like lobster-shaped pastries filled with lobster. And as printing technology becomes more affordable, anyone can indulge their fantasies of sculpting a hummus castle, then laying siege with with pita chips.
There's also a wealth of practical applications for the technology. In Germany and in Utah, scientists are printing food for elderly people who have difficulty swallowing solid foods. The machine can create elaborate-looking dishes with easy-to-chew textures, in a far more appealing and dignified presentation than a mashed-up paste. For the elderly and disabled, 3D printers offer new ways to gain access to nutritious meals without traditional cooking. The technology may not be there yet, but some day soon, it will be.
A printed-out meal also offers new ways to personalize dishes to the nutritional needs of individual eaters. American company BeeHex is developing a food printer for the U.S. Army to customize meals for individual soldiers' nutritional deficits: if the soldier hasn't eaten enough protein or needs some caffeine, the printer can make a protein bar that contains everything they need, based on their ready-made profile. And in Iceland, a food and biotech research center is using printer to reduce seafood waste by using leftover fish to create new dishes.
Could 3D printers become the microwaves of the future? "Eventually, I see it happening," says Benjamin Feltner, the COO of BeeHex. "But it's not going to compete with throwing a Hot Pocket in a microwave. Printers are to upscale your kitchen. It's like having a chef robot sitting there."