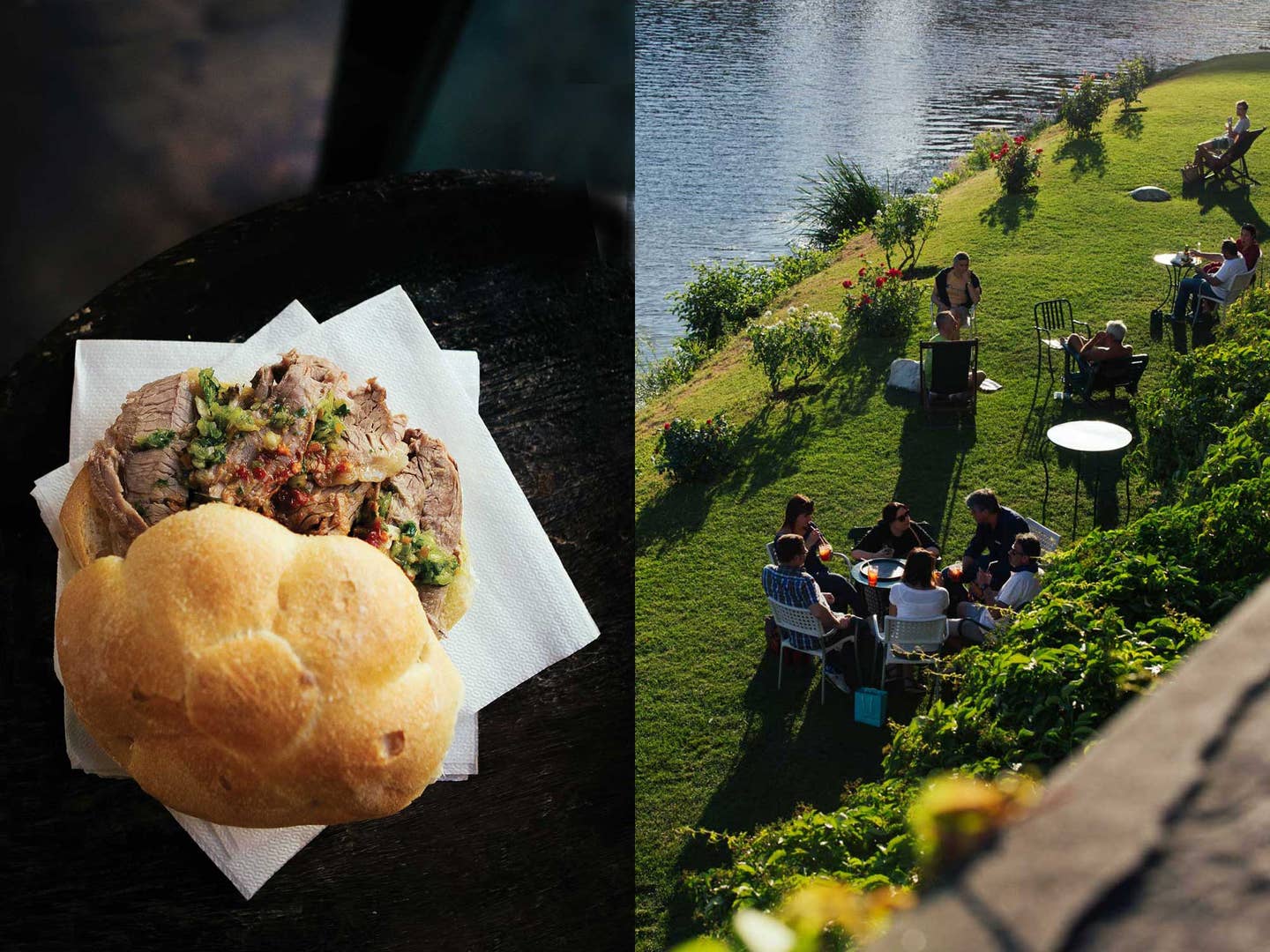 Travel
8 Reasons to Fall in Love with Florence
Welcome to the Italian city that loves meaty sandwiches, truffles, and drunken spaghetti
Of all the sensorial delights available in the overstimulating tourist trap that is Florence—making out in the moonlight on the Ponte Vecchio; communing with Botticellis and Donatellos; pairing fire-charred Chianina bisteccas with back vintages of Le Pergole Torte—could it be that a sloppy street snack of stewed tripe ranks among the very finest?
Behold, lampredotto, Florence's preeminent cibo da strada, a Renaissance-era sandwich named for its putative resemblance to boiled lamprey flesh. There's no way around it: The stuff is ugly. Wrinkly, flaccid, grayish beige, it emerges from its vat of indiscernible bouillon, wobbling on the end of the trippaio's (tripe-seller's) carving fork. That such a pile of innards is beloved in such a stylish, wealthy merchant center—and has been for over 500 years—is rendered even more incongruous by the city's pastel-hued elegance. It's like a joke from the Middle Ages whose punch line is still being hawked from street carts in San Marco.
Dante probably ate it while pining after Beatrice. There's a good reason for its ongoing appeal: Lampredotto tastes as divine as it looks infernal.
The first time I tried it was at a street food stand called Sergio Pollini. The vendor's setup wasn't too different from a New York City hot dog cart, only with the everlasting façade of Sant'Ambrogio church on a prehistoric cobblestone piazza as a backdrop. I was with friends, classical painting students, who assured me that as nasty as lampredotto looks, my taste buds would grasp the reality immediately.
"I love lampredotto so much that I think about it as often as other guys think about sex: every six seconds," confided one of the students, Alex. He recommended ordering it wet, or bagnato, the Florentine term for au jus, in which the bun is moistened with a little of the braising liquid. The deeply flavorful, perfectly textured salsa verde and hot chile-spiked result was superlative and, yes, semi-indecent.
Lampredotto is made with the fourth and final stomach compartment of a cow, the rennet-secreting maw known as the abomasum. This forgotten quadrant of ruminant viscera is rarely used in kitchens elsewhere. But in Florence, eating abomasum is a daily habit for all segments of society, as popular among street workers and leather-goods vendors as it is with pin-striped businessmen and coiffed nonnas in pantsuits.
That a cow's stomach chamber can be morphed into a triumph of the culinary arts is a quintessentially Florentine phenomenon. Upon eating my third or fourth, and discovering that it's available at the Michelin-starred restaurant Il Palagio inside the Four Seasons' palazzo hotel, it occurred to me that lampredotto represents the way Florence has democratized deliciousness. In the same way that Dante argued for vernacular Italian to be accorded equal respect and literary legitimacy as Latin, Florence seems to have understood that expensive food isn't necessarily better food. To succumb to lampredotto's charms is to realize that beauty and ugliness can live in harmony with each other—that they can be unified into a handheld reminder that one cannot actually exist without the other.
Sergio Pollini, Via dei Macci, 126
Da Nerbone Mercato Centrale, Via dell'Ariento
Trippaio Albergucci Piazzale di Porta Romana
Tripperia Delle Cure Piazza delle Cure
Thanks to the city's proximity to chianti, that ever flowing fount of inexpensive sangiovese, wine is consumed in Florence the way water is elsewhere. So ubiquitous (and priced to move), it is even incorporated into pasta's molecular structure at Osteria de' Benci near Santa Croce. Their spaghetti all'ubriaco (drunken spaghetti) requires boiling the noodles in wine and a bit of beef stock, a process that stains the pasta vibrant purple. No matter how much bad chianti you drank last night, this dish will set you straight.
3) Drink Espresso like a Florentine
Even in an area as saturated with tourists as the Piazza della Repubblica, a genuine joint like Caffè Giubbe Rosse can still be found. Once a central meeting place for the Futurist art movement, it's been an integral part of the city's cultural and literary landscape. Everything here feels steeped in history. Even the name refers to the red shirts worn by those who fought alongside Garibaldi during the Risorgimento in the 1860s. So, of course, the coffees are also markedly rooted in 19th-century style. While there are certainly excellent options for third-wave aficionados in Florence (namely Ditta Artigianale, on the Via dei Neri), I'd take Giubbe Rosse's simple one-euro espresso over a pourover any day. Drink it standing up. Lounge with a newspaper if you want. Impeccably dressed, gray-haired regulars add to an atmosphere that feels meant for modernist poets and intellectuals.
This may be the birthplace of gold florins and financial geniuses like the Medici, but many of the best dishes here, eaten by beggars and bankers alike, fall into the category of piatti poveri, poor-person food. Here, truly, anyone can be a buongustaio—a food lover who enjoys fine things.
Stale bread is a key ingredient in many Florentine dishes from panzanella to pappa al pomodoro. At Trattoria Sergio Gozzi, an early 20th-century, lunch-only establishment near the Medici Chapel, you can join elder statesmen and politicians to feast on a six-euro lunch of ribollita, the hearty bare-bones stew starring Tuscan kale and stock-softened, over-the-hill bread.
And bread is the base for any evening spent drinking. After a day at their classical academy, my broke art-student friends do what every Florentine does to unwind: They head to the enoteca. Their spot is Alla Sosta dei Papi, a cramped wine dungeon near the Mercato di Sant'Ambrogio that sells cheap vermentino out of large stainless-steel vats. Crostini—topped with paté di fegatini, salumi, or chopped pomodoro—are complimentary alongside the three-euro bicchieri (glasses). This arrangement attracts young artists as well as eccentric older regulars who look even more art-damaged than the painting students. Edith Piaf songs crackle out of tinny speakers, but the music is barely audible over all the raucous laughter. As tipsiness levels increase, orders of coccole ("cuddles"), a local specialty of fried dough topped with stracchino (a fresh, creamy cow's cheese) and prosciutto, come out. Inevitably, more rosso materializes.
As I continued to experience Florence, wandering from monument to museum to sandwich stand, I found that the most memorable things I tried were super cheap, including a stock of wildly underpriced wines at Pitti Gola e Cantina. A simple wine bar run by a young team of passionate wine nerds whose cellar is filled with back vintages of the best wines in Italy, Pitti Gola offers everything from offbeat Friulian orange wine to bottles of Giacomo Conterno to dusty releases of Castello di Monsanto at well below expected prices—with soulful, rustic cuisine to match.
5) Truffles Are an Everyday Thing
Alba may be better known truffle territory, but Tuscany's woods abound with world-class truffles too. The region's soil yields small, intense bianchetto truffles (Tuber borchii) as well as black truffles that thrive beneath hazelnut trees. So locally abundant, the funghi are part of everyday life, folded into everything from eggs to pasta—and even used as a condiment (crema di tartufo) at sandwich shops and street vendors. In the same way that America accentuates fast food with ketchup, Florence does so with truffles.
After stopping into Santa Margherita dei Cerchi, the church where young Dante first spotted and fell forever in love with Beatrice, I headed to a legendary dump next door called Da' Vinattieri. Famous for truffle-and-pecorino coccole (those cuddles again), this window-size slice of a shop also bakes its own bread and stuffs it with salty, herbed, luscious porchetta and a lather of truffle crema. All for four and a half euros.
At Procacci, a delicatessen that has been specializing in truffles amid Dior and Hermes boutiques on ritzy Via Tornabuoni since 1885, truffle panini go for a measly two euros. The bun isn't massive, but slathered with crema di tartufo, each bite explodes with deep, truffle-y aromatics and pairs astonishingly well with the shop's salty umami bomb of fresh homemade tomato juice.
Near Santa Maria Novella, Trattoria Sostanza is a 19th-century-era Florentine classic. The spare, cramped room and handwritten menu are indicative of its familiar clientele who feast on well-loved dishes like charred bistecca alla fiorentina, crispy, golden pollo al burro (chicken with butter), and eggy tortino di carciofi (artichoke tart), a custardy scramble of sorts, cooked into a creamy mass over a pile of glowing embers.
Equally satisfying and cozy is Sostanza's tortellini en brodo (tortellini in broth), pockets of pasta filled with ricotta, Parmigiano, and prosciutto, served in a simple chicken broth and tomato purée. It's a testament to the simple pleasures of Florentine cuisine.
7) Good Food and Wine Can be Found Morning, Noon, and Night
From dessert-for-breakfast to wine-braised steak, Florence is the hungry traveler's haven at any time of day.
10 A.M. Start the day at Il Cantuccio di San Lorenzo where the cantucci, soft, biscotti-like cookies, come in a variety of flavors, including lightly sweet almond delicately spiced with aniseseed. At the owner's insistence, wash it down with a glass of complimentary local vin santo. Order an extra dozen to snack on while strolling from piazza to piazza.
1 P.M. For lunch near the Duomo, go for classic Tuscan ragù with homemade pappardelle—or, even better, tortelli mugellani (stuffed pasta in Tuscan ragù)—at L'Oriuolo. Or, from the Pitti Palace, stroll around the corner for fiocchetti—a purselike pasta—with Taleggio and pears at 4 Leoni, a 14th-century trattoria with a patio that spills onto the storied Piazza della Passera.
4 P.M. The liminal hours of Florence are meant to be filled with gelato, and the classic shops continue to please. For scoops of creamy chocolate or pistachio, stop into La Carraia. For a classic atmosphere, Vivoli's old-school décor—worn tiled floors and vaulted wooden ceilings—still charms.
7 P.M. Yes, Perseus and Trattoria Sostanza make famous bistecca alla fiorentina. But you'd be remiss to bypass the humbler al chianti (beef braised in chianti) or flank steak tagliata topped with arugula and pecorino at La Casalinga.
Florence is filled with as many historical monuments and decorative artifacts as it is hole-in-the-wall hawkers of fluffy, dimpled schiacciata bread stuffed with the world's finest cold cuts.
You can't come here and not try the salami with garlicky pecorino cheese and fennel spread at All'antico Vinaio, a tiny walk-up shop with a massive line and a lively crew of sandwich slingers. The same applies to their lardo di colonnata with crema di tartufo. Or the prosciutto crudo with artichoke spread and red peppers at Pan Briaco. (As one waiting regular put it: "Why mess with perfezione?") And then there's the marinated beef carpaccio with porcini and pecorino on a homemade focaccia roll at Mariano, prepared by the eponymous Mariano Orizi, a Henry Miller lookalike in Le Corbusier glasses and a sweater vest.
At Casa del Vino, an ancient enoteca lined with a standing bar and wooden shelves packed with wine, timeless sandwich combinations abound: crisp, drippy porchetta topped with salsa verde and red onions; soft burrata and ripe tomatoes; salty, sleek anchovies with a pat of butter whose sum is certainly greater than its simple parts.
Schiacciata worship is common here, but there is no better altar at which to pray than Semel, across the street from the Mercato di Sant'Ambrogio. As the wall-mounted antlers indicate, the theme here is hunter's food. The owner is Marco Paparozzi, a dapper gentleman who sports a silver cinghiale (boar) tie clip. As talented as he is with venison, he also excels at seafood sandwiches—a pleasant surprise in a region so far from the sea—the best of which contains marinated anchovies, orange slices, chile peppers, and thinly shaved puntarelle. It both defied and redefined my expectations of Tuscan food.
Only a few hundred thousand people actually live in Florence, but an annual influx of 16 million tourists impose a big-city clamor. Despite the sea of plastic mini Davids and selfie stick-toting foreigners, it's still the same compact hamlet whose streets Dante and Michelangelo once wandered.
Just how magical and serendipitous this city can be was revealed to me one day shortly before lunchtime, when I returned to Casa del Vino in search of sandwiches. At that early hour, only one other patron was present. Of all the humans on this planet, that other person turned out to be my younger brother Michael, who was coincidentally passing through on his way back home from India, where he'd been researching his Ph.D. Neither of us knew the other would be in Florence. The occasion called for a celebratory glass of Bartolo Mascarello's freisa (a spritzy, leggermente frizzante monument to the traditional Piedmontese viticulture barely available in North America; Casa del Vino offers it for 13 euros a bottle). This in turn led to food, which then led to more wine, which of course led to more food, as usually happens here, even at noon.
We started with the house special: alici con burro. Nothing more than a pat of Tuscan butter and anchovy fillets on a little soft roll, its simplicity is also a creation of wisdom and happiness and, ultimately, serenity. Who needs anything more? What better way can a person possibly spend a single euro? It was so good we each ordered a second one. Then came some crostini with herring, marinated carrots, and celery, followed by a porchetta schiacciata topped with pickled onions and salsa verde. "Madonna!" enthused my brother, waving his fingers around in an appropriately Italianate way.
As we ate, we compared notes on the best things each of us had eaten in Florence, pausing to dwell on several life-changing panini.
After settling our absurdly cheap tab, we stepped out into the glorious sunshine and found ourselves blinded by the sight of the Duomo, its pink, green, and gray-white marble slabs radiating geometric perfection and a sense of predestination.
The true size of Florence was confirmed to me later that day while walking around with Jessica, one of my art-student friends. Strolling away from the Pitti Palace, we came to the Arno River. A dark-haired guy with a beard walked by in a leather jacket and waved to her. "God, it's my ex-boyfriend," she whispered. "That always happens here. Florence is so tiny. Everybody knows everybody and you can't help bumping into people you know all the time."
As she spoke, a vintage Renault 4 zipped by and honked at us. "That's Ricardo—also my ex," Jessica said, with a laugh.
Savoring the synchronicity, we floated along the city's cobblestone streets, oblivious to the tour groups holding things up. Eventually, inevitably, we ended up with the rest of the student gang at their enoteca. As I sat at Alla Sosta dei Papi, sharing coccole and wine, I listened contentedly to the painters' debate about lighting and perspective, as well as about the best tortellini en brodo and the best gelato and the best lampredotto. And it occurred to me that the same disputes and delights illuminating their enoteca were happening at the enoteca down the street, and at the enoteca a block over, and at all of the enotecas the city over.
The more time you spend in Florence, the better it gets, the deeper you enter its radiating circles of pleasure. This is a jewel case of a town, filled with edible marvels resolutely of this place and still relatively undiscovered. It may seem impossibly refined but it is also seething with entrail sandwiches and repurposed stale bread soups and cheap barrel-pulled wine and truffled cuddles. Those fortunate enough to find themselves here, however briefly, know that Dante was right. Pedestrian congestion be damned, this place remains what it always has been: an ideal city.
Now Cook Like a Florentine