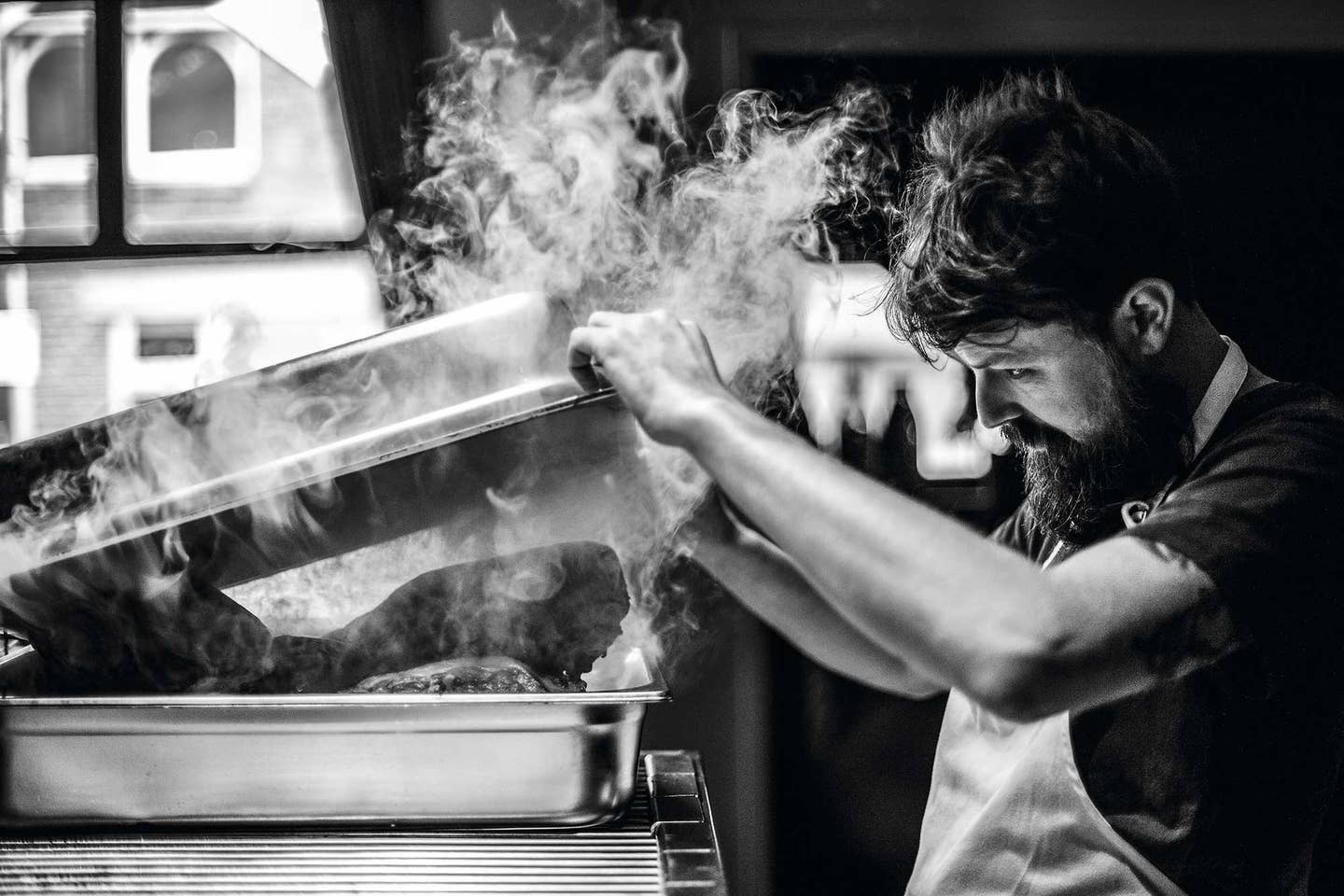 Travel
How a Broken Marriage Taught Chef Aaron Turner How to Cook Again
The Australian chef of IGNI's rebirth after trial by fire
In 2012, chef Aaron Turner was on top of the world, the Down Under part of it at least. His 30-seat restaurant outside Melbourne, Loam, an earlyish adopter of the forage-and-figure-it-out movement, was the darling of Australian media six months into its existence. After anointments like Regional Restaurant of the Year and Dish of the Year by Oz's Gourmet Traveler, he didn't have a seat open for any service and turned away more people than he fed each night. Working 90-hour weeks though, he knew something had to give.
"Today," he writes in his gorgeous new cookbook IGNI, "is the day I get to find out my marriage is over... in a goddamn text message clearly not intended for me."
The incriminating text from his wife had been meant for another man on staff. Like that, he lost his wife, his home, and his only other chef. "Just close the fucking thing," he said. After an eight-week hiatus, he finished out the remaining five months on the lease and shuttered Loam.
He wanted to disappear for a while, so he decided to pick up the pieces of his life and move them to Nashville, where a friend with a free couch lived. He spent a year going to live music shows, getting tattoos, and developing an addiction to Nashville hot chicken. Then another missive, favorable in this case, jumpstarted his next act.
"I had been talking to people I used to work with back in Australia about doing something, and one night I was looking at real estate online," he says. "There was something about this one place. I woke up in the morning and they had e-mailed me a link to the same listing."
He took it as a sign and secured the space, an hour from Melbourne in a suburban strip mall with a Bikram studio and an education center, for his new restaurant. This time around he would rely on ingredients sourced by small local producers and growers with one major change. All food at IGNI, a reference to smoldering coals, would be cooked over live fire, which he'd never worked with before.
The techniques and ingredients he relied on at Loam proved unreliable over unpredictable flames. Further complicating things, every tasting menu would be tailored to a guest's preferences from among about 22 different courses.
On the first night of service, still learning how to control the exhaust, he and his staff accidentally filled the dining room with a thick layer of smoke. "It was one of those opening nights you read about—absolute chaos."
But over the course of the first year, which is journaled with startlingly candid detail in his cookbook slash soul-bare confessional, Turner found his footing, working through emotional and professional messes in tandem. Initially, he kept plates super simple—instead of elaborate sauces, butter and vinegar boosted flavor. Then he began tinkering until he landed on a few regularly occurring stand-outs: potato noodles cooked in chicken fat and topped with a raw yolk, quail that is glazed for four days in molasses and slowly roasted over fire, and palm-shaped Australian masa leaves filled with raw mackerel and topped with roe.
You probably won't ever exactly replicate any of Turner's dishes. Many of the ingredients simply aren't obtainable in the States. For instance, oyster leaf, a curiously oyster-tasting green that accompanies his oyster dish, is grown especially for him by a local farmer. That said, the technique of cooking an oyster in the embers of a slow roaring fire are perfectly adaptable.
"The fire forced me to change," Turner says.