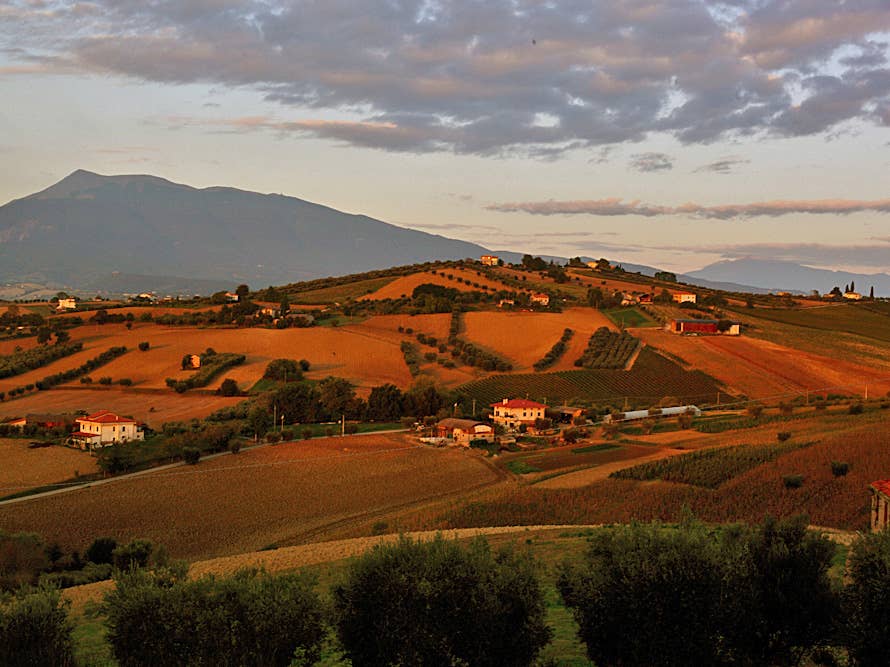 Travel
Chasing Abruzzo's Unicorn Wines
Azienda Agricola Valentini's mythical sfuso wine is an emblem of the region's quality
A "unicorn wine" is sommelier-speak for a wine that you almost never see for sale. It could be an in-demand wine made in extremely limited quantities, an archaic vintage from a legendary domaine, or a bottling from an esteemed winemaker who long ago retired. One Italian contender for unicorn wine status is Azienda Agricola Valentini's Montepulciano D'Abruzzo. Part of the reason it is so mythical is the fact that the wine only gets released in years where the Valentini family deems its quality to have met their impossibly perfectionist standards. (The past two vintages are the 2006 and the 2002.) According to wine-searcher.com, a total of three stores in the U.S. currently carry the wine, which costs hundreds of dollars a bottle.
While planning a road trip around Abruzzo in the fall, I contacted Valentini's representatives to set up a meeting with Francesco Paolo Valentini. He has been running the estate since his father Edoardo (known as the "Lord of the Vines") passed on nearly a decade ago. The Lord of the Vines did not often greet writers, and his son is upholding that legacy. My trip was scheduled for September, the middle of the wine harvest, and I was curtly informed that Valentini does not receive visitors during the harvest period. When would be the earliest possible time? "A visit is out of the question until January," came the response.
I may not have met the current Lord of the Vines on that trip (although I did spend a few unforgettable days with the region's other venerable winemakers, Emidio Pepe and Luigi Cataldi Madonna), but I couldn't help but notice the importance of Valentini to Abruzzo. All the best restaurants use Valentini olive oil and Verrigni pasta made from wheat farmed by Valentini. And while it isn't that hard to find their trebbianos, cerasuolos, and montepulcianos there, you can also come across something else of Valentini's on some restaurant wine lists: sfuso wines.
Sfuso means "bulk" or "unbottled" wine. Valentini lets certain lucky friends and clients buy large jugs of wine direct from the winery for 4 euros a liter. Establishments like Ristorante La Bandiera then turn around and share the bounty with their customers. Valentini's sfuso may just be the unicorn of unicorn wines. And while Valentini's rare bottlings are all built to last for decades—and can be difficult to approach early in their lives—the juice he doesn't deem good enough to bottle turns out to be a wonderful thing to drink young. These sfusos are wines for friends, offering gulpable delight at a fraction of the usual price. (The cost at La Bandiera is 12 Euros a bottle.)
La Bandiera is among the very best restaurants of Abruzzo today, so it's an ideal place to drink Valentini's wines, whether as sfusos or proper back-vintage bottles. The restaurant started in 1977 when Anna D'Andrea left her job as a cook in Rome to return to Civitella Casanova and convert a tobacco shop into a classic trattoria. Her son Marcello Spadone and his wife Bruna took over, and now their sons Alessio and Matteo—plus various girlfriends, aunts, cousins, and other comrades, lovers, and family members—are continuing la tradizione.
The food is a compelling blend of classic dishes like maccheroni alla chitarra made on a old-fashioned stringed-wooden box (hence the name: guitar pasta) and novelties like an edible Faberge egg whose speckled, sugar-spun shell arrives on a pillow of burrata and is filled with roasted red peppers and eggplants from the garden out back. Alessio, the restaurant's handsome 26 year-old maitre d' and sommelier, told me about the importance of family and tradition as he and his girlfriend harvested vegetables in the garden while his dog ate cherry tomatoes straight from the vine. "My family, we do a bit of innovazione," Alessio explained, holding his index finger and thumb a millimeter apart. "We are modern and contemporary, but still very classical. Even though Matteo may be innovating new dishes in the kitchen, it's important to remember that the more you innovate, the stronger your traditions become. When our kids will be working here with us, they will be the innovators and we'll be the traditionalists."
There's a famous line in Giuseppe Tomasi di Lampedusa's great Italian novel The Leopard: "For things to remain the same, everything must change." That idea speaks to Abruzzo today—a place moving forward while staying intimately connected with the past. This is still a part of the world where shepherds move their flocks up and down the mountains along centuries-old pathways, and Abruzzo's general connectivity to nature is part of what makes it so appealing.
A full one third of the territory here consists of wildlife reserves, and anyone passing through its dales and forests can see why Abruzzo is known as the greenest region in Europe. La Bandiera itself is located on the cusp of the Gran Sasso and Monti della Laga National Park. Even within the preserves, a diverse array of crops blankets the hillsides. Unlike the monoculture fields one usually sees in farming areas, the landscape here is made up of patches of olive trees, grape vines, herb gardens, vegetable plantings, and actual fallow soil, all stitched into a beautifully rustic quilt. The countryside itself feels like a produce store filled with heirloom black chickpeas, saffron from the Navelli plain, Santo Stefano di Sessanio lentils, and other ingredients inducted into Slow Food's Ark of Taste.
This hilly, under-celebrated neighbor of Rome seems poised to become what the Hudson Valley is to Manhattan—a weekend destination for in-the-know urbanites. For now, it is still something of a secret: an agricultural breadbasket just an hour and a half from the Colosseum that specializes in guanciale and ventricina, truffles and ovoli, ancient grains and pulses, pecorinos and ricottas—and so, so much more.
As beautiful and delicious as it all is, Abruzzo is also clearly a laborsome place—you have to work the land, and hard, but there is great dignity in that. People like Valentini are heroes because they do things right, the old-fashioned way—with integrity, respect for nature, and an unwavering dedication to their craft. Valentini's montepulciano isn't seen as a unicorn wine here, but rather as an emblem of the region's absolute quality. Over an extraordinary bottle of Valentini's 2002 trebbiano, I asked Giovanni Marrone, owner of Pescara's wonderful Taverna 58 (and another sfuso recipient), what Abruzzans think of Valentini's wine. He pondered the question for a few long moments, taking a meditative sip. "That it's real," he responded, finally, and had nothing more to add.