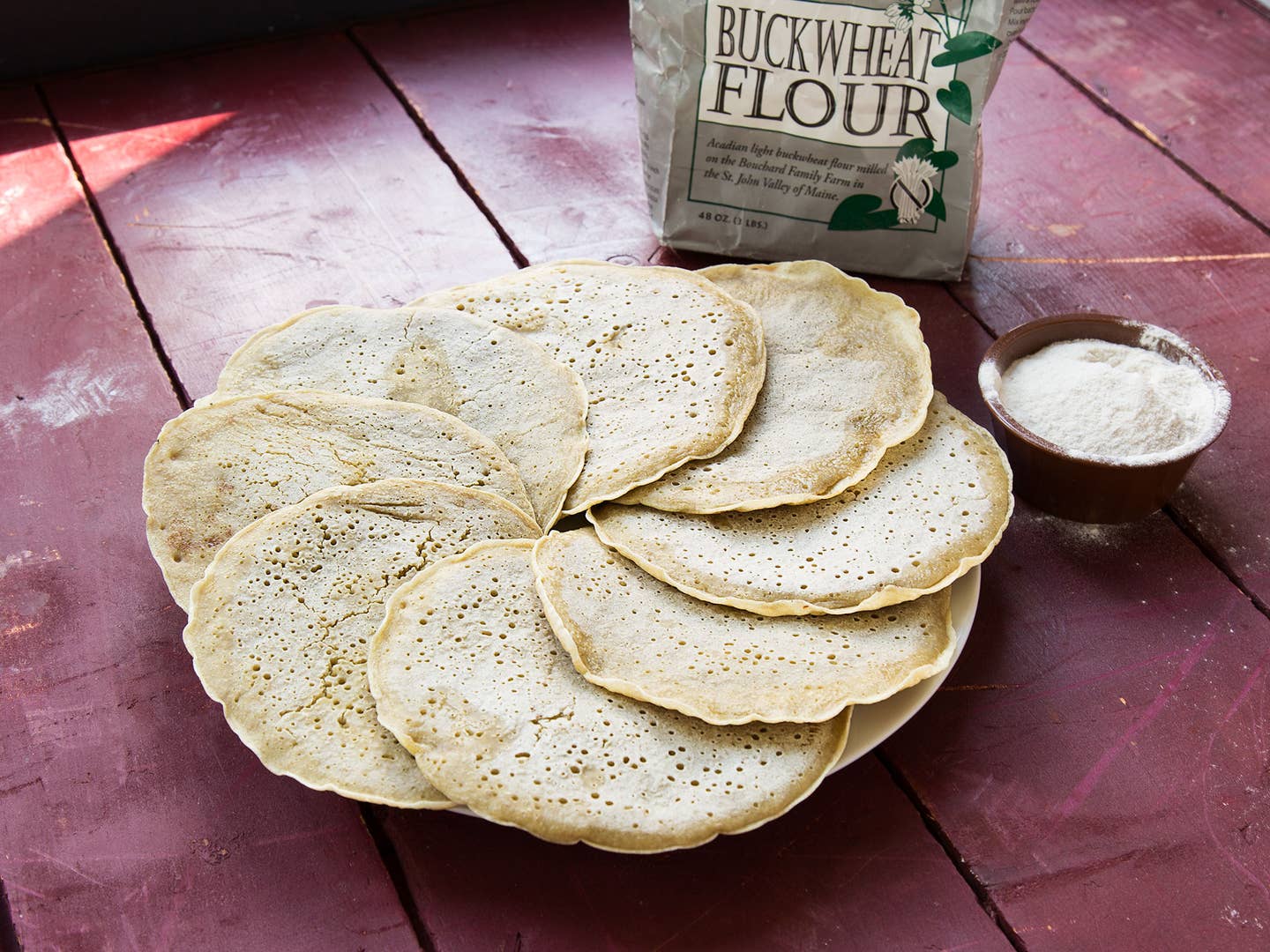 Culture
Don't Call it a Pancake: The Surprising Backstory to the Staple Bread of Acadian Cooking
Over in Acadia, ployes are the carb of choice. Here's how a Somali refugee clued a preacher in Maine to the original recipe that's been lost to history
A ploye is not a crepe. Nor is it a pancake. For one, you don't flip it.
Seconds after being poured onto a hot, barely greased griddle, the surface of a ploye—a traditional Acadian buckwheat flatbread—will become pocked with hundreds of tiny, bursting bubbles. "Il fait des yeux, they call it in French," says Father Paul Dumais, who serves as the chaplain of Saint Mary's medical center in Lewiston, Maine. "they are making eyes [at you]." It's a beautiful expression. The edges will brown and curl just slightly, and in just over a minute, the ploye is ready; the top still tender, the bottom golden.
The best ones, Dumais remembers, were those just off his grandmother's spatula. "Mémé, as they say up north, might stand at the stove making them while everyone else ate. You'd fight for the ones that just came off the griddle, because that seared bottom is enviable." Without a Mémé to cook them à la minute, a stack would be made and kept in a low oven until it was time to eat, much the way fresh tortillas are.
Dumais thought he knew ployes about as well as he knew the rosary. He grew up eating them in Madawaska, on the northern edge of Maine, just across the St John river from Canada, where, he said, "These were not a locavore delicacy of some kind. They were the bread that was on the table at lunch and at supper." A meal of chicken stew, called fricot, would not be complete without a stack of ployes, nor would the customary Saturday night baked bean dinner. "These are not breakfast pancakes."
His cousins grow the flour he uses to make them: a yellow-green mill of tartary (or silverskin) buckwheat, native to the area. The taste of the buckwheat (and the resulting ployes) is milder—less assertively nutty—than what you may know from kasha or soba noodles, and faintly grassy. As they're typically made, ployes are utterly simple. In A Taste of Acadie, considered by many to be the definitive Acadian cookbook, the only ingredients are buckwheat flour, white flour, baking powder, salt, and water.
Dumais regularly makes ployes for himself and for houseguests in Lewiston, which is about five hours south of Madawaska. "I've rarely met anyone who knows what they are," he said, "but I've never met anyone who doesn't like them." So it certainly came as a bit of a surprise when, at an end-of-summer potluck at the hospital's nutrition center hosted by Lots to Gardens, an urban agriculture initiative, he found himself questioning the authenticity of the ployes he'd been eating for his life.
Lewiston is home to a sizable population of Somali Bantu refugees, one of whom was at the potluck cooking anjero, a thin griddle cake much like the injera made in neighboring Ethiopia. The finished flatbreads, cooked on one side, pocked with les yeux, bore a familial resemblance to ployes, fascinating Dumais. "I asked her, is there any baking powder in here? Is there any baking soda in here? And then she held up this jar. It dawned on me, holy cow, these are fermented—it's just a super-hydrated batter like sourdough." The leap to his own foodways came quickly. "It was like wait a minute—this is how ployes must have been made prior to chemical leavening agents."
But the only ployes Dumais knew were made with baking powder (like these). Some research was in order. "So," he says, "I went home and talked to my matante. She's 94."
Baking powder—Rumford's, to be exact—was the only way she'd ever made them, she said, but Dumais pressed deeper. "I asked, what about your mother? And she sort of looked off into the distance, and said, "When I was a girl, my mother had a bucket on the cookstove (that was the only warm place in the house), and she would take from that in order to make her batter."
That was confirmation enough for Dumais to began experimenting at home, in the hope of recreating the ployes of his matante's youth. It took "weeks and months of tinkering" to come to a version he liked. He shared this new-old version at the Kneading Conference, a celebration of artisan bread held each summer in Skowhegan, Maine, about an hour west of Bangor. For many attendees, this was was a first taste of ployes, and a first experience with tartary buckwheat. And as bread baking enthusiasts they're familiar with a dough leavened with baking powder having sourdough roots. But Dumais was less sure how his ideas would play in Madawaska.
"Second to religion, ployes are sacred in northern Maine. It's almost irreverent," he says. He has yet to make the naturally leavened ployes for his matante.
"This conversation might not happen in northern Maine," says Dumais of his search for the original ploye. "Maybe because it's so obvious, but more likely because it's too close to you—what's the fuss? We just eat these for supper. When you put butter on them, roll them up, and eat them, because that's what your father did, and that's what his father did, then you know it's embedded in the culture."
But while generations, religion, and race separate his great aunt from the young refugee he met at the potluck, Dumais can't help think of the thread that joins them. "If they sat together at the countertop and made this—anjero on the one hand, and ployes on the other—it's like they'd be talking the same language, you know?"
Order your own silverskin buckwheat flour—or even a pre-portioned ploye mix—at ployes.com. The buckwheat flour grown by Dumais' cousins is now being sold through Fiddler's Green Farm, along with a pre-portioned ploye mix created by Mr. Dumais.
Matthew Kronsberg is a Brooklyn-based food and travel writer. He wants to know if you're planning on finishing those fries.