Acadian Buckwheat Pancakes (Ployes)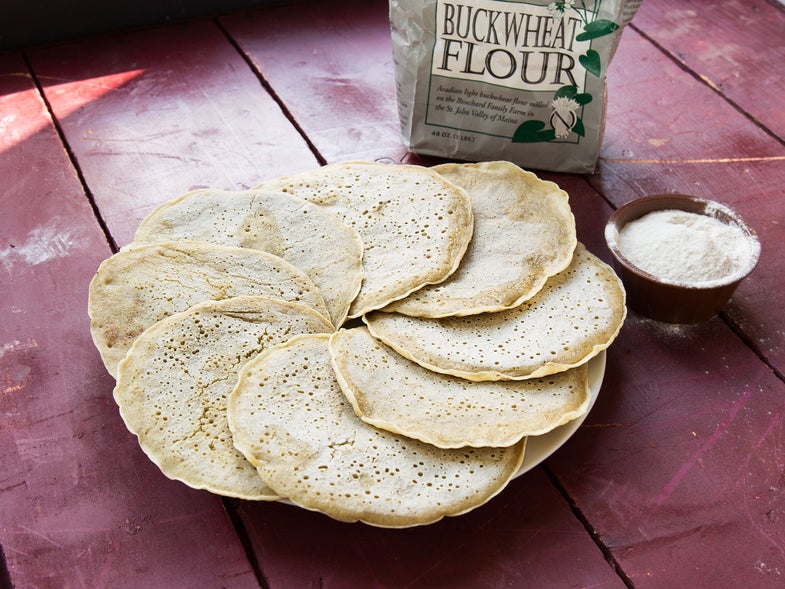 Ployes—traditional Acadian pancakes—are a cross between pancakes and airy crumpets, and are the best thing to spread with butter and mop up a pot of beans or fricot, traditional Acadian chicken and dumpling stew. Most modern recipes for ployes call for baking powder as the leavening agent, but according to Father Paul Dumais, a preacher in Maine who's become something of a local authority on the matter, the original recipe calls for a naturally fermented dough that adds extra tang and richness to the bread. We've adapted his recipe here.
The silverskin buckwheat flour we call for in this recipe can't be swapped out for darker, nuttier conventional buckwheat flour. But you can order silverskin buckwheat flour, and even a ready-made ploye mix, over on ployes.com. Keep your pan temperature high when cooking these ployes—they need lots of heat to rise correctly.
Featured in: Don't Call it a Pancake: The Surprising Backstory to the Staple Bread of Acadian Cooking
Yield: makes 9 pancakes
Time: 12 hours 30 minutes
Ingredients
For the Preferment
1 1⁄2 cups all-purpose flour
1 1⁄3 cups silverskin buckwheat flour (buy it at ployes.com
1 2⁄3 cups water
1⁄4 tsp. active dry yeast
For the Pancakes
1 tbsp. kosher salt
6-8 tbsp. cold water
Canola oil, for greasing
Instructions
Make the preferment: In a medium nonreactive bowl, combine the flours and yeast with 1 2⁄3 cups water. Rest, covered, at room temperature for 12 hours before using.
The next day, the preferment should be bubbly, smell pleasantly fermented, and have nearly doubled in size. Add the salt and 6 to 8 tablespoons water to form a thin batter.
Heat an 8-inch nonstick skillet over medium-high. Lightly grease the pan and, working in batches, pour about 1⁄4 cup batter into skillet, tilting skillet to let batter cover bottom completely. Cook until ploye begins to form small bubbles on the top and lightly pulls away from the edges of the pan, 1–2 minutes. Flip and cook 1 minute more; transfer to a plate. Continue cooking ployes until all the batter is gone.