Recipe Comix: Tonkotsu Ramen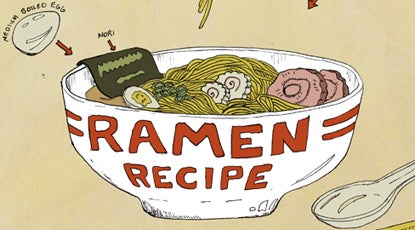 "Draw us a recipe." That's the brief we sent to a slew of our favorite comic artists; each week, we're thrilled to present what they sent back. The resulting works of art are fantastic, beautiful, hilarious, thoughtful, informative, and often all of the above — and they prove that a recipe doesn't just have to be words on paper.
This week's Recipe Comic comes from Aaron Lloyd Barr, an artist living in New York. Barr shares an illustrated recipe (or as he calls it, a "Ram-en-fographic") for making and garnishing the ultimate, authentic tonkotsu ramen, pig trotters and all.
See previous weeks' Recipe Comix in the archive »
Aaron Lloyd Barr is an artist and illustrator living in New York. Find more of his work at aaronlloydbar.com