A Lighter, Gluten-Free Pork Loin Stuffing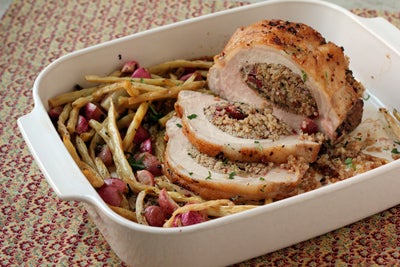 Stuffed pork loin is one of the easier and more versatile recipes in my repertoire, but when summer arrives, the dish usually goes out of circulation in favor of more easy-to-grill meats. I hate to lose such a reliable favorite just because I get stuck thinking only of pairing pork loin with dense, bready stuffing and starchy root vegetables. I decided to give this classic a summer makeover, stuffing it with a fresh, easy quinoa dressing and roasting it with seasonal veggies.
The basil, grapes and coriander in the quinoa lighten and brighten the flavor of the pork, and any leftover stuffing can double as a simple side dish. As for the accompanying vegetables, I love the color contrast of pale chartreuse wax beans and bright fuchsia radishes, which both mellow down into soft pastels after roasting. If you have a hard time finding wax beans, you can substitute string beans or white asparagus.