Quinoa-Stuffed Pork Loin with Roast Radishes and Wax Beans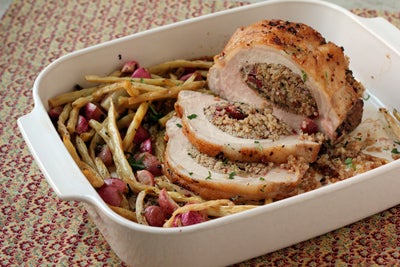 Stuff a pork loin with this gluten-free basil-and-grape quinoa dressing. See also: A Lighter Pork Loin Stuffing
Quinoa-Stuffed Pork Loin with Roast Radishes and Wax Beans
Stuff a pork loin with this gluten-free basil-and-grape quinoa dressing.
Ingredients
1 cup quinoa
2 cups chicken stock
4 tbsp. butter, divided
5 tbsp. olive oil, divided
1⁄2 cup pecans, coarsely chopped
1⁄2 cup finely chopped shallots (2 medium)
2 cloves garlic, finely chopped
1⁄2 tsp. ground coriander
1⁄2 cup halved red grapes
3 tbsp. finely chopped basil, plus for garnish
2 lb. center-cut pork loin
1 lb. wax beans, trimmed
1⁄2 lb. radishes, trimmed and quartered lengthwise
Salt and freshly ground pepper, to taste
Instructions
Preheat oven to 425°. Combine chicken stock with two cups of water in a 3-4 qt. saucepan and bring to a boil. Add quinoa and simmer 12-15 minutes until tender. Remove from heat and drain quinoa in a fine mesh sieve. Set the sieve back over the empty pot, cover with a clean kitchen towel and let rest 10-15 minutes.
Heat 1 tbsp. butter and 1 tbsp. olive oil in an 8″-10″ saute pan over medium heat. Add pecans and toast them, stirring frequently until lightly browned and fragrant, 6-8 minutes. Add shallot, garlic and coriander, and continue to cook until softened, 3-4 minutes more. Remove from heat and stir in cooked quinoa and 1 tbsp. butter, mixing until combined. Fold in grapes and basil, and season to taste with salt and pepper.
Make a hole through the center of the pork loin by inserting a long, thin knife or sharpening steel lengthwise through the middle of each end. Using your fingers, widen the incision to a 2″-3″ diameter and pack the hole with as much stuffing as possible. Using kitchen twine, tie the pork loin both length and width-wise to keep the stuffing in place. Season the exterior of the pork liberally with salt and pepper. Wipe out the stuffing pan and heat remaining butter and 2 tbsp. olive oil over medium-high heat. Sear the pork loin until browned on all sides, 8-10 minutes total. Remove from heat and set aside.
Toss wax beans and radishes with remaining olive oil, salt and pepper. Spread in bottom of roasting pan and top with pork loin. Roast until internal pork temperature registers 145°, approximately 40 minutes. Remove and let pork rest 10-15 minutes before untying and slicing. Serve pork and vegetables with any leftover stuffing mixture on the side.