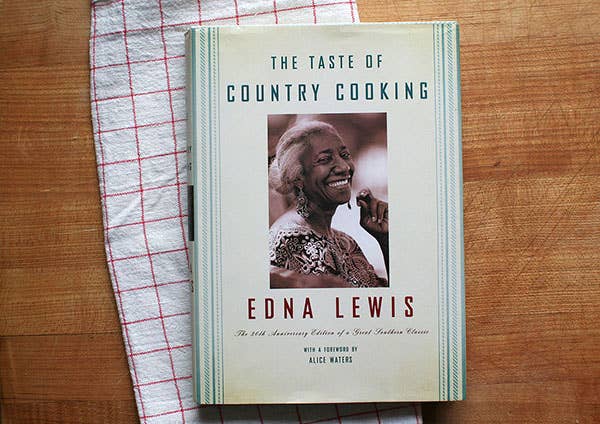 Culture
Back of the Bookshelf: The Taste of Country Cooking
Some of the most beloved cookbooks in our library are the dustiest: books we grew up with, inherited from our grandparents, found at yard sales, or bought new decades ago. In this column, we celebrate these bibliographic treasures, and our favorite recipes therein.
Edna Lewis's masterpiece of Southern cuisine, The Taste of Country Cooking, is widely hailed as one of the most important cookbooks of the 20th century, so it doesn't make sense that it would require a resurrection, and certainly shouldn't end up on the back of any bookshelf. If you already know Edna Lewis, you probably assume everyone does, but an informal poll of my friends found that only one or two people knew who she was and exactly zero owned one of her cookbooks. It is possible that this points to some failing of mine in choosing friends—not enough Southerners? Too few cooks? But I fear she may be one of those food writers who never became as widely read as others held in the same esteem.
The Taste of Country Cooking chronicles life in Freetown, Virginia, the small farming community where Lewis spent her childhood. The book details a year in the life of Freetown and includes seasonal recipes and stories of life among friends and family. The recipes are organized into evocatively titled menus tied to particular events or times of year: Emancipation Day Dinner, A Dinner Celebrating the Last of the Barnyard Fowl, and A Late-Spring Lunch After Wild Mushroom Picking. Each menu also includes personal anecdotes and tips for working with ingredients, all delivered in Lewis's tender and encouraging manner. It is a cookbook for those who enjoy having a friend with them in the kitchen. It is also a book that inspires you to seek out the best, freshest ingredients—the recipes deserve that respect.
I return to The Taste of Country Cooking regularly, sometimes for the Busy Day Cake recipe (a nutmeg-laced snacking cake—easily one of my all-time favorites), but more often because I find great comfort in Lewis's voice. The book functions a bit like a fairy tale for adults, telling the story of a time and place long ago and far away. A place deeply connected to the earth and seasons, and full of simple pleasures like wild strawberries, first snows, and harvest time. It is a life and a relationship to food that is particularly attractive to me as a resident of 21st-century metropolis in an era of industrialized food production. Lewis makes an eloquent and convincing case for local and seasonal eating which seems as important now as ever. Free from today's political rhetoric, Lewis leads by example. In Freetown, local and seasonal eating was simply a way of life.
Edna Lewis has said that cooking, for her, was an attempt to recapture the beauty and flavor of the foods of her childhood. Most of our childhoods' don't much resemble her's, but luckily for us she left us instructions to get there.
The author: Edna Lewis left Freetown, Virgina, in her late teens and moved east, eventually landing in New York City. She worked as a dress maker, before becoming the cook at the famous Cafe Nicholson, a restaurant popular with artists and bohemians. She wrote four cookbooks.
Notable quote: "And when we share again in gathering wild strawberries, canning, rendering lard, finding walnuts, picking persimmons, making fruitcake, I realize how much the bond that held us together had to do with food."
Favorite recipe: I have two. The Busy Day Cake, which is the perfect snack cake, and these buttermilk Griddle Cakes, which are the perfect breakfast treat. The rustic pancakes are topped with some stewed blueberries and maple syrup. Lewis suggests serving them with breakfast sausage, I am not going to argue.
Tim Mazurek is a freelance writer and the blogger behind the site_Lottie+Doof.