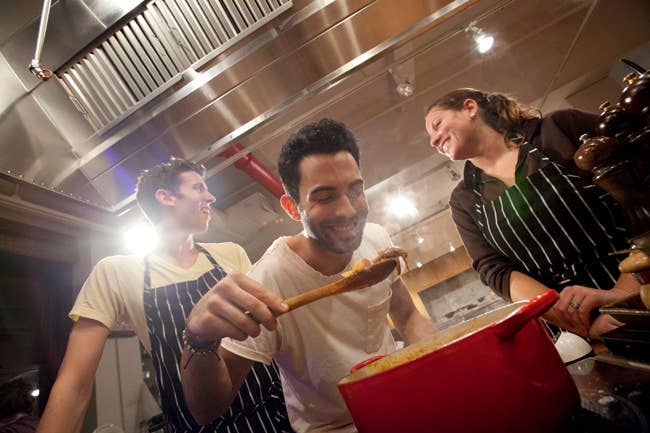 Travel
Behind the Story: Bringing Iran Home
SAVEUR's April 2012 story on the food of Iran posed a major culinary challenge, which we solved with the help of one talented kitchen intern — and his mom
We've covered much of the Middle East at SAVEUR — the food of Lebanon, the food of Afghanistan, the food of Turkey — but until this year we'd never covered Iran. The country's distinctive Persian cuisine contains echoes of its neighboring countries, but it also possesses something ineffably its own. It's a repertoire of complex, sophisticated dishes with a tremendous courtly formality — one of the world's great cuisines. But it also posed a major obstacle.
The thing that we always struggle with at SAVEUR is how to create authenticity in our own test kitchen. If you haven't been to a certain country, if you weren't the one who was on location producing the story, it can be a challenge to figure out the world from where we sit at 32nd and Madison. And thanks to political turmoil, our story on the traditional foods still being cooked in contemporary Iran had been in development for at least four years, cycling through writers and photographers as we ran into problems getting people into the country to report and to shoot. It was, without a doubt, the most inaccessible place we've covered since I've been at the magazine. And when we finally found a writer, the incredible Anissa Helou, and by sheer luck found a photographer living in America who had an Iranian passport, what remained for us in the kitchen was to figure out the food.
That's where Andy Baraghani became indispensable. He was a kitchen intern — very talented, a great addition to the team, but I didn't realize right away that he was full-blooded Iranian. When the film from the story came in, and we were looking through it, he got really excited, and started telling us all about dishes he grew up with. I gave him the task of going through all the film — and there was a lot — and he IDed virtually every food picture, jumping up occasionally to get on the phone to his mother in California, talking animatedly in Farsi, going over the dishes and confirming with her about the right way to make them. He started typing up his mom's recipes, and then all of a sudden we started getting packages in the office: shipments from Andy's mother of rice, dried limes, Iranian snacks; things we could have found here in New York, but she was making sure we had the right versions, and the right brands.
When it came time to test the recipes, we essentially put Andy in charge. He was in there for four days, cooking with the interns, making adjustments to the recipes. His experience and knowledge were invaluable, thanks not just to his mother and her encyclopedic knowledge of Iranian cooking, but because much of the food we were producing is a lot sweeter than we're accustomed to in America — the Khoresht e Fesenjan is a chicken stew that calls for two cups of pomegranate molasses, something that looks crazy at first, but is absolutely authentic to the Iranian palate.
The food that Andy taught the other interns to produce looked exactly like what we saw on the film, and tasted like what Anissa described in her story: long-stewed dishes and delicate pilafs, deeply spiced, with rich ornamental aspects like rose petals on a cucumber-yogurt dip, or mint bloomed in butter. Having Andy here to guide us through it was better than the best cookbook, better than any restaurant. He helped us understand this food: highly flavorful, intricate, layered. It's powerful food with a powerful story.