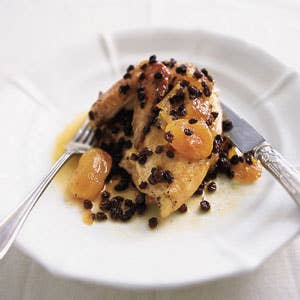 Culture
Chicken Quest
Spring training takes place every year at Marsha Dick's house. Not for baseball … for Passover.
Spring training takes place every year at Marsha Dick's house. Not for baseball, for Passover. According to Marsha, practice is what separates the pros from the rookies, and so a month or so before the big night, when 20-odd guests would arrive for the seder, she found herself focusing on one "problem" dish. One year it was chicken, the usual main course. The version she'd been serving for years, she'd decided, just wasn't "pretty or elegant enough."
She bought cookbooks, downloaded recipes, and asked the other women in her synagogue for advice. The type of chicken wasn't in question—only those from the kosher butcher would do (in no small part because of one ill-considered deviation that found her serving 24 cornish hens, each roughly the size of Rhode Island). The style of the dish wasn't in question—fruit had to be an ingredient because it's festive, because it symbolizes sweetness, and because, Marsha said, her kids really like it.
Next, Marsha got to work on her chicken experiments. She tried the Bet Torah Sisterhood's roast chicken with poached fruits. She tried baked apricot–ginger chicken from a book devoted to "simple" Passover meals. She tried Cajun kosher deep-fried chicken with deep-fried peaches from who knows where.
After three days, with none of the dishes hitting quite the right note with Marsha, Joey, her husband, said "Enough" and went out for pizza. Marsha promptly borrowed a friend's delighted husband (who otherwise would have been eating takeout), and for nights on end he was treated to the likes of chicken marinated with fresh lime juice, chicken with prunes and almonds, chicken in balsamic vinegar with raisins ...