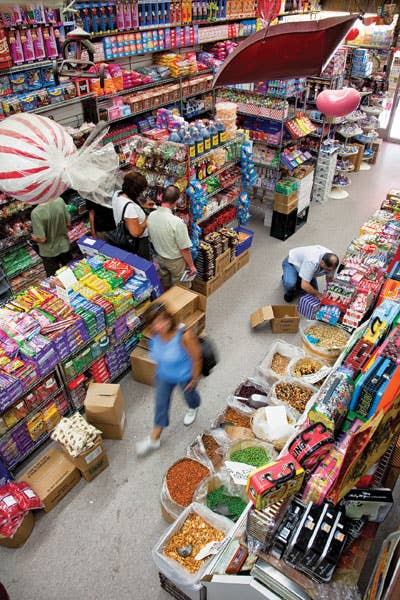 Culture
Sweet Spot
This candy store sells oldies but goodies.
I'm gawking at a bin filled with yellow-and-black-wrapped Hopjes at Economy Candy on Manhattan's Lower East Side when Jerry Cohen, the shop's proprietor, says to me, "I know: your grandmother kept them in a dish." He's spot on. I pop one into my mouth, and its coffee flavor floods me with recollections of my grandmother's apartment, with its staple dish of these old-fashioned Dutch hard candies. This elicits in me what Cohen says is a common response to his inventory: a wide-eyed dash down a sweets-paved memory lane. Surveying the shelves crammed with candies in colorful wrappers, I ask Cohen, "Have you got Razzles? Zotz? Wacky Packages?" Cohen's answer is invariably "Of course!"
The stock wasn't always so sweet at Economy. Back in 1937, when the Cohen family opened a shop on the corner of Rivington and Essex streets, they sold shoes. But the Second World War brought a slowdown in sales, and the Cohens made do peddling chocolate bars on the side: Hershey's, Nestle, and raisin-and-nut-laced Chunky Bars, which were made nearby at a factory under the Williamsburg Bridge.
Within a few years, the store transformed into Economy Candy. The Cohens carried hard candies, dried fruits, nuts, gumdrops, licorice bites, nonpareils, jelly rings. Chocolate bars sold for five cents each, or six for a quarter. "Candy was easy to get into," says Cohen, 56. "There were six stores on the Lower East Side, and there was enough business for everybody."
Today, Cohen presides over the last of the neighborhood's prewar sweets shops, relocated down the block to a 1,000-square-foot space packed with more than two centuries' worth of nostalgic brands: Hopjes, dating to 1794; thin, pastel Necco Wafers, introduced in 1847; fondant-filled Cherry Mash (1918); peanut butter-and-taffy Abba-Zabba (1922); and the gum-in-candy Razzles, fizzy Zotz, and ad-spoofing Wacky Packages of my childhood in the 1960s.
"I can't compete with the chain stores," says Cohen. "So I sell stuff you can't get at Wal-Mart." While many customers buy in bulk through Economy's website, his most loyal clientele still shops in person. "We have customers who knew the store before I was born," says Cohen. They pick up peanut-and-molasses Mary Janes (1914) and Goetze's caramel-cream Bull's Eyes (1918). "They bring their grandchildren; they have a ball." And after all these years, "they're still complaining about the prices."