Collapsible Cooling Racks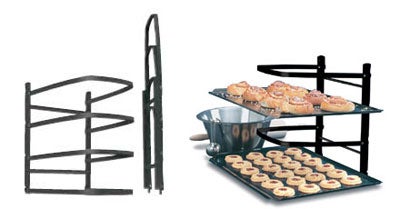 I don't know why I didn't get a cooling rack years ago. Since I'm a city dweller, I've always had small kitchens, and whenever I make cookies, my baking sheets end up perched precariously all over the place. The Baker's Cooling Rack, made by Linden Sweden, helps solve this countertop-space issue. It has four black-enameled steel "tiers" that can be unfolded to hold four large baking sheets, and contrary to my expectations, they're very stable. There's enough clearance between the tiers to hold cakes as well as cookies. It took me a while to learn to press the bottom tier out of its locked position so that it can be folded, but once you get the hang of it, the rack folds flat easily. Some other cooling racks are made of separate, stackable grids, but I think this one is easier to use. You can find it at kingarthurflour.com, amazon.com, or chefscatalog.com.
This rack might also inspire you to get started on your holiday baking. Try it out with Saveur's German butter cookies, spice-walnut cookies, or English gingerbread cake.