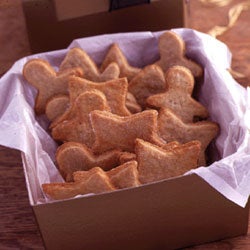 (Butter Geback)
Everybody in Miles Chapin's family made these cookies differently, from the aunt who embellished hers with piped icing and colored sprinkles, to his mother who used a simple glaze and a dusting of plain sugar. He loved them all.
German Butter Cookies
So good that one might get greedy when asked to share.
Ingredients
6 cups flour
1 1⁄2 tbsp. ground cinnamon
1⁄4 tsp. salt
1 lb. butter, softened
2 1⁄4 cups sugar
3 eggs, 1 lightly beaten
1⁄2 cups fruity white wine, such as riesling
Instructions
Sift flour, cinnamon, and salt together into a large bowl.
Beat butter with an electric mixer, then gradually add 2 cups sugar and beat until light and fluffy. Beat in 2 eggs, one at a time, then alternately beat in dry ingredients and wine about one-third at a time. Dough will be very soft.
Divide dough into 5 equal parts, flatten, wrap in plastic, and refrigerate overnight.
Preheat oven to 350°. Roll out dough about 1⁄4″ thick on a lightly floured work surface. Cut with cookie cutters, transfer to greased cookie sheets. Scraps may be gathered, rechilled, and rolled one additional time.
Brush cookies with remaining egg, sprinkle with a little of remaining sugar, and bake in batches until golden, about 20 minutes. Transfer cookies to a wire rack and cool completely. Decorate as desired and serve. Store in a cookie jar. Cookies taste best after sitting one week.