Gluten-Free Christmas Cookies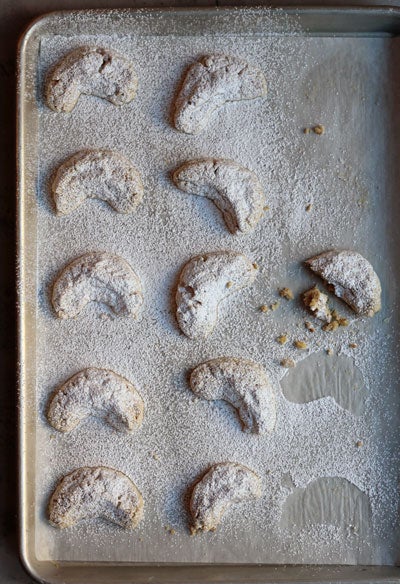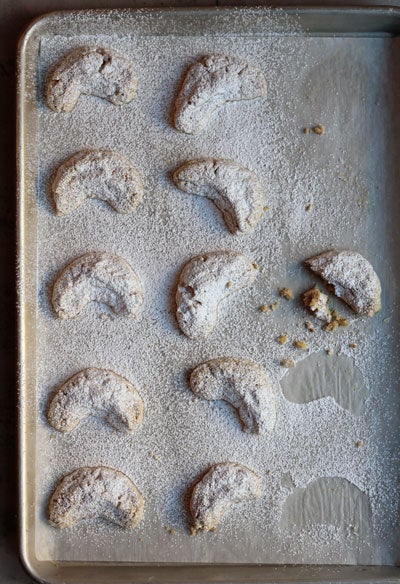 With all the cookies and baked goods that accompany the holiday season, this time of year can be particularly challenging for those who maintain a gluten-free diet. Silvana Nardone, mother of a gluten-intolerant son and author of the wheat-and-dairy-free cookbook Cooking for Isaiah, understands this frustration well; over on her blog Dishtowel Diaries, she's brightening the month of December with daily gluten-free cookie recipes from reputable bakers and food sites. She asked SAVEUR to participate in her Gluten-Free Holiday Cookie Countdown, and since we've got two staff members here in the SAVEUR offices who don't eat gluten, we leaped into action. Test kitchen assistant director Ben Mims worked magic on the Vanillekipferl (Vanilla Crescents) recipe featured in our December issue, swapping out the original wheat flour in favor of a blend of chickpea, chestnut, and rice flours. The cookies kept their soft, crumbly texture — but more importantly, their sweet nutty flavor. After coming out of the oven we ate them all up, and hardly anyone even noticed they were gluten-free!
See the Gluten-Free Vanilla Crescent Cookies recipe »
Looking for more gluten-free holiday cookies? The Basler Brunsli (Swiss Chocolate-Almond Spice Cookies) recipe, also from the December issue of SAVEUR, is wheat-free in its original form.