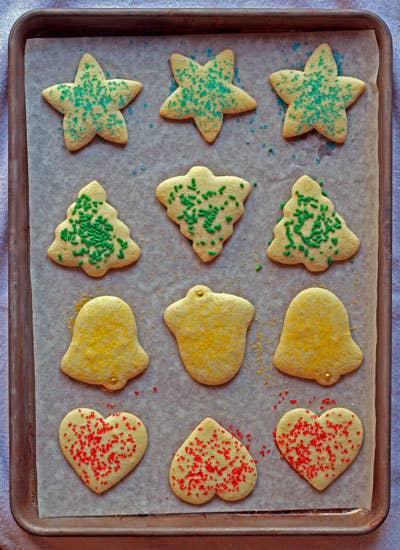 Culture
Gluten-Free Classic Christmas Cookies
One of my favorite parts of the holiday season is the annual tradition of making Christmas cookies — the feel of the flour-dusted rolling pin in my hands, unpacking my vintage tin cookie cutters, nibbling on scraps of dough, the dazzle and glitz of decorating sugar and dragees. And nothing beats the taste of warm, buttery cookies just plucked from the oven.
Taking gluten out of my diet several years ago meant detaching myself from the Christmas cookie process. I'd been making the same recipes for decades with all-purpose flour and knew exactly how the cookies were supposed to taste. I couldn't imagine ever adequately duplicating the originals; I continued to make Christmas cookies with the recipes I already knew but could no longer enjoy eating.
Last year I admitted to myself that making cookies I couldn't actually partake of had become a drag. I decided I could either quit with the cookies for good, or else get to work making them gluten-free and even better than before. I took my two favorite holiday recipes, Gingerbread People and Classic Sugar Cookies, and got to work adapting them using blends of rice flour, cornstarch, potato starch, and tapioca starch. These are just as delicious as the originals, and the return to a cherished tradition was well worth the effort.