Gluten-Free Sugar Cookies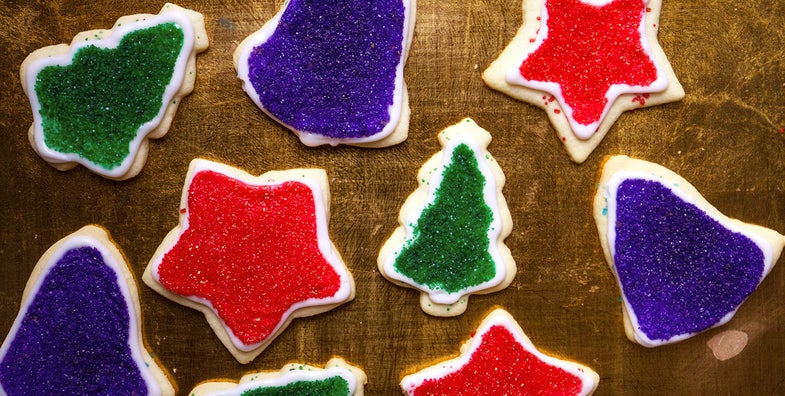 Our gluten-free twist on classic sugar cookies uses rice flour as the base. Gluten-free doughs tend to be more delicate than standard cookie doughs; if the dough becomes too soft to work with, cut out shapes and place unbaked cookies on trays in the freezer for 3-5 minutes before baking.
Gluten-Free Sugar Cookies
This gluten-free sugar cookies recipe uses rice flour and cornstarch with tried-and-true American standard measurements, no scale required.
Ingredients
2 1⁄4 cups white rice flour, plus more for rolling
1⁄2 cup cornstarch
1 tsp. baking soda
1⁄2 tsp. baking powder
1⁄2 tsp. cream of tartar
1⁄2 tsp. salt
1⁄2 cup butter, softened, plus more for greasing
1⁄2 cup shortening
1⁄2 cup sugar
1⁄2 cup confectioners' sugar
2 eggs
1⁄2 tsp. vanilla
Decorating sugar (optional)
Instructions
Whisk together flour, cornstarch, baking soda, baking powder, cream of tartar, and salt; Set aside. Beat butter and shortening to combine; cream sugar and butter mixture together, then beat in eggs and vanilla. Add flour mixture and stir until just until combined. Shape dough into two balls, flatten slightly into discs and wrap tightly in plastic wrap. Chill dough at least 2 hours, preferably overnight.
Preheat oven to 375°. Dust clean work surface lightly with rice flour and roll half of dough 1⁄4" thick. Cut out assorted shapes with cookie cutters and place cutouts 2″ apart on greased tray. Sprinkle with decorating sugar before baking if desired. Bake 6-8 minutes until cookies are lightly puffed and golden at the edges, cool 3-5 minutes on tray to allow cookies to set before removing. Repeat with remaining dough, gathering scraps and re-rolling with additional rice flour as needed. If the dough becomes too soft, place unbaked cookies on trays in freezer 3-5 minutes before baking.
A note from the author, gluten-free chef Judy Haubert: "Successfully adapting ratios and measurements for gluten-free baked goods can be tricky and more than a little frustrating. If you've done any gluten-free baking, you've probably heard the heated debate between weighing vs. measuring GF flours. When testing my gluten-free recipes, I always do both, but I realize that not all home cooks have easy access to a scale. I've come up with a method that ensures that my measured ingredients consistently weigh the same for each recipe repetition. I call it "Scoop, Shake & Level," referring to using your measuring cup to first scoop out the flour (versus spooning or even pouring it into the measuring cup), giving the cup a little shake to settle the ingredient slightly, then using a flat-edged instrument to level off the flour across the top of the measuring cup. I've done this countless times, with the weight always accurate down to several grams. I'm not sure how this method holds up with anyone else's GF recipes, but I feel I can vouch for it for my own."