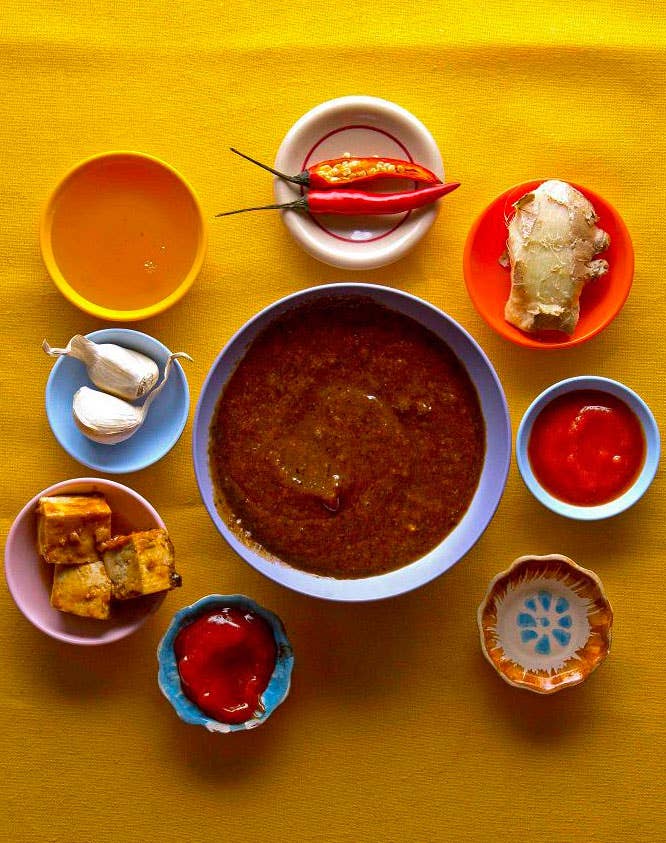 Culture
Home Fire
Recalling the backyard exploits of a Chinese-American grill master
Like a lot of people who grew up in the suburbs, I have fond memories of my father manning a battered charcoal grill in our Connecticut backyard as my parents' friends downed cans of cold beer and we kids devoured sweet, refreshing watermelon. But instead of the store-bought barbecue sauces and Italian salad dressings used by most grilling gourmands of the 1980s, my Chinese-born father, whom I called Pop, marinated his meats and vegetables in a potent concoction of funky, fishy flavors balanced by the fresh zip of cilantro.
Like Pop, the marinade was punchy and assertive, an East-meets-West combo of ketchup, honey, soy sauce, hot sauce, oyster sauce, garlic, ginger, black bean paste, xiajiang (a paste made of dried fermented shrimp), and anything else he could find in the pantry. He'd slather the stuff on steaks, chops, and ribs, or lightly brush it on potato slices, corn on the cob, and kebabs. While the marinade seemed slapdash, Pop had an uncanny instinct about flavor. He knew how a splash of oyster sauce could elevate a basic burger, and he was a master of using fresh herbs to amplify just about any dish. Sometimes he would use his culinary powers for evil, corrupting his hippie vegetarian friends, who could do nothing but give in to his steak.
Yes, there were times when my young palate yearned for burgers and hot dogs topped with simple ketchup and mustard. As is typical with parent-child relationships, I didn't start appreciating Pop's craft until I was an adult, when it seemed like everyone in my adopted hometown of Manhattan was crazy for Asian-style ribs and wings. By the time I was old enough to value his techniques, those summer nights were gone. And not long after that, Pop was gone, too.