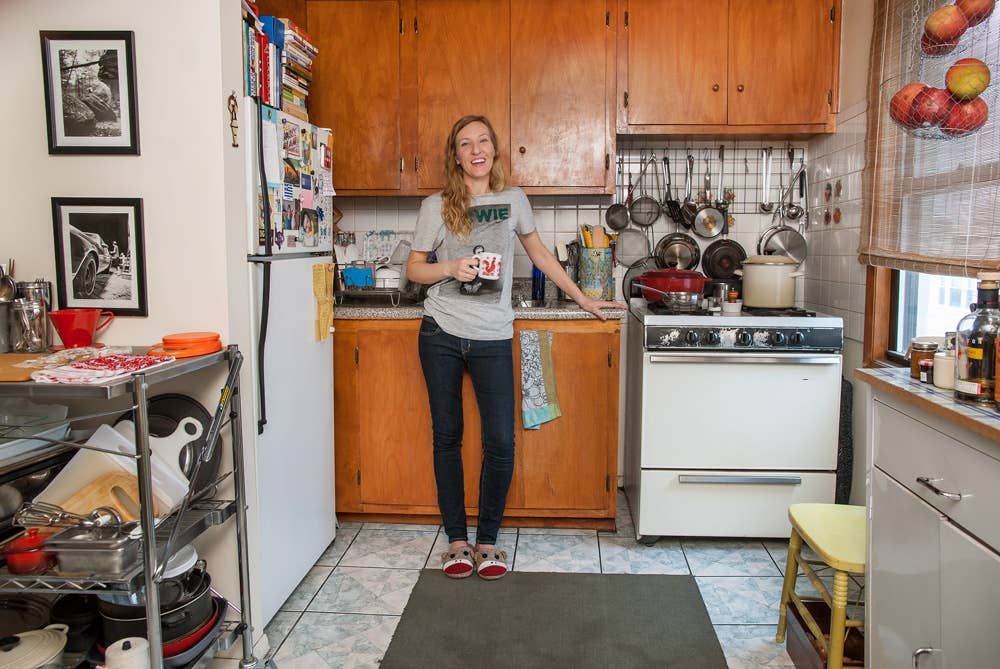 Culture
I Love My Kitchen Because: Judy Haubert
Associate test kitchen director Judy Haubert has lived in her Long Island City apartment with her husband for eight years now– the longest she's lived anywhere since leaving her parents house when she was 18. The kitchen, organized in many of the same ways as the SAVEUR test kitchen, is her favorite room, and where she spends most of her time when she's home. Here's what else she loves about the space:
• Walking into the kitchen is what helps me wake up in the morning. I have to walk through it to get to the bathroom, and I'm hit with a big dose of natural light from the two southern exposure windows that makes everything seem brighter and crisper. I have squirrels visit every morning on the sills of those windows. I've tried to scare them away, but all the things I do to try to make them afraid of me, they love. There was one squirrel last summer that I took to squirting with a water bottle whenever he tried to chew the screen but he seemed to enjoy it and kept coming back.
• It's relatively large for an apartment kitchen. There isn't much counter surface, but I was able to add storage and work areas while keeping a good flow through the area, and without the space ever feeling crowded. There's not enough room for both of us to sit at the kitchen table to eat, but I love to sit there by myself on a weekend morning with my cup of coffee and do a crossword.
• My favorite piece equipment is my InterMetro folding chef's cart, which acts as an extra counter where I keep my favorite cutting board, plus our basic utensils in accessible martini shakers for easy grabbing (an idea I stole from the SAVEUR test kitchen). I use the shelves underneath for my large pots, pans, and bakeware. It's stainless steel, folds up if I need to get it out of the way, and has wheels that lock in place so it doesn't move unless I need it to.
• I have sturdy wooden cabinets above the sink and stove that hold all of my serving ware and appliances, as well as dry goods and spices. I'm a compulsive organizer, and keep everything labeled (with easily removable painters tape, just like we do in the SAVEUR test kitchen) for easy access. I also installed a hanging rack behind my stove where I keep all my smaller pots and pans, as well as cooking utensils.
• I have a monster stove—it's so huge! I'm convinced I could fit two Thanksgiving turkeys in there. And it's gas, which I prefer over electric. I'm not sure how old it is or when it was last serviced (at least 8 years, since I've been there), so I keep an oven thermometer inside to make sure I have accurate temperature readings when I'm roasting or baking.
• A lot of stuff I have in my kitchen are things that don't really have monetary value but have great sentimental value for me because I've found them in weird ways. My favorite dishes are a set of beautiful French country-style china I found for about five bucks at a little junk shop in Ohio I happened to go to right before I moved to New York. And the walls are decorated with photos I took when I was in college.