I Love My Kitchen Because: Gail Zweigenthal
Gail Zweigenthal, former editor-in-chief of Gourmet (where she worked for more than three decades) has lived in her apartment on New York's Upper East Side for the past 22 years. It's the window in the kitchen that brought her to this spot, which she affectionately refers to as her own little country kitchen in the big city. While her food magazine days may be behind her (she's currently enjoying a new career as a psychoanalyst), Gail's greatest joy is still cooking for friends at home, and look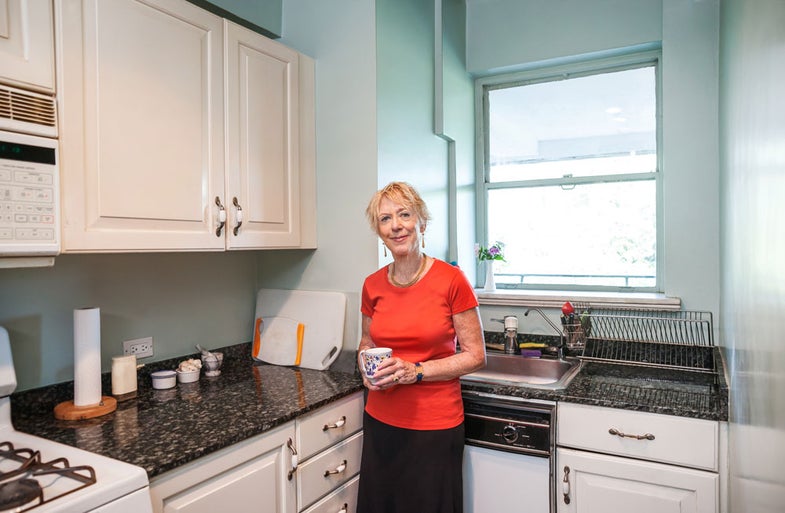 • I was very happy living in a studio apartment in Greenwich Village for many years, but I really always wanted a window in my kitchen, and since I couldn't have a window, I moved. I wanted a lot of things, but mainly I wanted a window in the kitchen. I used to share a house out on Fire Island with a group of friends that had a big window over the sink where I'd work to peel shrimp for twenty people while I looked out over the Atlantic. That window made the otherwise dull task enjoyable. So this is not the Atlantic Ocean out my kitchen now, but I've got the [Central Park] reservoir, and it's still water, and it's still quite peaceful.
• Somehow I figured out how to get a dishwasher that fit under the sink, and it makes all the difference in the world when I'm entertaining. I make dinner for friends about once a week, and just to be able to get one load in after dinner makes all the difference. I can deal with all the glasses in the morning.
• I don't have room for much in my actual kitchen, so my "kitchen" is everywhere, even in my bedroom. I have appliances stored in cupboards in my living room, including a rotisserie roaster that I use for cooking the Thanksgiving turkey every year, my blender, Cuisinart, and ice cream maker (which I love!). There are serving platters and pots hiding here and there, and I have a big salad bowl in my bedroom closet that holds sweaters when I'm not using it. It's a New York apartment; you have to do what you can to make do.
Credit: Noah Fecks
• My favorite thing is my coffee maker, because I'm so addicted to coffee! I go to Zabar's and I get half French-Italian and half dark espresso and I have it ground for #4. I don't even know what #4 means. One of my old friends who was the food editor at Gourmet gave me a set of tins once with cows and "Dairy" printed on them, and I've always used one for storing my coffee. Sometimes I dream about making coffee, and it's the first thing I do every morning: I stumble out of bed, I make it in my French press, I bring in the newspaper, I turn on the radio, and I sit by the window and drink my coffee. It's so funny how everyone walks around the street now holding coffee—I can't walk and drink coffee at the same time.
• I have a simple wooden bowl that my mother used to make her chopped liver in, and whenever I take it out—I usually use it to make a lunchtime arugula salad in—I think of my mother. I grew up on Long Island, and my mom didn't cook too often, but she was a wonderful cook when she did. At Gourmet I always included a favorite recipe with my editor's letter, because I thought, who wants to read my philosophizing about things? Let me give them something! One of those recipes that I shared was my mother's brisket. Every so often I like to peek at the Epicurious page for that recipe and see more and more hundreds of people making and loving my mother's recipe.
Interview conducted and condensed by Anna Stockwell
PREVIOUSLY
**I Love My Kitchen Because: Claudia Gonson »
I Love My Kitchen Because: JD Samson »
I Love My Kitchen Because: Alicia Witt »
I Love My Kitchen Because: Michael Chiarello »
I Love My Kitchen Because: Melissa Clark »
**