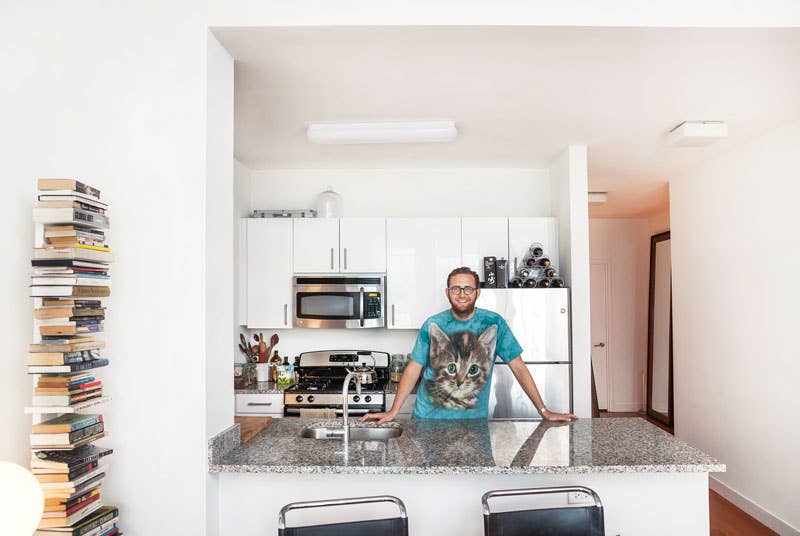 Culture
I Love My Kitchen Because: Todd Selby
For his new book The Edible Selby, multi-talented photographer/journalist/illustrator Todd Selby has been travelling the world to capture behind-the scenes views of the kitchens, gardens, and homes of culinary professionals. Compared to the color-filled cooking spaces of his subjects, the kitchen space he shares with his girlfriend, Danielle, in Broo
• I love that the kitchen has a view. It's all about that. The kitchen opens up into our living/dining room where the big windows are directly above the shore of the East River. When you open the windows you can hear the waves hitting the rocks—it's our "wave feature." When it's just the two of us eating dinner here we do this thing which is really fun where we move our little side table and put it right by the window so we have a table for two looking out over the water.
• Because I travel so much, eating at restaurants all the time, I really just crave eating at home. I hardly ever go out when I'm home—Danielle is a really great cook, and the kitchen is our favorite place to be. I've got my own parmesan grater, just like they use in restaurants, and when Danielle cooks, it's always my contribution to the meal to finish it off with freshly grated parmesan. I found this grater at Whisk here in Williamsburg.
• When I travel I always like to collect food-related things, and I always bring something edible back for my girlfriend. I have these little dog shaped chopstick holders I picked up at Tokyu Hands in Tokyo, which is like the best department store in the world; these bowls from Everyday Needs in New Zealand are crafted out of coconut and are really smooth; these beautiful beans from Japan; teas from lots of different places, and so much more. One of my favorite things, though I've never actually used it, is an egg spoon made by blacksmith Angelo Garro (who's featured in the book), for cooking eggs over a fire. You put butter in there, then you crack an egg in, and you put it over the fire.
• Danielle and I both really love silver, so we have a lot of silver. Most of what we have are antique's from Danielle's dad's family, though I'm always collecting more. I just recently got this great little tea tin in London.
• There's a frozen banana dessert at Smorgasburg that tastes almost like ice cream, and I love ice cream, so I've been making it for myself a lot in my food processor. I keep ripe bananas in my freezer and then just put a frozen banana in the food processor till it has a soft serve type texture and it's my healthy treat—I have such a sweet tooth!
Interview conducted and condensed by Anna Stockwell