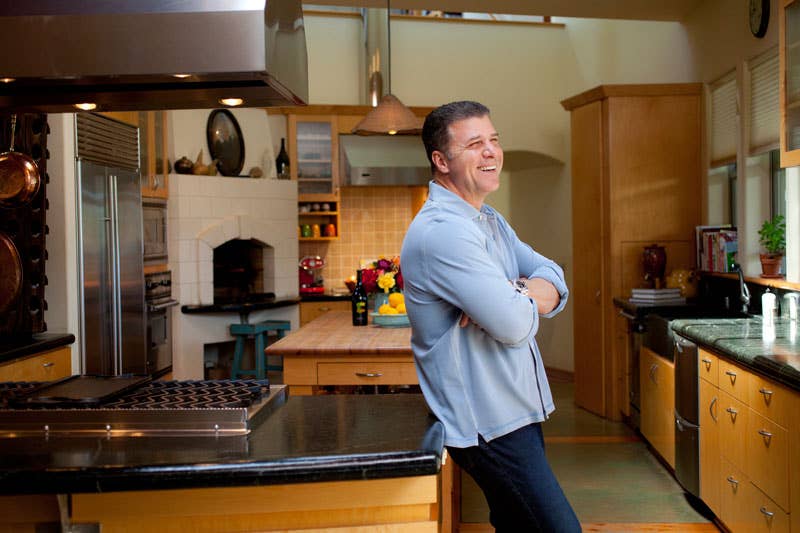 Culture
I Love My Kitchen Because: Michael Chiarello
When chef, vintner, and Easy Entertaining host Michael Chiarello built his home in the Napa Valley, he left the final setup of his kitchen unfinished until he had a chance to really see how he used the space. Ten years later, it's still not quite finished: While the open flow and easy organization of the space is exactly what he wants, Michael is still tinkering with the ro
• Most people spend too much time worrying about what kind of stove to install in their kitchen, and not enough time worrying about the lighting. I don't care what kind of stove I use as long as it heats up nice and fast, but I spent a lot of time trying to figure out the right lighting in this kitchen. I played with directional lighting, but that can create big shadows on your work surface. Overhead lighting doesn't create so many shadows, but at the same time that's not always so flattering and warm. So I changed some lamps, changed some bulbs, and created warmer cooking lighting with a combination of overhead and directional fixtures. I have two skylights in the kitchen that are great because they never have direct light pouring through them, they just sprinkle sunlight on top of you. It's a nightmare for when we're filming in the kitchen, but I love it.
• My favorite appliance in this kitchen is my wood-burning oven. I just love it because we made it with the hearth high enough to work as a fireplace and a counter. In the wintertime we can cozy right up to the wood-burning oven and cook our food in the fire then eat right there off the hearth.
• I have power wherever I want to plug anything in. I never need an extension cord. There are power strips hidden everywhere — I requested that when we designed the kitchen. The island has a hollow leg so we could bring power up through the leg.
• Our youngest son is six now, and he was born here in this house. About two hours before he was born, I baked potatoes to make gnocchi. As soon as he was born I rolled out the gnocchi, and everyone gathered around the table and ate it together. Gnocchi was always my favorite food growing up — it was what I always asked for on my birthdays. So for his birth day, I gave him my favorite birthday meal.
• I have enough cabinet space that you don't have to see anything. I love that the kitchen's big and open enough that even when I have 20 people over, I can be working at one side of the island and everybody can still be in the kitchen but not be in the way. I can have a glass of wine and cook and still see everybody. Even if I'm at the stove and people are at the dining room table, I can still stay in the conversation.
Interview conducted and condensed by Anna Stockwell