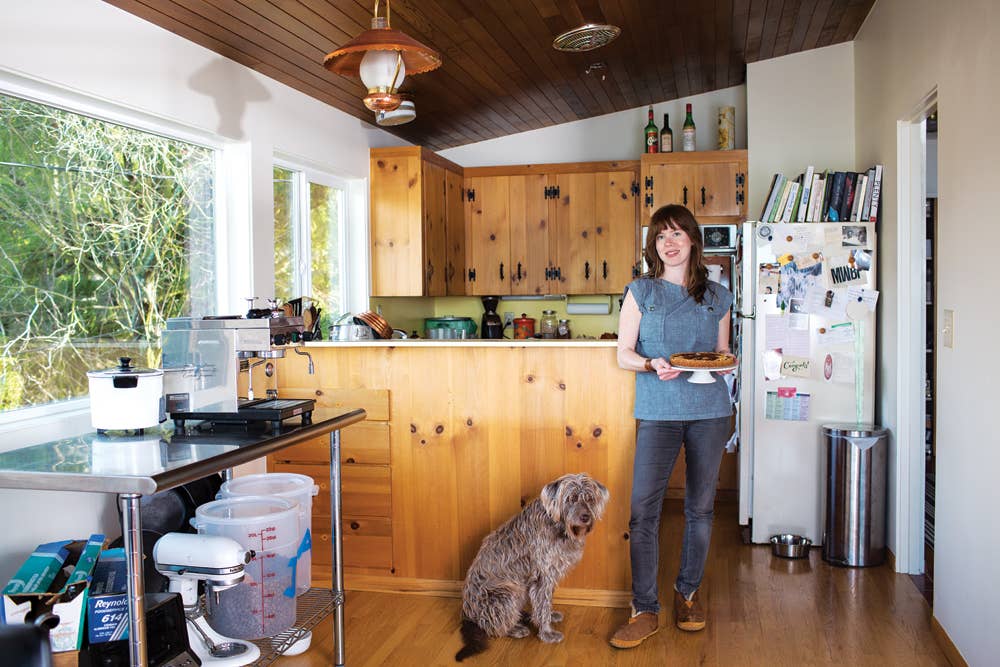 Culture
I Love My Kitchen Because: Molly Wizenberg
Molly Wizenberg, cookbook author and creator of the food blog Orangette, shares her Seattle kitchen with her husband Brandon, baby June, and two dogs named Jack and Alice. Built in 1958, the kitchen still retains all of its original charm–plus the abundant light and view of Puget Sound give her plenty of cooking inspiration. Here's what else she loves about her space:
• In a lot of midcentury houses—ours was built in 1958—the kitchens were updated in the 1980s and '90s with generic cabinetry and granite countertops. My husband Brandon and I didn't want that. Our kitchen is original to the house, though we did tear down a wall that used to divide the kitchen from the breakfast area. The original part of the kitchen was built really well. I love its old knotty pine cabinets, its wood ceilings, and how its sturdy solid-wood drawers make such a perfect thud sound when I close them. All of the appliances, except for the refrigerator and dishwasher, are original as well. The oven is a Hotpoint electric in harvest gold that mostly still works great. My mother-in-law laughs sometimes because it looks like the old ranges she remembers from the 1960s and '70s.
• More than anything, though, I love the light. Our stove faces an enormous wall of plate-glass windows that look out onto Puget Sound, which provides more than enough inspiration to cook. And when I'm at my sink rinsing dishes, I can look outside and see so many trees it feels like I'm in a forest.
• Aside from extra prep space, this stainless-steel table is great for storing our big counter appliances—not to mention kibble for our dogs Jack and Alice.
• This copper light fixture is on a retractable cord, so you can actually pull it down to about two feet from the ground. Great for, I don't know, a kitchen floor picnic?
• My white KitchenAid stand mixer dates from the 1970s, when they were still made by Hobart. It was the first gift my husband ever bought me, while we were dating. He tracked it down on eBay.
• One of the big reasons we fell in love with this house was the kitchen's Douglas fir ceiling, which gives the room a real feeling of warmth and comfort.
• This apple cake has a wonderful cinnamon glaze. Don't worry. It looks way more time-consuming than it is.
• We have hundreds of cookbooks, most of which we keep upstairs. But the ones we use often are stored on the fridge, which is low enough for easy access.