The Wedding Feast
Love and marriage and one magnificent cake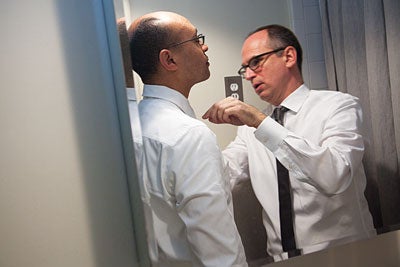 Perhaps you're surprised to open the March issue of SAVEUR and see a wedding album. But amid all the page proofs that have been circulating around the office recently, those photos have been making the rounds, too. The whole SAVEUR staff was on hand, along with a dozen or so other good friends, when I married Carlos Daniel Dos Santos, my partner of nearly five years, on December 22, 2011. In a way it surprised even me. Whatever your feelings about gay marriage are—I'll confess that until recently my own were sort of blithely indifferent—any wedding is an event charged with significance. And though we didn't deliberately choose 2011's winter solstice for our celebration, as the date approached, the notions traditionally associated with that day—rebirth, darkness giving way to light, a new beginning—resonated with gathering force.
That's Daniel and me in the photo (I'm the one fixing Daniel's tie), preparing to depart for the rather forbidding-sounding Office of the City Clerk, in New York City. The reality of the place wasn't forbidding at all. We arrived to find the wedding guests, a crowd of familiar faces grinning as broadly as we were, assembled in front of the building. There was SAVEUR contributor Harris Salat with his wife, Momoyo Torimitsu, and 11-month-old son, Gen, kibbitzing with fellow writer Francine Prose and Thor Stockman, my friend of more than 30 years. The party had already begun, spontaneously, and that spirit of sheer glee carried us through the rest of the day. After a brief but emotional ceremony, we gathered for a group portrait and then walked en masse to Chinatown and pushed several tables together at Excellent Pork Chop House, a truly excellent Taiwanese place and the first restaurant in which Daniel and I ever sat down to eat a meal together.
Over plates of braised pork and pickled mustard greens, noodles of all sorts, spare ribs floating in herbal broth, and so much more, champagne corks popped and toasts were raised. As you might expect, the centerpiece of the meal—of the whole day, really—was a cake. And yet, again, I was taken by surprise. Associate food editor Ben Mims had baked it himself—a sweet, white cloud of a layer cake swathed in fluffy meringue frosting and freshly grated coconut, the kind he grew up eating in Mississippi. (For more on that, please read "Sweet Southern Dreams", Ben's ode to the cakes of his childhood.) As if the cake itself wasn't enough to bring tears to our eyes, planted on top were two tiny, tuxedoed grooms purchased for the occasion by executive editor Dana Bowen, and a cat hand-painted by associate editor Karen Shimizu to look like our cat, Sam; assistant website editor Anna Stockwell, I later learned, had earlier endured a bumpy taxi ride across the city with the cake balanced on her knees. Daniel and I were floored by this beautiful and loving and unbelievably delicious gift, and again by the faces of our friends all around us, laughing and talking and smeared in sticky frosting. "You have to freeze a slice to eat on your first anniversary!" Dana insisted. But we joyfully devoured the leftovers later that night.