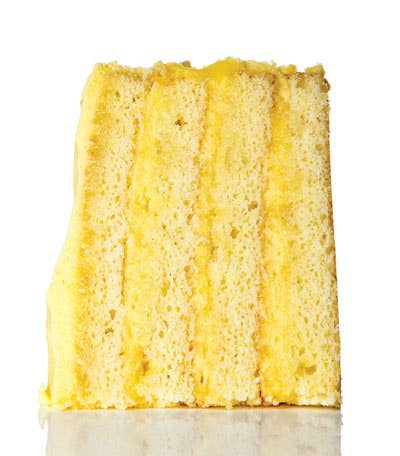 Recipes
Sweet Southern Dreams
Nothing says home to a man from Mississippi like a sky-high layer cake
Prior to October 7, 2010, my mother and I were the best of friends. A consummate Southern lady, Judy Mims is a fantastic cook, gossiper, and mom—and in her relationship with me she had always drawn on all those talents. But on that October day, I flew from New York City to my childhood home in Kosciusko, Mississippi, to come out, at 25 years old, as a gay man to my parents. As anyone who grew up in the Bible Belt can imagine, the outcome was heartbreaking. My mother and I used to talk at least weekly; now months go by without a call. I miss her. And I can't help feeling like I've lost touch with not only my mother, but also my lifeline to the world I grew up in. Thank goodness I still have the cakes.
Layer cakes originated in the South, and with their over-the-top grandeur and unapologetic sweetness, they're inextricably linked to the culture I grew up in. The drama, excitement, and praise—they all speak to the South.
My childhood in rural Mississippi was filled with fantastic bakers: my mother, of course; her sister, Barbara Jane; my paternal grandmother, Carol; and Mom's friends, those church ladies decked out in hats who produced a never-ending procession of astounding cakes. My grandmother's neighbor Louise Hodges made a cake three yellow layers tall, draped in warm caramel fudge icing, which exuded a fragrance of vanilla and browned butter that could knock you over. Carol, who bought those cakes from Mrs. Hodges, served one to our family virtually every Sunday after church. We would sometimes have two slices each, and when I'd tease my grandmother, asking her who made the cake, she would primp her curly blonde hair, give me a wink, and reply, "Why, who do you think?"
My mother, for her part, turned out mammoth sour cream Bundt cakes, domed lemon and cream cheese pound cakes, and a ludicrously rich cheesecake that was my staple birthday cake. I spent my childhood at her elbow, watching her pour glaze down the grooved sides of a Bundt cake, mirroring her smile as she passed me a beater with batter barely clinging to it. Unlike Mrs. Hodges, Mom was never big on making layer cakes. Maybe she didn't have the patience to stack and frost all those layers, though she liked them just fine as an effortless treat baked by someone else. The only layer cake in her repertoire was red velvet, for just as most Southern women have a subscription to Southern Living magazine and at least one gilded holiday wreath in their attic, most also have a red velvet cake up their sleeve. The deep crimson cake against the luminous white frosting is pure Southern drama. It's Shirley MacLaine in Steel Magnolias hacking into the blood-colored tail of an armadillo-shaped groom's cake. It's my mother's ceramic-white skin contrasted by her lips, always burnished with brick-red lipstick.
My mother stacked her red velvet only two layers deep and almost always made it with cream cheese frosting. One Christmas during my teen years, though, she got adventurous with a whipped cream frosting consisting of cooked flour, sugar, and milk beaten into butter. When executed correctly, a frosting like this holds up like a dream and provides just the right balance—not too sweet or rich—for the slightly acidic, chocolate-flavored red velvet layers. She labored over that cake all day, and we carried it in our car two hours away to my grandfather's house in Holly Springs. After dinner, once the coffee was perking, the cake dome was lifted, and my mom sliced into the scarlet layers and snow-white frosting. Everyone took bites, and then spit them out. The frosting was as chalky and tacky as wallpaper paste; my mom was nearly in tears.
She never tried her hand at it again, but that whipped cream icing had a profound effect on me. Motivated by my mother's failure, I made it my mission to learn how to make the cake she had envisioned. Schooled at her apron strings, I was already an avid baker, and nailing that recipe helped direct my life's path. In my current job, I'm able to hone my skills every day to produce the platonic ideals of the cakes my mother raised me to love.
Some of my best recipes were passed down from my mother's own mother, Jane Newson, who died the year before my birth. The very morning following the red velvet cake disaster, my mother sat with Barbara Jane and me on my grandfather's living room floor and sorted through hundreds of her mother's recipe cards. By all accounts, Jane was a fantastic maker of layer cakes: prune and fig in a cinnamon meringue; Lane cake filled with boozy nut and raisin custard; walnut spice laden with cinnamon, allspice, and cloves. It was the coconut cake recipe, though, that the sisters agreed was the one to save if ever the house caught on fire. The first time I tried the recipe, it exceeded all my expectations. The cake was filled with freshly grated coconut, the sweet water seeping into the yellow layers surrounded by fluffy Italian meringue. Left for a day to "mature" in the refrigerator, every inch of it was suffused with rich coconut flavor.
Still, of all the Southern layer cakes I have known, the one that sticks with me the most these days is lemon. It goes back to the summer before my senior year of college, when I moved to Vicksburg, home of the Miss Mississippi Pageant, to work as a reporter for The Vicksburg Post. Toward the end of my stay, just before the beauty queen pomp began, my mom came to visit, and we took a walk along the riverfront. When we ducked into a little cafe for coffee, we noticed a case full of beautiful layer cakes. We ordered a pastel-yellow slice of lemon cake to share. It was a stunner: four layers of citrusy butter cake drenched in lemon syrup and enrobed in a lemon buttercream frosting. We sat and chatted, and every bite of cake tingled our cheeks with delicious tartness. Now, whenever I get nostalgic for the South, I break out my cake pans, butter, and sugar, and whip up a lemon cake like the one we shared; it buoys my hope for a future in which my mother and I are as close as we once were. The result—bittersweet and beautiful—reminds me of that afternoon, four years before our lives changed, when we sat together in that cafe without a care in the world and just talked about cake.