Menu: A Thai Dinner Party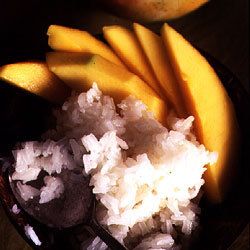 This weekend, fill your kitchen with the scents of Thailand by cooking up this characteristically light and aromatic Thai dinner menu. Fiery spices are incorporated with fresh, palette-cleansing produce such as cucumber and mango, and sweetened with plenty of rich coconut milk.
Start the meal with sweet coconut milk-marinated pork satay, served with a tart and spicy cucumber relish, and a traditional shredded salad featuring either green mango or crab and cabbage. Hot and sour shrimp soup, fragrant with citrusy lemongrass, is an invigorating second course. For the centerpiece of the meal, a coconut milk based red curry with roasted duck, fresh pineapple, and plenty of spice is perfect served over steamed rice. End the meal with sticky rice with mangoes, or a batch of crispy fried bananas.