Selecting and Storing Lemongrass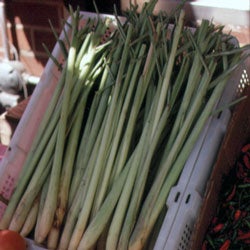 SELECTION: Lemongrass is increasingly available in Asian markets, specialty shops, farmers' markets, and even the chilly aisles of giant supermarkets. Cultivated domestically, it can be found erratically year-round. Look for heavy, long, relatively green stalks with chubby bulbs, which may blush at the base. The grass always has a shabby look, but it should not be dried out. A few Asian stores sell stalks with the fragrant top leaves, but this is unusual.
STORAGE: A Filipina cook we know, who uses lemongrass in steamed rice and tea, buys the dry-looking stalks in Chinatown and sticks them into pots of soil when she gets home. Within ten days or so, they grow new, bright-green blades. Or you may store good-quality, cut lemongrass in the refrigerator, tightly wrapped, for up to 2 weeks. Buy extra and freeze it indefinitely: Although a little perfume and freshness may be lost, the unique flavor remains—and the grass is easier to cut. Or snip stalks into small pieces and dry them. Store in airtight jars, then use as is, or grind to a powder before incorporating into a dish.