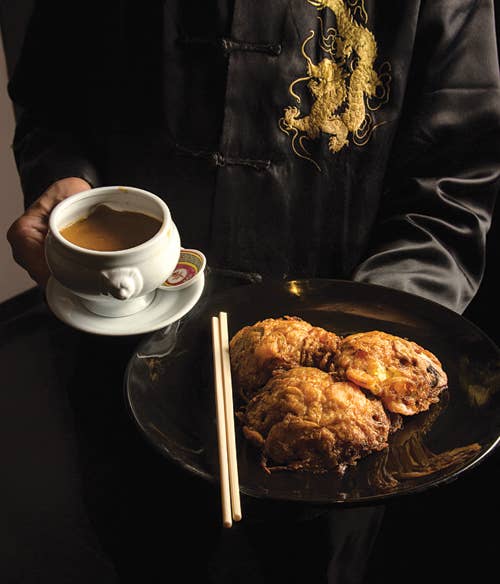 Culture
Orient Express
Long dismissed as takeout cliche, egg foo yung deserves a second look
Some years ago I was sitting in a Chinese restaurant in my hometown of Brookline, Massachusetts, drinking pineapple martinis with my friend Samantha. I picked up a menu. "What's egg foo yung?" I asked.
Sam, who is half Chinese and half Caucasian, stared at me. "You don't know what egg foo yung is? You have got to be kidding."
At 21 years old, I had never tried egg foo yung. A first-generation American-born Chinese, I was banned from certain things as a child. Television. Dating. Action movies. Then there was Chinese-American food, of which egg foo yung is an icon. Tweaked over the decades to suit American palates, the cuisine—standard suburban takeout fare—originated with 19th-century immigrants from Canton in southern China. My mother, who hailed from northern China, had a hoity-toity attitude toward anything Cantonese.
Moo goo gai pan, egg foo yung, chop suey: I only came across them in books by non-Chinese authors. In the young adult novel The Westing Game by Ellen Raskin, Mr. Hoo serves such dishes in his Wisconsin restaurant, while his young Chinese wife sashays in a cheongsam and shouts "Boom!" which is one of the only English words she knows.
Golden Temple, where Samantha and I were lunching, had been more like the Forbidden Temple during my youth. My mother dismissed it as the worst Chinese restaurant in the world. I had longed to go for years. It did not disappoint. With its red silk wall hangings and art deco touches, Golden Temple felt like a place where Anna May Wong, the Chinese-American film noir star, might be found scheming in the corner.
As for the egg foo yung, I had been expecting something like eggdrop soup over fried rice, so I was amazed to be presented with such an elegant dish. It was a lacy golden omelette with an elaborate filling mixed in—bean sprouts and minced water chestnuts; bits of roast pork and fresh shrimp; chopped scallions. Pillowy and punctuated with crunchy vegetables, it was bronzed at its edges from frying. At its side was a silver sauceboat of brown gravy, which was thick and savory, a little bit sweet and a little bit salty. Garnished like a cocktail with orange slices and a maraschino cherry, this egg foo yung didn't seem like something to unceremoniously shove into a take-out container; to me, it looked like a special occasion dish.
As I found out, that's how most Americans once thought of it. "It wasn't glamorous exactly but exotic, for sure," says Dr. Yong Chen, a history professor at the University of California, Irvine, who is writing a book on Chinese food in America. Some say egg foo yung originates in a custardy egg preparation, called fu rong, that's often mixed with fancy ingredients like crabmeat and served at Cantonese banquets. No one quite knows how our egg foo yung sprung from that frou-frou dish, but Cantonese-style cooking proved a hit after it was introduced by Chinese who arrived in California during the Gold Rush hoping to strike it rich. In James Beard's American Cookery, Beard speculates that egg foo yung, made by Chinese cooks for loggers and railroad gangs, was the inspiration for our Western omelette.
By the turn of the 20th century, Chinese-American fare like egg foo yung was being embraced by the middle class as a bohemian pleasure. In Sinclair Lewis's 1920 novel Main Street, a Midwestern couple on an urban excursion sit in a Minneapolis restaurant "at a teak and marble table eating Eggs Foo-yung" and feeling "altogether cosmopolitan."
Cantonese restaurants multiplied, the novelty wore off. In the second half of the century, immigrants from Hunan, Sichuan, and elsewhere in China arrived, and their cuisines edged Cantonese-American food out of popularity. Egg foo yung and other old standards were denigrated by Chinese and Americans alike. Cecilia Chiang, the Beijing-raised doyenne of Chinese cooking in the United States for the past 50 years, is a case in point. "Why ruin a perfectly good omelette with gravy, cornstarch, and oyster sauce?" she asked me. When she talks about egg foo yung, she sounds a lot like my mother.
But there are some who, like me, find beauty in the dish. Ed Schoenfeld, owner of the New York City Chinese restaurant RedFarm, first fell in love with it as a boy in Brooklyn in the 1960s. He says a good egg foo yung is the mark of a well-honed chef. "If I don't trust the cook," he says, "I'll order something like the chicken wings. I don't get the egg foo yung." Seasoned pros, says Schoenfeld, start with very hot oil and a high flame, so that the eggs puff and set right away in the heat. The omelette should billow as dramatically as a souffle, and the final product should be crisp and tawny on the outside and creamy in the center.
Unfortunately, such an egg foo yung is difficult to find. So I have taken to making my own. I do not have the fiery heat of a Chinese restaurant, nor do I have the skills of a crack wok chef, but I make do. I like a combination of char siu, or ground pork, scallions, shrimp, and fresh water chestnuts as my filling. I use room temperature eggs for maximum puff. I have the sauce simmering: the standard oyster sauce, soy sauce, and cornstarch, along with ginger and garlic—familiar but with a kick. I layer my ingredients into small bowls, crack one egg into each, crank up the flame, and fry each miniature omelette with a flick of the pan.
Beneath its silken wash of gravy, it is indeed the perfect exotic dish: showy, a bit vulgar, and not entirely unfamiliar. It may have Chinese-American origins, but it does not connote fractions and hours of piano practice, which is what growing up Chinese in America meant for me. Instead, it evokes a fantasy China of femme fatales and international intrigue. I like to think that in making it I am paying tribute to all aspects of my heritage, especially the ones that exist in my imagination.