Pumpkin Pie with Pecan-Brown Sugar Crust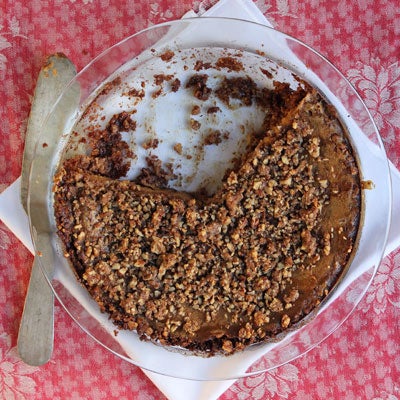 I absolutely love pumpkin pie, but I'm not what you'd call a traditionalist, and have, in years past, tried a handful of unconventional Thanksgiving recipes (Pumpkin Pepita Flan, Chocolate-Pumpkin Cheesecake, etc.) with admittedly mixed results. The most valuable culinary lesson I learned was that the people I'm cooking for really just want classic comfort food. Minimal frills, nothing fancy.
This year, I'm serving this Brown Sugar and Pecan Pumpkin Pie at my Thanksgiving table. Much of my experimentation has grown out of my hatred for fussing with stubborn, uncooperative pie crust, and this new recipe has thankfully taken that out of the equation entirely while still managing to encapsulate everything that makes this dish such a favorite. The creamy custard filling isn't overly sweet, letting the pure pumpkin flavor shine through. It balances well with the darker, molasses-like notes of caramelized brown sugar in the crust. I also had just enough brown sugar-pecan mixture to sprinkle over the top of the pie, creating a lovely streusel crunch with every slice. Serve this dessert with fresh whipped cream for maximum Thanksgiving enjoyment.