Ramadan: Breaking Fast with Hillary Clinton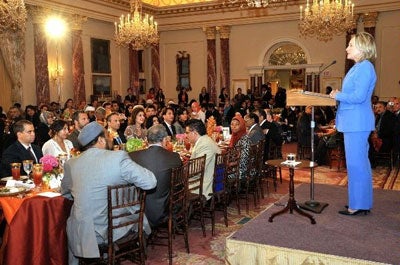 Who wouldn't love to end a long day with sparkling lemonade, dried figs, and medjool dates? That is what 200 lucky Muslim men and women enjoyed as they broke their fasts with Secretary of State Hillary Clinton at the Annual State Department Iftar in Washington, D.C., on September 7, one of the last nights of Ramadan.
Muslims around the world have spent much of August and part of September fasting from sunrise to sunset for the holy month. Iftar is the term used to describe the meal that breaks each day's fast during Ramadan.
The pan-cultural group of American Muslims who'd gathered in Washington enjoyed a menu that mixed Western ingredients like puff pastry and Brie with Middle Eastern staples such as saffron and halal lamb.
Farah Malik, one of the socially minded entrepreneurs behind A Peace Treaty, attended the event as an honoree in a group of young American Muslim leaders dubbed Generation Change. Abstaining from food during the high summer, when produce is at its most luscious, can be a challenge, she said. "Now that Ramadan is starting to fall in the hotter months, I think about watermelon and heirloom tomatoes all day." A 31-year-old of Pakistani descent, she said she usually enjoys fresh fruit, juices, and sweet dates for Iftar. "My family makes a spiced fruit salad and some yogurt dishes with chickpeas, potatoes, and gram flour patties."
At the event, Secretary Clinton encouraged her guests to nourish themselves with the Middle Eastern-influenced dishes while she gave her remarks. "Peace needs champions on every street corner and around every kitchen table, and not just there, but everywhere," Clinton said.
Malik said she'd been especially moved to be given the opportunity to celebrate with a big group in a festive setting instead of breaking her fast alone. "I was reminded about the essence of Ramadan—community, spirit, generosity, giving back, and togetherness," she said.
The Menu
Grape leaves
Halal chicken, rice, and herbs with raita
Salad of red and yellow beets
Whipped goat cheese
Raspberry-white balsamic vinaigrette
Puff pastry with Brie and fig preserves
Sea bass with Mediterranean herbs
Pistachio-crusted medallions of halal lamb tenderloin
Saffron rice with dried currants
Citrus beurre blanc
Haricots verts
Sauteed peppers
Coconut meringue cake
Artful shortbread
Passion fruit coulis and salted caramels
Pomegranate-açai tea
Try one of SAVEUR's Middle Eastern recipes tonight: tabbouleh, chickpeas with tomatoes and sweet peppers, rose water pudding and more.