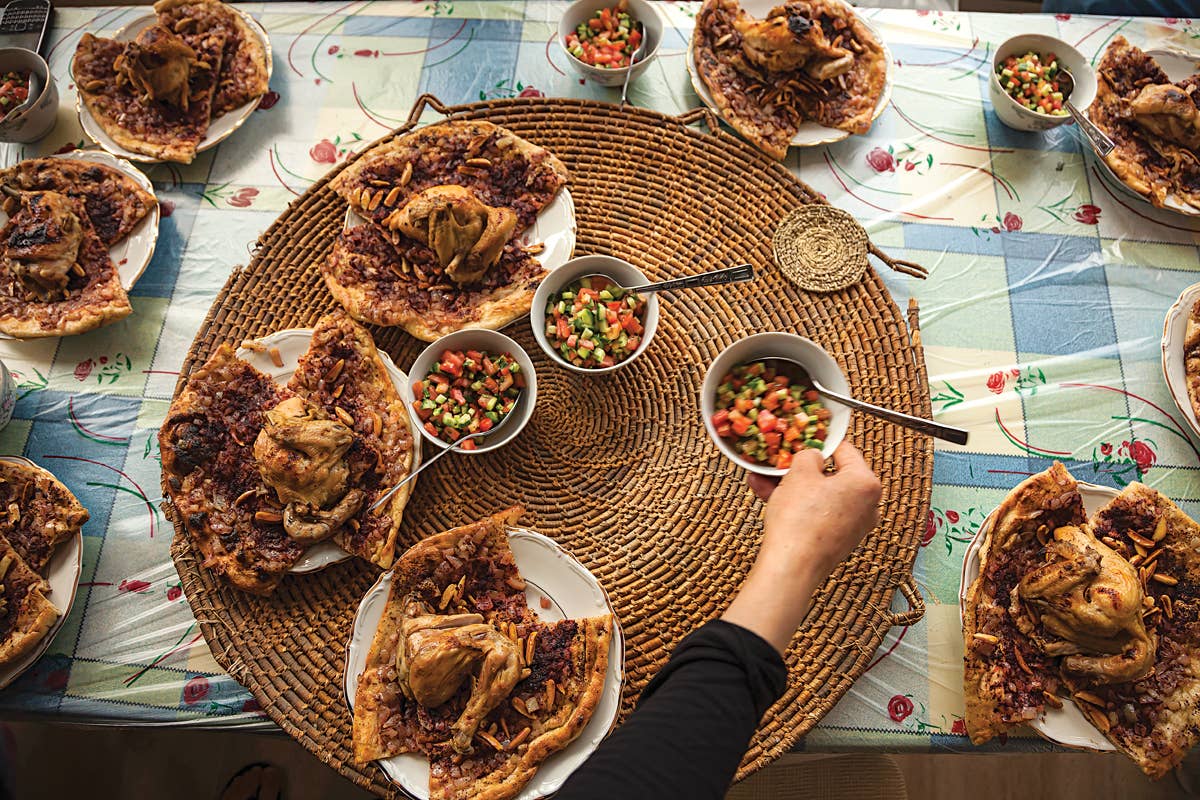 Recipes
53 Best Middle Eastern Recipes
From Egypt to Iran, and everywhere in between: Master Middle Eastern food with this diverse, delicious roundup.
You may know hummus and baba ghannouj, but have you heard of torshi seer? Spanning the vast region east of the Mediterranean, the Middle East is comprised of nearly 20 different nations—including Israel, Lebanon, and the countries of the Arabian Peninsula—each with its own defining set of ingredients, influences, and techniques. As a result, the phrase "Middle Eastern cuisine" encompasses an incredibly diverse array of dishes.
Among them? Such crowd-pleasing Middle Eastern appetizers as Turkey's dainty Manti dumplings, rich Zucchini and Feta Fritters, and snackable Koftas. Our favorite Middle Eastern dinner recipes run the gamut from roast chicken (done the traditional Iraqi and Palestinian ways) to the grilled, stewed, and fried lamb methods that are popular throughout the region. Of course, there are spectacular vegetarian, vegan, and seafood options, too. The dietary restrictions of three major religions represented in the Middle East—Islam, Judaism, and Coptic Christianity—have given rise to some seriously inventive meat- and dairy-free cooking. This Chickpea Stew and Red Lentil and Squash Soup, both from Palestine, can serve as main dishes or a first course.
As for condiments, the aforementioned torshi seer (sweet-tart, fermented garlic from Iran) adds complex acidity to roasted and stewed meats, while Israelis slather schug (a Yemenite chile sauce) over falafel and french fries as liberally as Americans use ketchup.
Finally, for a sweet way to end your Middle Eastern menu, learn how to make date-filled Lebanese Maamoul cookies or flaky Israeli baklava.
Beef Dolmas with Apricots and Tamarind
Cauliflower Shawarma Berber
Roast Chicken with Sumac Flatbread (M'sakhan)
Persian Tamarind-Stuffed Fish
Galilean-Style Hummus (Hummus Maushaushe)
Fried Eggplant with Tahini and Pomegranate Seeds
Mashed Eggplant Dip (Baba Ghannouj)
Charred Eggplant with Chile Sauce & Tahini
Spiced Chicken Kebabs with Garlic Yogurt Sauce (Shish Taouk)
Kibbeh (Lamb and Bulgur Wheat Croquettes)
Hummus with Pan-Seared Duck, Leeks, and Tapenade
Khan Plov (Chicken Pilaf in a Lavash Crust)
Roasted Cauliflower with Tahini Sauce
Red Lentil and Squash Soup (Shorabit Jarjir)
Beet Stew with Lamb Meatballs
Iraqi Eggs with Lamb and Tomatoes (Makhlama Lahm)
Eggs Poached in Tomato Sauce (Shakshuka)
Lamb and Cauliflower Stew with Harissa
Iraqi Yellow Spice-Rubbed Chicken (Djaj Bil-Bahar Il-Asfar)
Lebanese Lamb-Stuffed Eggplant (Batenjen Mehchi)
Spiced Lamb Patties with Tomato and Onion (Kefta bil Sayniyeh)
Loubieh bil Zeit (Romano Beans with Tomatoes)
Ka'ak bil Ma'amoul (Date-Stuffed Ring Cookies)
Israeli Cous Cous with Ras el Hanout, Fennel and Carrot
Spiced Chicken and Wheat Porridge (H'riss)
Ma'amoul bil Tamer (Lebanese Date Shortbread)
Turkish Stuffed Eggplants
Turkish Ground Lamb Kebabs (Adana Kebabs)
Zucchini and Feta Fritters
Grilled Onion Salad with Sumac and Herbs
Turkish Lamb Dumplings with Yogurt and Brown Butter Tomato Sauce (Manti)
Herbed Rice with Fish Tahdig (Sabzi Polo ba Tahdig-e Mahi)
Fattet Hummus (Chickpeas with Pita and Spiced Yogurt)
Steamed Saffron Rice with Tahdig (Chelo ba Tahdig)
Freekeh Salad with Fennel and Chiles
Galilee-Style Grilled Fish Kebabs
Galilee-Style Whole Fried Fish
Palestinian Spinach and Chickpea Stew (Sabanekh bil hummus)
Lamb Meatballs with Carrots and Potatoes (Koufteh Ghelgheli)
Persian Almond Cake with Saffron and Rose Water