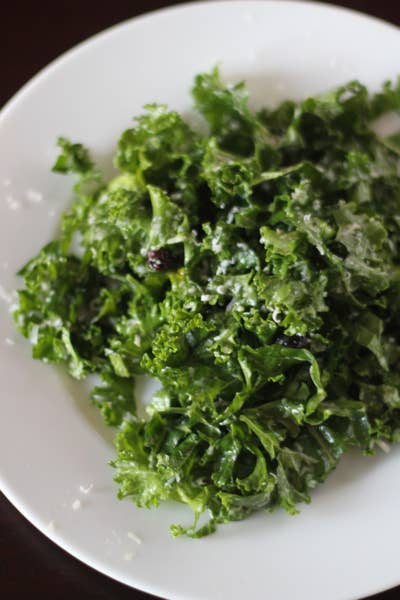 Culture
A Stove-Free Side Dish
A simple salad of raw kale brings welcome simplicity to the Thanksgiving table
My family approaches Thanksgiving in a spirit of communitarian semi-chaos, with the host — whoever it happens to be that year — sketching a general outline of a menu, doing some sort of massive grocery-shop, and then, on the big day, everyone pitching in with talent, aptitude, or brute force. Somewhere in the cracks between the Scrabble deathmatches, the dogwalking, and the endless bottles of Scotch, we produce what is invariably an amazing dinner, with enough on the table to appease the vegetarians, the lactose-intolerant, the carb-avoidant, and the carnivores alike. The one hitch that arises year after year is purely structural in nature: we never have enough space in the oven or on the stovetop.
And so it was that I found myself at my parents' house several years ago holding a massive bunch of kale in each hand, without even the possibility of an open burner on which to saute them. What we did have, though, was a clear square meter of counter space, so I grabbed the biggest salad bowl I could find, sliced the greens into paper-thin ribbons, and tossed them with olive oil, lemon juice, and a mountain of snowy grated hard cheese. It was, without reservation, a hit. On a table laden with rich dishes, the raw kale salad served almost as a reset button. Its bright, clean flavors cut through the heaviness of the rest of the meal, a palate cleanser that made it easier for us to go back for seconds. (Or thirds. Or fourths.)
My inspiration was a dish I'd had at a now-closed restaurant on New York's Lower East Side, but variations on this simple salad abound: some versions call for pine nuts, some add chopped olives, some whisk anchovy and garlic into the dressing. It all works. The beauty of raw kale is its versatility — a perfect host for the strongest flavors in the pantry, it'll take whatever you throw at it. I like a fairly minimalist version that calls for salty Pecorino cheese and a handful of not-too-sweet dried currants, which perfectly complement the raw kale's mildly spicy bite without competing too much with the cranberry sauce. It doesn't hurt that it takes mere minutes to prepare — one particularly frantic year I did the whole thing, start to finish, in under 60 seconds. For a day defined by its efforts and excesses, something this simple and easy is a welcome addition.