Worldwide Feast: 55 Great Global Food Blogs
Here at SAVEUR.com, we spend lots of time reading food blogs — and it's no surprise that we've found smart, gastronomically-inclined bloggers in virtually every country on earth. These writers are committed to celebrating regional recipes, restaurants, techniques, and ingredients; we draw on their sites as culinary guides to everyday life in specific places all over the globe. (We're also moved by how many region-specific sites are written by expats who maintain a connection with their homeland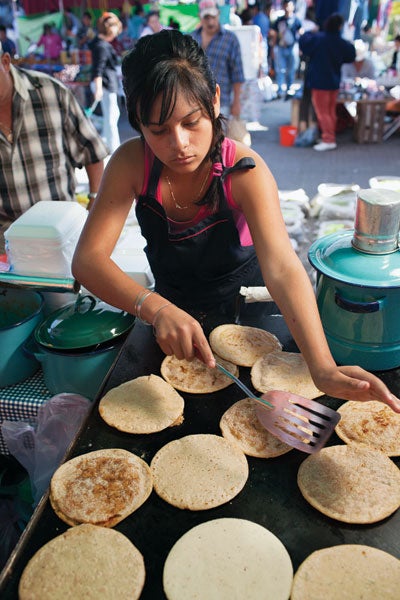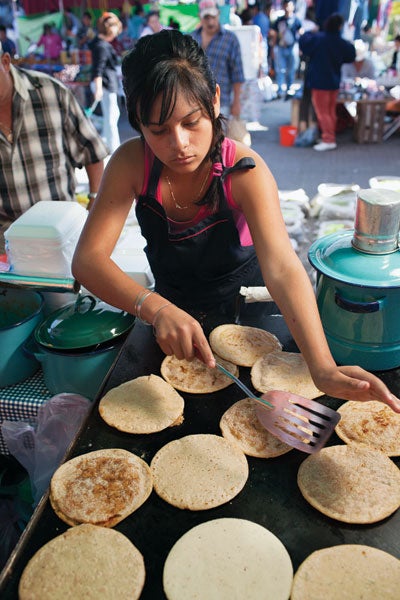 Algeria
My Book of Rai
Chef Farid Zadi breaks down the basics of North African cooking in this blog, which also provides background on tools, techniques, and Algeria's culinary history.
Argentina
BAs Cooking
This Buenos Aires food blog is populated with posts about traditional Argentine fare, such as dulce de leche, alfajores, and chimichurri sauce.
Australia
Witty food reportage dominates this amusing food blog, created by magazine editor (and Black Sabbath enthusiast) Anthony Georgeff.
What Katie Ate
In the wide, deep sea of photo-driven food blogs, What Katie Ate stands out as a thrilling source of visual inspiration. Colorful, perfectly staged images pair with detailed restaurant recommendations and Oz-inspired recipes.
Austria
Dinner for One
This photo blog is an intimate look into an Austrian kitchen, with near-daily photographs of whatever the author happens to be cooking up for herself.
Azerbaijan
AZ Cookbook
This California-based blogger spends about half her posts on conventional American fare, but it's the rich, beautiful Azerbaijani recipes that keep us coming back for more.
Brazil
Come-Se
Blogger Neide Rigo writes in Portuguese, but her lush photographs provide more than enough context to tell the stories of Brazilian cuisine. (SAVEUR editor-in-chief James Oseland visited her not too long ago; to our delight, he made it onto the blog.)
**
**
Illustration: Drawn and Devoured, Canada
É o que tem pra hoje
Written in both Portuguese and English, this bilingual Brazilian food blog that features more than just Brazilian recipes. Recent posts include South American-inflected looks at Chicago style pizza, pralines, Swedish cinnamon bread, and gnocchi.
Chucrute com Salsicha
This site specializes in traditional Brazilian cuisine. While written in Portuguese, its bright photographs and occasional cartoons connect with readers of all nationalities.
Cambodia
Nyam Penh
If you find yourself in Cambodia and are in search of a good place to eat, this site will be your saving grace: it features extensive restaurant reviews of culinary institutions in the Cambodian capital of Phnom Penh.
Canada
Paying equal attention to the restaurant scene in Alberta and to the ins and outs of Top Chef Canada, this blog dives deep into Canadian food culture.
Drawn and Devoured
Toronto-based artist Katherine Verhoeven puts a fresh spin on restaurant reviews with her whimsical illustrated writeups, as much a joy to look at as they are to read.
Everybody Likes Sandwiches
Don't be fooled by the name: there's more than just sandwiches featured on this site, which highlights fresh, healthy, simple food of all varieties.
Ecuador
Las Recetas de Laylita
This Spanish-language food blog provides step-by-step instructions to make traditional Ecuadorean dishes, as well as recipes inspired by the rest of Latin America.
England
Egg Bacon Chips and Beans
Russell Davies loves traditional English breakfasts (see: the name of his site) and is dedicated to tracking down as many as he can.
**
**
Photo: Claire Sutton for Things We Make, England
Pertelote
An honest, hilarious, digressive account of learning to cook traditional East End London foods, with plenty of literary references and good old British humor.
Things We Make
Husband-and-wife team Claire and Ed make beautiful food. They also grow a beautiful garden, put together beautiful furniture, and make us want to live a beautiful English country home.
Estonia
Nami-Nami
Written in English, this blog is dedicated to traditional Eastern European foods given bright, modern twists. Tales of foraging for mushrooms run side-by-side with restaurant reviews and tales of travel throughout Europe.
France
Chocolate and Zucchini
Clotilde Dusoulier is the grande dame of Parisian food blogging, and even ten years after her start, the site is a fresh, engaging take on contemporary French cuisine.
David Lebovitz
The ultimate American-in-Paris food blog is equal parts foolproof baking recipes, insider knowledge about the city's restaurants and shops, and dry wit.
Like a Strawberry Milk
The retro colors and jubilant design of French-born, London-based pastry chef Fanny's culinary journal are so witty and engaging, we could page through her site all day.
Germany
Delicious Days
Blogger Nicole Stitch lives in Munich, where she delivers weekly recipes that showcase the beauty of German produce.
The Wednesday Chef
The Wednesday Chef is the online home of writer, home cook, and native Berliner Luisa Weiss, who started her blog when she was living in New York City. Beautiful photography and witty anecdotes provide the backdrop for recipes ranging from American inspired fare to European favorites.
Greece
Souvlaki for the Soul
Photographer and world traveler Peter features a mix of traditional Greek recipes (his heritage) and international dishes inspired by Australian fare (his home).
Photo: Luisa Weiss for The Wednesday Chef, Germany
My Little Expat Kitchen
Magda, a Greek home cook living in the Netherlands, blogs about her kitchen adventures with luscious photographic accompaniment.
India
The Cook's Cottage
A blogger from Pune, Maharashtra, delivers spirited, thoughtful traditional Indian recipes, with occasional digressions into global cuisine, packaged food, and culinary economics.
Israel
My Mom's Recipes
Chanita Harel's recipes are inspired by her mother's kitchen; they're a personal tour of Israel's culinary fusion of Eastern European and Middle Eastern cuisines.
Italy
Lucullian Delights
Lush photography anchors this Italian food blog, written by a Swedish professional photographer who lives in Tuscany with her husband and children.
GustoBlog
This Italian-language blog mixes traditional Italian recipes with internationally-inspired dishes, with a particular emphasis on seasonal produce.
Rachel Eats
Rachel Roddy, a wry British writer living in Rome, pairs Italian recipes with conversational, engaging narratives that make you feel like you're cooking with a friend.
Japan
She Who Eats
This blog is a prime demonstration that Japanese cuisine isn't just sushi and tempura. Restaurant and product reviews run alongside recipes showcasing Japanese foodstuffs from sakura sweets to yuzu marmalade.
Photo: David Hagerman for Eating Asia, Malaysia
Nordljus
Keiko, a Japanese expat living in England, explores traditional Japanese food alongside clear, easy-to-follow instructions.
Korea
My Korean Kitchen
The title says it all: this provides step-by-step instructions on how to create delicious, authentic, Korean cuisine, from a Korean blogger who recently moved to Australia.
Malaysia
Eating Asia
Husband and wife team David Hagerman (who takes the photographs) and Robyn Eckhardt (who does the writing) use their home in Kuala Lumpur as a jumping-off point for travels throughout Southeast Asia, focusing on street food, out-of-the-way restaurants, and welcoming homes.
Rasa Malaysia
This mega-blog is run by Bee Yinn Low, a writer and recipe developer whose loyal following of over a half million visitors a month keep the conversation lively. True to the heritage of Malaysian cuisine, the recipes here are have elements of Chinese, Japanese, Thai, and Indian influences.
Mexico
Good Food in Mexico City
Everything you need to know about Mexico City's culinary scene can be found on this informative site. From tipping guidelines to tropical fruit recipes, it's a gastronomic survival guide.
A Little Cup of Mexican Hot Chocolate
This bilingual food journal highlights women's recipes, stories, and their relationship with food in Mexico. It's simultaneously touching, inspiring, and instructive.
Peru
(Lima) Beans and Delhi Cha(a)t
Suri, an Indian food enthusiast born in New Delhi, and Cesar, a passionate home cook born in Lima, form the team behind this cross-cultural blog, with recipes that are Indian, Peruvian, and a little bit of both.
Philippines
Market Manila
A former management consultant who writes under the pseudonym "Marketman" delivers a guide to the ingredients, specialty foods, and local produce to be found in the Filipino capital.
Pinoy Cook
Connie Veneracion is a mom of three who's been blogging about Filipino home cooking since 2003, and has amassed a loyal following for her clear instructions, engaging voice, and witty commentaries on everyday life.
Photo: Nook Eatery, South Africa
Portugal
Tasca de Elvira
A Portuguese cooking blog that's written in French, Tasca de Elvira's beautiful, moody photographs elevate Portugal's naturally simple foods to works of art.
Serbia
Palachinka
Belgrade-based Marija draws on international influences in her cooking, and doesn't shy away from decadent, tremendously flavorful ingredients. (We're particularly enamored of the meat-wrapped-in-more-meat Master Roll.)
Singapore
Chubby Hubby
This all-encompassing Singapore food blog features dining reviews, recipes, and travel tips, curated by a husband-and-wife team comprising both a professional food writer and photographer.
Kuidaore
Modern, clean photography illustrates this blog's contemporary spin on traditional Singaporean cuisine.
Spain
The traditional Spanish recipes on this site are written in English, but you almost don't notice the words next to Spanish-born, Scotland-residing illustrator Ximena Maier's exuberant, often hilarious, recipe-driven drawings and collages.
South Africa
Nook Eatery
The blog of this Stellenbosch-based restaurant pulls back the curtain on co-owners Jessica Shepherd and Luke Grant's emphasis on fresh, homemade cuisine using local ingredients.
Cook Sister!
Named for a deep-fried, syrup-dipped pastry, the blog of South African native (and current U.K. resident) Jeanne Horak features traditional recipes made with English ingredients.
Sweden
Kokblog
Designer and cook Johanna Kindvall is building a beautifully illustrated guide to Swedish cooking, with delicately drawn images and infographics that lead readers on a visual journey, from stylized images of dainty elderflower cordials to sticky chocolate cake.
Photo: Green Kitchen Stories, Sweden
Green Kitchen Stories
Health-conscious family David, Luise, and daughter Elsa share their passion for good, wholesome, vegetarian food, along with an intimate look at family life in Stockholm.
A Cat in the Kitchen
Stockholm-based Dagmar really does have cats that wander around in her kitchen, but their cuteness is almost overshadowed by her adventurous, honest kitchen exploits.
Thailand
She Simmers
Leela Punyaratabandhu has made it her mission to demystify Thai food for an international readership, with clear instructions, vivacious culinary histories, and inspiring photography.
Turkey
Cafe Fernando
Cenk Sonmezsoy blogs about the Istanbul food scene and develops striking original recipes on his informative, comprehensive site, which was named Best Culinary Travel Blog in our 2011 Best Food Blog Awards.
Istanbul Eats
This remarkably comprehensive site, an invaluable resource for tourists, goes beyond typical Turkish fare to deliver restaurant recommendations for restaurants specializing in Balkan, Caucasian, and Middle Eastern cuisine.
Vietnam
Sticky Rice
From traditional Vietnamese recipes to out-of-the-way restaurant recommendations, this is the go-to food blog for travelers on the hunt for delicious street food and gourmet delicacies in Vietnam's northern capital, Hanoi.
Noodle Pie
Freelance journalist Graham Holliday may now be based in Rwanda, but he's a Vietnamese food junkie, and he draws on his long history of living in Saigon on this comprehensive, friendly site.
Want even more food blogs? Check out the winners and finalists from the 2011 Best Food Blog Awards, as well as our list of 50 More Food Blogs You Should Be Reading.
Cory Baldwin and Allison Poindexter contributed research and reporting to this story