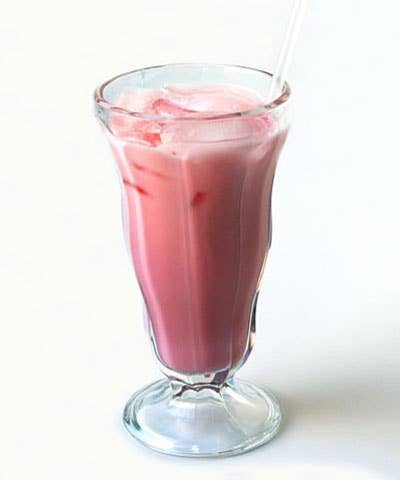 Want to make your kid happy? Take him to a restaurant that serves nothing but dessert. Want to make yourself happy? Make sure that this restaurant not only pleases his palate but educates it. Spot Dessert Bar, which opened here in New York's East Village back in November, is the brainchild of consulting chef Pichet Ong, who is renowned for his sweet way with desserts. Ong grew up in Thailand, Hong Kong, and Singapore, and for Spot Dessert Bar he's created a menu of cookies, cakes, cupcakes, ice creams, ices, and drinks using ingredients from all over Asia: jackfruit, coconut, and palm seed from Southeast Asia; yuzu and miso from Japan; persimmons and litchis from China.
Many of these flavors were new to my dessert date, the ten-year-old Harper. "Is this frogs' eyes?!" he asked when the jackfruit cake was placed in front of him, its garnish of black Thai basil seeds wobbling within their gooey white membrane. No matter the possible Kermit connection, he dug into the rich cake, herbaceous basil seeds and all, and, literally singing his praise, declared it "supercalifragilisticexpialidocious."
But, despite chef Ong's flare for complex combinations (like white miso semifreddo with raspberries and olive oil cake), Harper reserved his highest praise for a relatively simple drink called Pinky Milk (see the recipe). Looking like Strawberry Quik but tasting way more interesting—tangy, floral, and even a bit smoky—Pinky Milk is made with Hale's Blue Boy Brand sala syrup, a magenta-colored, toothachingly sweet, artificially flavored syrup that approximates the taste of the fruit of a branchy palm tree that's native to Thailand. With its reptilian red skin, sala looks like its cousin the snake fruit, but it's longer and narrower, with an exterior dressed in fine hairs and sharp thorns. Its firm white flesh has a musky tang.
Sala is a common sight in Thailand, says chef Ong, but the sweet pink milk associated with it is made only with Hale's syrup. "Vendors make it on the street," he says of the beverage, "but nobody uses fresh sala juice. If I were in Thailand I'd attempt it, but you can't get the fruit here in the States, so I use the syrup." As vendors do in Thailand, Ong mixes the sala-flavored syrup and condensed milk with warm water to achieve a smooth consistency before pouring it lukewarm over ice, which slightly dilutes the sugary drink.
How did it go over with the kid? Like gangbusters. "That is amazing," Harper pronounced after a few sips. "It's relaxing. Like you just took a long breath out." He took a few more sips. "And it's cleansing. That's the word—it's cleansing times three. It tastes like flowers." In other words, according to this ten-year-old critic, Pinky Milk beats Quik to a quick.