The Changing Face of Onions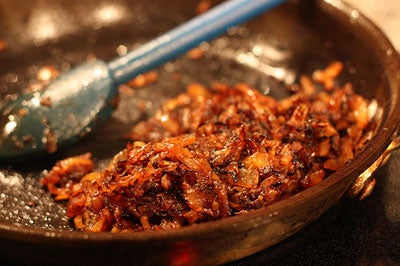 Onions are schizophrenic. When raw, they are biting and harsh. In the company of fat, gentle heat, and time, they become sweet and yielding. While raw onions keep returning long after you've had enough, their caramelized counterparts leave you wanting more. Though caramelized onions play the leading lady role in French onion soup and pissaladiere, I like to use them as a condiment to dress up salads, sandwiches, and bruschetta.
101 Cookbooks uses caramelized onions in this dip (Lipton's French Onion what?), while Tea and Cookies enjoys them at breakfast in oatmeal–yes, you read it correctly: in oatmeal.
Yowza. I'm not quite ready for all that before my morning coffee, but I have been known to enjoy a savory L.E.O. (lox, eggs, and caramelized onion) scramble. Or how about this sexy fig tart that appeared in the New York Times a few weeks ago? If tart crusts give you pause, fear not: this one uses prepared puff pastry.