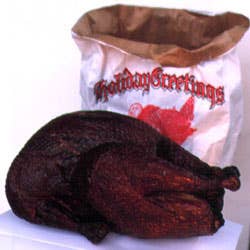 Travel
The Fire Bird
From Texas to your door, the best smoked turkey in the U.S. is a true holiday treat.
Ever wonder why so many smoked game birds look and taste like ham, instead of like pheasant, turkey, duck, quail, or whatever else they're supposed to be? The answer is sodium nitrite, a salt often used to cure meats, which acts as a preservative to keep meat fresher longer. Typically, it is added to a soaking brine. When the game is later smoked, the sodium nitrite causes the meat to turn a rosy hue. If the smoke flavor is strong, and the color is pink, your taste buds—and eyes—will say ham.
Nitrites don't have to be used to cure poultry or game, but they often are to retard possible bacteria growth, particularly if the meats are destined to be vacuum-packed. If you're lucky, you might find a local source that will sell fresh smoked birds, with their own distinctive taste and color and without preservatives. If not, call Greenberg's.
Greenberg Smoked Turkeys in Tyler, Texas, is a company that doesn't know the meaning of diversification. Since 1937, the Greenberg family has been smoking and selling one item: turkey. Turkey with no nitrites. Turkey not vacuum-packed. Turkey cured exactly the way founder Sam Greenberg did it when he smoked his first bird all those years ago in the same place, which was then his dairy farm. The turkeys are hand-rubbed, inside and out, with a secret seasoning mixture of salt and spices, then slowly smoked over hickory wood in one of the company's ten brick smokehouses. The birds, like almost all mail-order poultry, are then frozen for shipping. They arrive triple wrapped: in a plastic bag, then in a paper sack, then in an insulated cardboard box. From raw bird to boxed bird, the process takes four days.
The turkeys can be thawed and eaten immediately, or can be kept frozen for later. With the double preservation of smoking and freezing, they will last for six to eight days in the refrigerator or six months in the freezer. It takes real discipline, however, to put off sampling them. Witness a typical fan letter from a customer in Oklahoma: "I received my turkey a couple days ago. I'm sorry to say I will not be able to have it on Thanksgiving Day. Its aroma overcame my family and finally the flavor was the deciding factor in its life expectancy. It was delicious!"
The flavor is the key: A Greenberg turkey tastes like turkey. The moist, delicious meat, which can be served heated or at room temperature, makes wonderful sandwiches, is a great addition to salads, and gives an unusual taste to dishes like turkey hash. The shiny mahogany-colored skin is slightly salty and is best used to lend a smoky flavor to soups and stocks. Ditto for the carcass. The meaty wings make a great addition to pea soup, in place of ham.