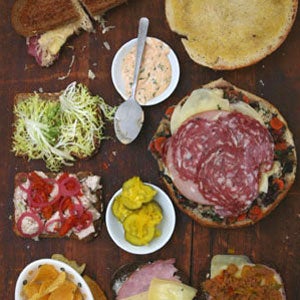 We may fancy the occasional panini, but our true love lies with great American sandwiches, foods that reflect regional provenance.
Consider the REUBEN, that wonderfully sloppy construction of sauerkraut, russian dressing, swiss cheese, and corned beef on grilled rye. The sandwich has long been deemed the invention of Arnold Reuben, a Manhattan deli owner, and yet convincing evidence suggests that Reuben Kolakofsky, a wholesale grocer in Omaha, Nebraska, in the 1920s may have been the father of the dish.
We also love modern renditions of old favorites, like the urbane, creamy-crunchy CHICKEN SALAD SANDWICH from the New York-based sandwich emporium 'Wichcraft. It includes walnuts, roasted tomatoes, pickled red onions, and frisee served on multigrain bread.
By contrast, the BOSTON BAKED BEAN SANDWICH is nothing if not traditional. The beloved open-face sandwich consists of beans mashed with sweet applesauce, spread on buttered brown bread, and covered with a vegetable relish, cold cuts, and cheese.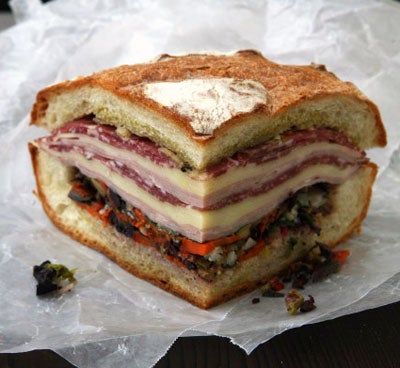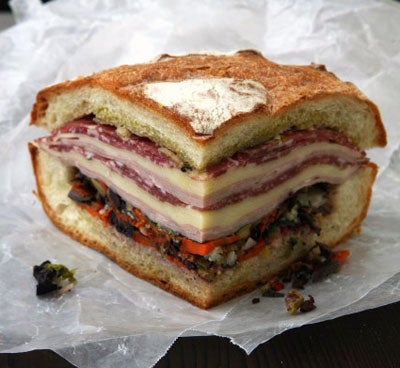 Muffuletta
This is the hero to beat all heroes. Invented by Salvatore Lupo, a Sicilian immigrant, in the 1930s at the Central Grocery in New Orleans, the muffuletta once served—and still does—as a hearty lunch for local workers. The key ingredient is the sandwich's olive relish, which suffuses the bread with its herb-infused flavors. The relish may be prepared up to three days in advance and refrigerated. See the recipe for Muffuletta »
Our all-time favorite may be the MUFFULETTA, an Italian-American New Orleans classic: provolone, mortadella, and soppressata layered inside a round loaf of bread on top of an olive-and-marinated-vegetable relish. Man, is it good.