Recipes
Chicken Salad, Walnuts, Roasted Tomatoes, Pickled Red Onions, and Frisée on Multigrain Bread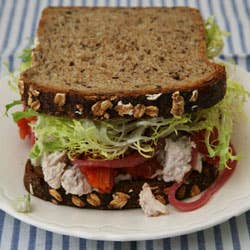 We love modern renditions of old favorites, and Tom Colicchio's New York-based sandwich emporium 'Wichcraft has devised just that with its creamy, crunchy, sweet, and pleasantly tangy chicken salad sandwich.
Ingredients
2 tbsp. extra-virgin olive oil
10 cloves garlic, unpeeled
8 ripe tomatoes, cored and halved
6 sprigs thyme
Kosher salt and freshly ground black pepper, to taste
1⁄2 cup red wine vinegar
2 tbsp. plus 1/3 cup sugar
1 tsp. red pepper flakes, finely chopped
Pinch of curry powder
1 small red onion, thinly sliced into rings
1⁄3 cup white wine vinegar
1⁄4 cup yellow mustard seeds
6 cups Chicken Stock
5 basil leaves
4 sprigs flat-leaf parsley
2 sprigs oregano
4 skin-on bone-in chicken breasts (about 2 3/4 lbs.)
1⁄2 cup chopped toasted walnuts
1⁄2 cup mayonnaise
1 tbsp. fresh lemon juice
1 rib celery, finely chopped
8 slices dense multigrain bread
1 head frisée, trimmed
Instructions
Step 1
Heat oven to 350°. Put oil, garlic, tomatoes, 2 sprigs thyme, and salt and pepper into a bowl and toss gently to coat. Transfer contents of bowl to a parchment paper–lined rimmed baking sheet, arranging the tomatoes cut side down. Bake until skins loosen, about 15 minutes. Remove and discard tomato skins and pour off any accumulated liquid. Reduce heat to 275° and continue baking, periodically pouring off any accumulated liquid, until tomatoes are shrunk but not dry, about 3 hours more. Set aside to let cool, then chop tomatoes and transfer to a small bowl. Season with salt and pepper, cover, and set roasted tomatoes aside.
Step 2
Put red wine vinegar, 2 tbsp. of the sugar, red pepper flakes, curry powder, salt, and ½ cup water into a small pot; bring to a boil over medium-high heat. Add onions and cook just until wilted, 1–2 minutes. Remove from heat, cover pot, and set aside at room temperature to let rest until cool; drain pickled onions.
Step 3
Put remaining sugar, white wine vinegar, and 1⁄3 cup water into a small pot; bring to a boil over medium-high heat. Add mustard seeds and cook just until they swell, 3–4 minutes. Transfer contents of pot to a bowl and set aside to let cool.
Step 4
Meanwhile, put stock, remaining thyme, basil, parsley, oregano, and salt and pepper into a large pot; bring to a boil over medium-high heat. Add chicken and return just to a simmer. Reduce heat to medium-low, partially cover pot, and cook, turning chicken once, until cooked through, about 20 minutes. Transfer chicken to a large plate and set aside to let cool. (Strain and save broth for another use.) Once chicken is cool, remove and discard skin and bones, then cut into 1" chunks and transfer to a large bowl.
Step 5
Drain reserved mustard seeds and add to bowl with chicken. Add walnuts, mayonnaise, lemon juice, celery, and salt and pepper; stir well to combine. Divide chicken salad between 4 slices of the bread. Arrange some of the reserved roasted tomatoes, pickled onions, and frisée on top of each sandwich, then top each with a second slice of bread. Serve immediately.