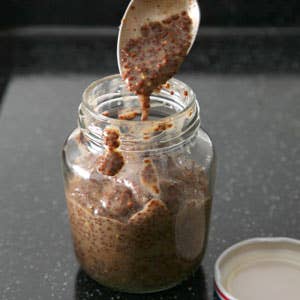 Culture
The Ways and Means of Mustard
When developing the recipe for Spicy Guinness Mustard featured in the Saveur 100 issue of January/February 2009, our editors turned to Rosamond Man and Robin Weir's The Compleat Mustard. This compendium of history and recipes is the most detailed tome on mustard we've ever seen; it details everything from the seed's original journey from Asia and the Middle East to Europe and America (mostly at the hands of spice traders and traveling missionaries) to the stories behind popular companies like Colman's, Grey Poupon, and French's.
Packed with details, the book offers enough mustard trivia to last a lifetime: who knew, for example, that one of the earliest recipes using mustard dates to a.d. 42 or that the French company Maille once flavored its mustards with the green liqueur Chartreuse? Through these and other colorful tales, the authors chart the many changes that mustard, as a condiment, has experienced over the years.
Best of all, the book arms readers with hundreds of recipes for mustard combinations and dishes that utilize the condiment, including a crisp roast pork belly with sesame mustard—a dish that hails from Norwich, England, but would also be at home in any American gastropub. Man and Weir don't shy away from mustard-inspired desserts, either. It seems that mustard lends a chocolatey flavor to chestnuts; that's one tidbit of many that will send curious home cooks to their kitchens to experiment.