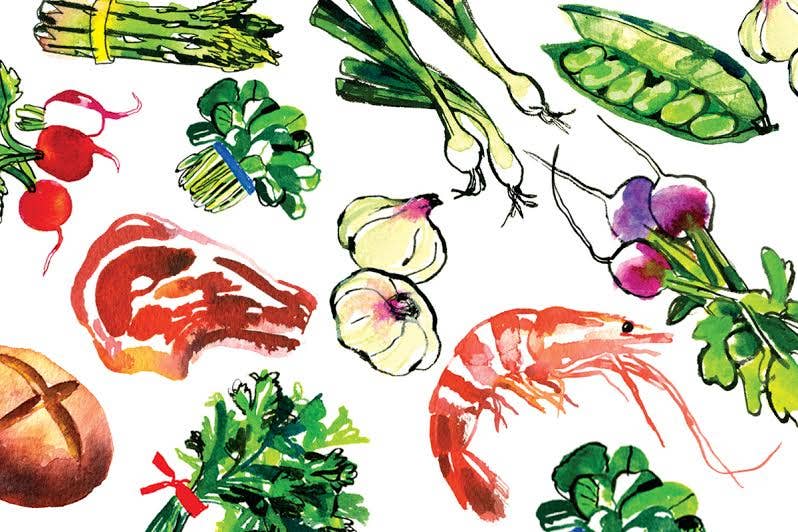 Shortly after noon on a lightly breezy summer day, we drive through white iron gates and up an allee framed in a dozen kinds of greenery into Michel Guerard's Les Pres d'Eugenie, in the French spa town of Eugenie-les-Bains, about 90 miles southeast of Bordeaux. Part spa (in both the stinky-water and aromatherapy senses), part luxurious hotel complex, part temple of gastronomy, Les Pres d'Eugenie is almost too perfect. Sparks of sunlight dance through tall old trees; birds trill and coo; the air smells of magnolias, eucalyptus, and verbena, with just an occasional hint of sulfur to remind us of its bains (mineral baths), favored by the empress Eugenie in the 19th century (thus the town's name). It is all so romantic, so exquisitely imagined and perfectly realized, that (as a friend of ours once remarked) you almost feel guilty here that you're not on your honeymoon.
Les Logis de la Ferme aux Grives (The Rooms at the Farm of the Thrushes) is one of four complexes housing the hotel's guest rooms, and it is here that we are installed. An early-19th-century villa faced in river stones, the Ferme is surrounded by gardens planted with antique roses, towering hollyhocks, and espaliered pear and apple trees. Our suite is straight out of some design-magazine feature on luxurious French country homes, with Oriental rugs on faded terra-cotta tiles, whitewashed walls accented with sea-foam green trim, an oversize bed beneath a baldachin draped in blue and yellow fabric, and single rosebuds in little bottles on every shelf and table.
We unpack and walk back along a verdant path to the main building, a provincial mansion with arched doorways and white shutters, where we are seated in a sunny, pastel-hued dining room. We eat extraordinarily well: an aspic of fresh crayfish with minute pieces of crisp celery and soft avocado, layered with sweet red pepper cream and a truffle-scented cream of celery and celery root; a "pillow" of paper-thin pastry enclosing morel and mousseron mushrooms, in a light butter sauce with asparagus; a delicate filet of oven-roasted royal bream, one of the most prized of Mediterranean fish, flavored with summer savory, lime zest, and a dice of preserved lemon and scattered with some early cepes; and a tourte feuilletee (in effect, a plump cylinder of puff pastry) filled with quail meat braised in red wine.
As we eat, it occurs to me that this food is so satisfying not just because it is superbly cooked but also because it is so mature in conception, without any hint of self-conscious creativity. There is no trust-me-because-I'm-an-artist nonsense—no shrimp in Campari sauce or foie gras with chocolate sorbet. Michel Guerard's food, which he now develops with two young chefs de cuisine, Stephane Mach and Jacky Lanusse, is not exactly predictable—there's too much transformation of ingredients involved—but it is comprehensible, recognizable, right.
The last time I ate at Les Pres d'Eugenie, some 20 years ago, the effect was very different. The food seemed newer, the vocabulary at least partly unfamiliar; I recall lightly smoked lobster (still on the menu), foie gras in a black pepper gelee, and ragout of pigeon with cepes and baby leeks. Such dishes may sound ordinary enough today, but for an American in the early 1980s, when many French restaurants in the United States were still serving onion soup and coq au vin, they were a revelation.
Born in 1933 in Vetheuil, about 40 miles northwest of Paris, Michel Guerard started his career as a pastry chef, becoming chef patissier at the Hotel de Crillon in Paris at the age of 24. But, says Guerard, "all patissiers dream of becoming chefs, and they generally make good ones". He was no exception, and in 1965 he opened a restaurant called Le Pot au Feu, in the Paris suburb of Asnieres. Though the dishes he was preparing (in addition to pot-au-feu and some other traditional fare) were no more adventurous than artichoke salad with truffles and foie gras or sliced duck breast with green peppercorn sauce, they were emblematic of a turning point in French cuisine.
Along with other young French chefs of the period, including Paul Bocuse, Alain Chapel, Jean Delaveyne, Alain Senderens, and Pierre and Jean Troisgros, Guerard was developing a lighter, simpler style of food—dubbed "la nouvelle cuisine" by food critics Henri Gault and Christian Millau in 1972. Among the god-
fathers of this movement were Fernand Point of La Pyramide in Vienne and Alexandre
Dumaine of La Cote d'Or in Saulieu, who were among the first influential French chef-restaurateurs to encourage creativity in the kitchen and to integrate regional products and dishes into a more formal culinary idiom. Another influence may have been the French popular revolt of May 1968. In their own version of self-determination, many young chefs sought for the first time to take control of their own kitchens and to cast themselves not as indentured cooks but as "auteurs-compositeurs".
Whatever its origins, nouvelle cuisine was largely misunderstood from the outset by the press, the public, and even many chefs. In its pure form, it favored creative freedom but did not dictate the addition of kiwifruit to turbot; it preached respect for raw materials but did not require that they be left raw; it held back on flour, butter, and cream but certainly didn't banish them entirely; it reduced portion sizes but introduced the menu degustation (tasting menu), so that three courses became six or eight and the overall amount of food consumed remained about the same. It also paid homage to regional traditions and local foodstuffs—an extremely important and often forgotten aspect of the style. Oh, and it wasn't diet food.
For that last confusion, Guerard must bear some of the blame. In 1972, he met and fell in love with Christine Barthelemy, whose family owns spas all over France. In an effort to win her affections, he put himself on a sort of haute cuisine diet and lost "some extra kilos". He and Christine married in 1974, and the couple (and his restaurant) moved to the family's spa in Eugenie-les-Bains—where by 1977 Guerard had earned three Michelin stars for his nouvelle cuisine. But realizing that fine food with few calories might appeal to spa-goers, Guerard had also by that time developed a subgenre of nouvelle, which he dubbed cuisine minceur (slimming cuisine). This was the cuisine of steamed vegetables and seafood, unthickened sauces, and carefully measured portions—the original "spa food". (Cuisine minceur is still part of the
spa program at Guerard's La Maison Rose in Eugenie; a 440-calorie dinner there last summer, for instance, included a cold omelette a la basquaise, steamed skate with braised fennel, verbena mousse with lemon jelly, and a glass of wine. Guerard submits to the regime himself twice a year—because, he says, cooking is a "dangerous" profession.)
Today, of course, nouvelle cuisine is over, an artifact, dismissed even by many of its creators (Bocuse, for one, rarely misses a chance to make fun of it). But its core principles changed French cooking, and by extension that of the Western world as a whole. "Nouvelle cuisine was original," says Guerard today. "It was something of a revolutionary movement."
It's not that anyone seriously interested in French cooking is unfamiliar with Michel Guerard, or that his reputation has grown tarnished with time. It's just that he's not on the hot list anymore. He's not Ducasse or Gagnaire or that Spanish fellow—not the magazine cover boy, the TV star, the one everybody chatters about. I've come back to Eugenie-les-Bains for the first time in 20 years out of hungry curiosity, because Guerard has apparently been thriving anyway—Les Pres d'Eugenie has been continuously expanded, remodeled, and refined over the years and is rated as high as ever in the important guidebooks—and I want to find out how good the food here is today.
"Maybe it's a bit my fault that we're somewhat forgotten," admits Guerard—who, at 70, is something of a gray-haired sprite, full of energy and radiating with a warm, wry grin—when I sit down with him over a glass of champagne, "because when you travel in France, it is not obligatory that you come to the southwest. But I have no regrets about being here. A place like this is a way of life."
For Guerard, that way of life involves creating new dishes, re-creating old ones, refining his life's work. "I'm not always inspired," he confides. "I have empty periods, blank pages, like everyone. But when it comes, it's wonderful. I make my cuisine intuitively, directly linked to my reactions.
I would like to be able to cook like a bird sings, completely free."
Guerard's cooking may have evolved, but his approach to food has stayed remarkably consistent. Daniel Boulud, who apprenticed with Guerard in the late 1970s, once noted of his food that it wasn't so much about technique as it was about "understanding the connecting wire of the recipe and being sensitive to how each ingredient hangs off that wire". Guerard's food, he added, was "simple in execution yet complex in taste". That pretty well characterizes the dinner we enjoy that night in the elegant, candlelit main dining room. We begin with a brown eggshell emptied of its natural contents and filled instead with an opulent mackerel gelee topped with locally made sturgeon caviar, and a bright-tasting salad of poached lobster pieces and semidried tomatoes lightly perfumed with lemongrass. Our main courses are a roasted chicken breast, juicy and full of flavor, brought to the table over a small, still-smoking charcoal brazier, and, also on a brazier, a remarkable little hearth-grilled squab, sweet and earthy, partially boned and "deviled" with a peppery, herb-infused vinaigrette.
The next day, before we leave, we have lunch on the terrace of the restaurant portion of the Ferme aux Grives—a faux-rustic auberge with a huge (functioning) interior hearth. We have garlicky, buttery escargots, out of the shells, in individual little cups; a Scandinavian-modern square of puff pastry spread with horse-radish-scented whipped cream and topped with smoked salmon garnished with dill and pink peppercorns; simple brochettes of chicken wings and big shrimp, interleaved with bay leaves and thick pieces of bacon, served with a curried mayonnaise; and a shared slice of "Mother Guerard's chocolate cake", a dense, extremely chocolatey terrine-like confection surrounded by a light coffee sauce.
Guerard stops by our table to say good-bye, smiling and glowing as usual. "I never want to retire," he told me yesterday evening. "The idea doesn't interest me. I have so much to occupy me. I'm obliged to think, to work hard, and I love that. This is a passionate metier, and I'm lucky to have the chance to continue to follow my passion. Passion transforms you."