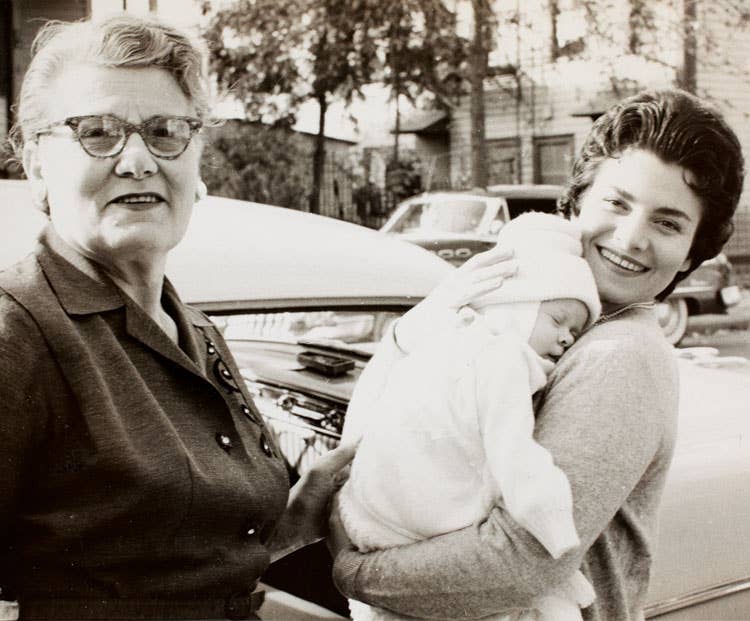 Travel
Just Us Cooks
In Nana's kitchen, cooking meant belonging, and the meatballs were second to none
My father's mother, Nana, was the greatest cook in the family, so my mother was at a disadvantage from the start. No matter how well she did—the crepes for her cheese blintzes alone were a work of art—Dad preferred Nana's cooking. It was never a fair match, and most of the time Mom didn't even try to compete. When Nana made gefilte fish, she started with live carp in the bathtub. Mom started—and ended—with a jar from the supermarket.
Nana, a tall, imposing woman, would take me firmly in hand as she strode, unafraid, into the squawking, stinking live poultry market that was still in existence in Passaic, New Jersey. Born and raised in Bialystok, which was Russia before World War I and Poland after it, Nana had a facility for languages—she could speak seven of them. This came in handy for her job, working in a store selling women's coats to Russians, Poles, and Germans. After she married the man who brought her to Passaic, they opened a produce shop there. Not particularly glamorous, but she managed to cultivate her many interests. She was a lifelong opera fan; I listened to WQXR with her every Saturday afternoon, to the Texaco-sponsored live broadcasts from the Met. In her younger years, the Yiddish theater was still vibrant, and she loved going to it on Second Avenue. When it waned, she took to Broadway. She also loved the movies, anything with Bette Davis or Barbara Stanwyck, strong women.
It just so happened that my mother had been named for Barbara Stanwyck. And in my mother, as in those cinematic heroines, Nana saw the possibility for a life and career she never dreamed of for herself. My mother's own mother was dumbfounded when she decided to pursue her doctorate in education, a rarity for a woman of her generation. What did a woman need that for when she was already married, with small children? Nana, however, not only championed my mother's ambitions, but made it possible for her to fulfill them. If she, for all her intelligence, had to settle for selling coats and cucumbers, the most constructive thing she could do would be to help her serious daughter-in-law earn the highest academic degree possible. So every weekend, for years, my father dropped my brother and me at her house so Mom could work toward her degree uninterrupted.
I spent hours watching Nana cook, and she always found a task for me. When she made chopped liver, she would screw a cast-iron grinder onto the edge of the kitchen table and let me turn the handle as she fed the livers into it. Later, we would sit in her living room in front of a small black-and-white TV to watch Julia Child. Just us cooks.
She made wonderful potted meatballs in sweet and sour sauce. She served them with rice on the side, never spaghetti, and you could break up the very large meatballs and mix them into the rice with the sauce.
Nana's brother, Coduk, also loved those meatballs. Coduk (pronounced SUH-duk) was actually famous in family lore for an inauspicious reason: He wasn't smart. In a Jewish family besotted with education, being a dummkopf was a shanda, which in Yiddish means shame. Coduk was, however, a gifted tailor, and worked at Chipps, a men's clothing store where he was known as the trouser man. He was also something of a ladies' man—he had quite a beautiful wife—and a legendary dancer. "In his hands and his feet, he's a genius," Dad and Nana would say.
I never had a conversation with Coduk—he spoke only Yiddish—but I do remember engaging him in some competitive meatball eating when I was seven or eight. He was matching and raising me until Nana cut me off with, "Your eyes are bigger than your stomach," which carried the inglorious sting of truth. I watched as Coduk continued to eat. In contrast to my penchant for turning all food into baby food, breaking it down and mixing it together, he was an isolationist. He kept his meatballs separated from his rice, which in turn was separated from his spinach. He ate each item sequentially, starting with the meatballs. I couldn't understand the point of eating rice plain when there was sauce to be had. Maybe what they said about him was true.
On most nights at Nana's house, she and I would sit at the kitchen table together after dinner, she with a glass of tea and a sugar cube in her mouth, me with a glass of milk and a Tootsie Roll in mine, so each mouthful would taste like chocolate. Later, if I woke during the night and started to cry, missing my mother, she'd sit with me at the kitchen table with all the lights on, and boy was I sorry then. By that point she had taken her teeth out for the night. There they were, near the sink in one of those glasses that used to be a Breakstone's sour cream container. Her face, which seemed like the one on Mount Rushmore to me, had lost half its heft. I was more afraid of that than the dark.
But in daylight at least, Nana's kitchen, like my mother's, was a haven for me, a place where I learned by osmosis. To this day, the ballet of bending and stretching for the appropriate pots or platters sets itself in motion, and all I need to do is follow along. Measure a cup of rice, notice how little is left, add it to the shopping list. Half watch, half listen to whatever news is on the small TV near the stove, while tapping out my spices in little multicolored heaps. Hear the water boiling for pasta without having to see it, smell when to turn down the heat under the onions. In my kitchen, where every gesture is small and distinct and insignificant to the world beyond my door, I am at peace.