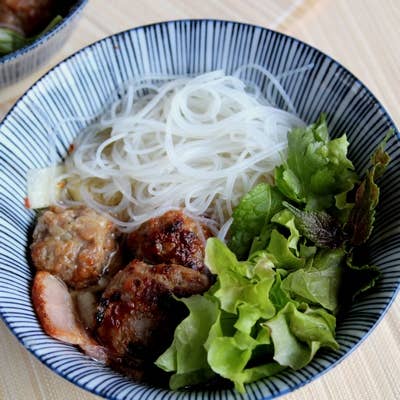 Travel
Bun Cha for Breakfast
Hanoi's signature food helps an expat feel at home.
Some people have weekend morning pancake rituals. I have bun cha. You might think it's odd to begin the day with a plate full of grilled pork patties, fresh greens, and rice noodles. But if you do, you probably haven't lived in Hanoi, where, along with pho, it reigns as the city's signature dish.
I was living in Hanoi to apprentice at La Verticale, an upscale Vietnamese restaurant run by Didier Corlou, a French-born chef who has lived in the country for over two decades. He might not have been Vietnamese by birth, but he was certainly by adoption; the country's food was his undying passion. I didn't work on Saturdays or Sundays, so I used this time to supplement my culinary education in the professional kitchen. That is to say, I ate my way through the city streets, stopping whenever I spied oversized steel cauldrons bubbling with aromatic broth or tiny charcoal grills emitting billowing wisps of black smoke. That's where I discovered bun cha.
I am an equal opportunist when it comes to bun cha. I ate fancified versions like the one offered at La Verticale and I inhaled the (arguably tastier) bowls peddled from makeshift restaurants, essentially a cluster of miniature blue plastic stools and tables housed in alleyways or small storefronts. Most Saturdays, though, I frequented a small open-air spot near my house in Tay Ho, a residential neighborhood just north of Hanoi's city center. This part of town is less frenetic, and therefore popular with the American expat community. The restaurant, located a few steps down from an ultramodern shopping center with an American-style grocery store, was nonetheless a decidedly local joint, albeit one that attracted its share of foreigners who, like myself, didn't necessarily believe that good food only comes in sterile packaging.
On weekends come eleven or noon — but no later than that, since the restaurant closed down by two — I found myself squatting on a tiny stool in front of a two-foot tall table, chopsticks in hand, eagerly awaiting my bun cha.
"Nem?" the elderly woman who ran the restaurant would inquire.
I'd nod my affirmation. When someone asks if you want fried spring rolls, the answer is always yes.
Shortly thereafter, she would bring over a small bowl with minced garlic and chopped red chile peppers, plus a large basket of torn lettuce leaves, Thai basil, mint, and purple perilla. Five minutes after that she'd return, carrying a plate of fresh rice noodles and fried spring rolls, and a bowl filled with nuoc cham — a fish sauce-based dressing — and grilled pork patties, their edges charred to a sweet crisp. I'd dip the noodles into the nuoc cham and slurp them up along with the pork, while nipping at the herbs and chomping on the nem. It was mouthful after mouthful of bliss.
But even in culinary paradise, there was discord. My bowl — like the bowls of all the other expats in this little restaurant — was perpetually devoid of the grilled pork belly served to the Vietnamese patrons. Perhaps the owner thought that we Westerners didn't have the palates for the fatty cut of pork, and preemptively nixed it from our orders. (I had once tried requesting the pork belly, but too much was lost in translation: pointing to my stomach and oinking probably didn't automatically signify "pork belly" as it did "I am a crazy foreign person.") And so over my three months in Hanoi, I never received the belly cut, and never stopped being envious of the locals.
On my last day in Hanoi before leaving Vietnam to apprentice at a restaurant in Tel Aviv (where I knew there would be very little pork!), I decided to have my final lunch at my beloved bun cha restaurant. As I waited for my food, I watched the motorbikes whizzing by down Xuan Dieu Road and the elderly women dragging along carts of fresh lychees for sale. The air was thick with humidity, a crown of sweat beaded my temples. I nibbled on a spring roll, feeling the crisp rice paper shatter between my teeth. Finally, the wizened owner brought my bowl of pork patties and set it in front of me, as she always did. Only it wasn't pork patties this time, but pork patties and grilled belly meat. My eyes widened with delight. Had this been a fluke? Was this bowl meant not for me, but for the Vietnamese teenager sitting to my left? It might have been, but maybe it wasn't: I like to think that by then, she considered me a local.
See the recipe for Vietnamese Pork Meatball and Noodle Salad (Bun Cha) »
Lauren Shockey is a food critic at the_Village Voice, and is the author of the cooking memoir_Four Kitchens
_ (Grand Central Publishing, 2011), in which a variation of this story appears._