Vietnamese Pork Meatball and Noodle Salad (Bun Cha)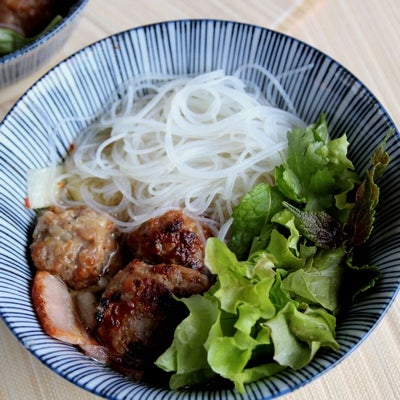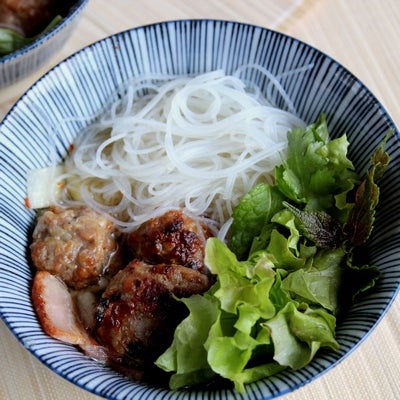 In Lauren Shockey's culinary memoir Four Kitchens(Grand Central Publishing, 2011), in which this recipe appears, the author writes: "After pho, bun cha is one of Hanoi's most famous dishes and is a delicious summertime lunch or light dinner. In Hanoi, you'll know you're at a bun cha stand by the smoke wafting from the charcoal grills. Living in New York City, I don't have the luxury of cooking pork on a charcoal grill, but my stove's broiler works just fine."
What You Will Need
Yield: serves 4
Ingredients
For the Pork Meatballs
2 tbsp. sugar
5 tbsp. water
1 lb. ground pork
1 large shallot, minced as small as possible
3 tbsp. fish sauce
1⁄4 tsp. freshly ground black pepper
For the Sauce and Serving
2 tbsp. fish sauce
2 tbsp. rice vinegar
1 tsp. brown sugar
1 1⁄2 cups water
1⁄2 tsp. minced or grated garlic
1 red thai chile, minced
2 tbsp. green papaya, cut into 1/4″-thick slices (optional)
1 lb. thin rice noodles
1⁄2 head red leaf lettuce, torn into small pieces
2 cups loosely packed selection of Asian herbs, such as cilantro, perilla, mint, sawtooth coriander, ngo herb, shiso, or Thai basil
Instructions
For the meatballs: In a small saucepan, combine the sugar with 3 tablespoons water and cook over high heat until a dark brown caramel forms, about 8 minutes. Remove from the heat and add 2 tablespoons cold water, swirling the pot.
In a large mixing bowl, combine the pork, shallot, fish sauce, caramel sauce, and pepper, and marinate in the refrigerator for 1 1⁄2 hours.
For the sauce: Combine fish sauce, vinegar, brown sugar, water, garlic, chile and green papaya in a large mixing bowl. Set aside to marry the flavors
To assemble: Bring a pot of water to a boil and cook the noodles according to the directions on their package. Drain, then rinse under cold water to halt the cooking process.
Shape marinated pork into small patties, about 15 to 20 in all. Heat a charcoal grill or a broiler to high. Grill or broil the pork patties until fully cooked and slightly charred, about 4 minutes per side.
Spoon the sauce into four bowls, then place the pork patties over the sauce. Place the herbs and lettuce in one large communal bowl and the noodles into another large communal bowl. To eat, dip some of the noodles into the sauce and eat with the patties and herbs.