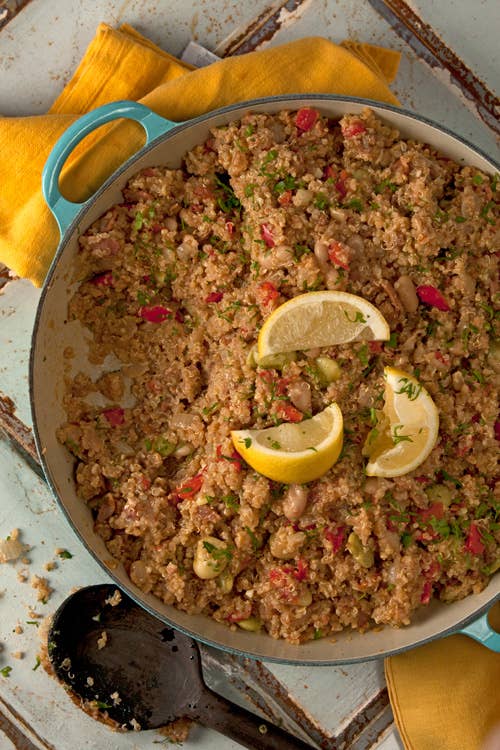 Travel
Hot Chile
Ancient ingredients like quinoa, merken, and piñones redefine the South American country's modern gastronomy
I like to think my Spanish is pretty decent, considering I've never taken a single lesson. But I was at a loss when the round, rosy-cheeked woman manning the empanada stall in Santiago's Mercado Central barked repeatedly at me: "Cachay? Cachay?" as she explained the various salsas that might accompany the large seafood pockets she was frying up. Cachay is one of the many anglicisms in Chilean Spanish; it means "did you catch that?" Clearly, I had not.
A wave of British immigration to Chile in the 19th century is responsible for the English influence on the language. Chilean Spanish is also littered with Italian and German inflections thanks to mass influxes from those countries, as well. Foreigners have not only influenced the language, but also the food of Chile—you might find machas a la parmesana (Parmesan-slathered baked razor clams) next to maize, pumpkin and potato dishes on a traditional menu, with kuchen or strudel for dessert. This past fall, while packing for my third visit to the country, I looked forward to tasting the fresh seafood, tangy Patagonian lamb, stacked churrasco-style meat sandwiches, a plethora of empanadas, and plenty of pristine avocado. I wasn't as excited about the fine-dining scene. Perhaps because of the strange convergence of foreign influences, and because the country's most iconic traditional dishes are rustic comfort foods likechariquican, a homey Mapuche dish made with dried beef, fancy restaurants in Chile have relied on an innocuous style of cooking that can only be described as "international." But on this trip, I was pleased and surprised to find the latest crop of young Chilean chefs embracing indigenous ingredients such as quinoa, merken (the traditional smoked-chili spice of the Mapuche tribe) and other ancient native foodstuffs, as the new building blocks of the country's modern gastronomy.
When I say "Chilean chefs," I use the term broadly. Top restaurants in Santiago and the coastal town of Valparaiso are attracting talent from outside the country. Take Sergio Barroso, a wide-eyed Spaniard who came to Valparaiso to head up the kitchen at Alegre, the restaurant in the newly opened Palacio Astoreca hotel. He cut his teeth at El Bulli back home, where he says he learned to value each and every ingredient he works with. Like the rest of the city, which is covered in graffiti and buzzes with a healthy angst and creative energy, the food at Alegre is colorful and playful. Barroso spent months researching Chilean dishes and products before getting to work on his menu.
"Chile is a country with a wide range of geographical contrasts and climates, which poses a very interesting challenge for a chef," he mused over slivers of llama prosciutto and his take on machas a la parmesana: Instead of baking the clams au gratin, he gently poaches them, and then shrouds them in an airy Parmesan foam. "The idea of haute Chilean cuisine has yet to be really established, but little by little this will happen. Chilean chefs are searching for something genuine, local and of high quality, and they are learning how to take advantage of their resources."
The Mapuche were once considered to be the fiercest tribe in all the Americas. They may be a peaceful (and largely vegetarian) people now, but they were the only tribe to stave off the Incas and the Spanish, never to be conquered by either. Perhaps this explains how their ancient spice merken has survived, to be revived as a trendy ingredient in today's Chile. Virtually unknown by urban Chileans a decade ago, it's now rather common to see merken on modern menus. Even piñones, the enormous pine nut-like fruits of the prehistoric monkey puzzle tree (literally: the tree dates back to the Cretaceous period), part of the Mapuche diet for centuries, are being used by chefs in contemporary preparations. One of the most vocal champions of indigenous ingredients is the boyishly handsome TV chef Rodolfo Guzman, whose Santiago restaurant Borago features foods foraged from the top of the Atacama Desert to the tip of Patagonia.
During my visit to Borago, the meal unfolded like educational dinner theater, each dish accompanied by a geographical and cultural lesson. He explained a pretty composition of fresh sea urchin adorned with white blossoms on a bed of sea greens:"The seaweed is from Quintay, on the coast." During dinner service, Guzman, who studied botany and biochemistry before deciding to become a chef, walked around the dining room chatting with guests and instructing them on the food's nature and lineage. "This dish is inspired by the hot-stone cooking of the Mapuche people," he said of a simple, slow-cooked egg sprinkled in black ash whose soft sunshine yolk turned muddy when I pierced it with my fork.
Avant-garde chefs aren't the only ones experimenting with native foods. There are also cooks like Maria Eugenia Terragno, once the executive chef at LAN Airlines, who now prefers to host strangers in her home (you can arrange to visit her for lunch through a company called Santiago Adventures). Guests are greeted by a simple spread of soft cheese, toasted bread and pisco sours served by the pitcher. Terragno likes to showcase native ingredients in a more familiar way, like in her "Andean paella", made with quinoa instead of rice. The not-quite grain (quinoa is a seed) packed with a complete protein has been an Andean staple since at least 3000 B.C. The plant thrives at high, dry altitudes. Quinoa fell out of fashion for a time, but since being rediscovered as a "superfood" has been experiencing a renaissance in Chile and elsewhere. In addition to trying the grain in Terragno's take on paella, I also tasted it in a riff on risotto, as well as in several side dishes and salads.
Even in the cracked caramel landscape of the Atacama Desert—the highest, driest desert on earth—I encountered chefs experimenting with ancient ingredients. At the Alto Atacama Desert Lodge, chef Daniel Molina scours the region for local herbs and rare fruits, and even grows some on the grounds (fertilized by the hotel's pet llamas, of course). Molina infuses pisco with rica rica, a sweet minty-rosemary-like herb traditionally used for sore throats that you might find growing in the sand on a desert hike, for an aromatic pisco sour.
"It is very simple, the food here," says Molina, who makes a habit of attending local religious ceremonies in order to gather more information about the herbs he cooks with. He may not use them medicinally like the natives do, but he aims to understand as much about these ingredients as possible—even if they're just going into a cocktail, ice cream, or tart. "They try to use all the things that grow here," he says, admiringly. "Cachay?" That, I caught.
Alto Atacama
Camino Pukara
Sector Suchor, San Pedro de Atacama, Chile
56/2/912/3945