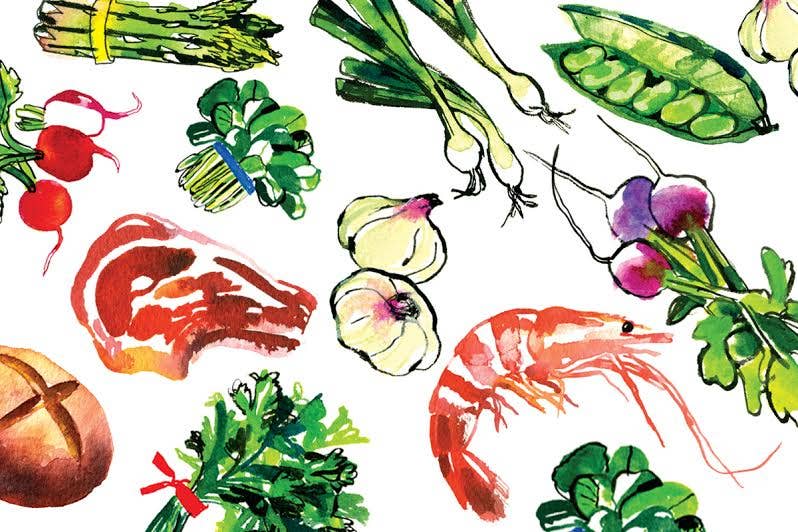 Travel
Cuisine of the Matriarchs
''Nine bulls, five sheep, seven pigs, and 75 chickens I killed,'' said Venancia Toledo Hernandez. She was describing her recent experience as mayordoma, or directress, of the celebrations surrounding the feast of San Geronimo Doctor, patron saint of Ixtepec—her hometown in the state of Oaxaca, on Mexico's Isthmus of Tehuantepec. Every town on the Isthmus honors its protector every year, and the resulting festivities are the height of the social season. Civic celebrations are typically hosted by a married couple, but sometimes a single man or woman will be the sponsor; in any case, the host is expected to pull out all the stops. Toledo did. ''Sixty thousand pesos [about $8,500] it cost me,'' she continued, ''for the food, the music, and the parades.'' She shrugged. ''But for us, prestige is everything.''
It is the food, with its bold flavors accented by sophisticated seasonings, that has brought me to the Isthmus three times—most recently last May, when the papaya and coconut trees were heavy with fruit, filling the air with a tropical scent. But it is the spirit of women like Toledo that I remember most vividly of all.
The Isthmus of Tehuantepec is a slim neck of land between the Pacific Ocean and the Gulf of Mexico. For centuries, even in pre-Hispanic times, merchant traders roaming the Pacific and the Gulf of Mexico stopped here, and the resulting convergence of cultures gave the region an identity very much its own.
The towns of the Isthmus are an anomaly in Mexico for another reason: They are largely matriarchal. No one seems sure how this unusual situation first came about. But the region is hot, and local men preferred to work the fields and to hunt and fish mostly at night—leaving the women to run the villages during the day while they slept. In any case, women now play an active role in the economic life of the Isthmus, owning businesses and making most of the decisions about everyday life. Women are also dominant socially. It is not uncommon, during the velas—all-night dances on the eve of saints' days—to find tents full of women dancing together while the men sit outside talking and drinking.
A role model here is the legendary Juana Cata Romero. Born a peasant in the early 19th century, Cata became immensely rich, owning several businesses and living in a two-story chalet. She dressed in spectacular outfits of velvet or peau de soie _covered in embroidered flowers'a style the women here still emulate. (Local fashions may have been influenced by the wares sold by Syrian fabric merchants who settled here—another element in the cultural mix.) For special occasions, Cata wore _el resplandor, the traditional festive Isthmus headware depicted in many Frida Kahlo paintings. She became the mistress of Porfirio Diaz, the Mexican president, and through their association, an intellectual community, known for its literature and music, flourished in the region. I grew up listening to the languorous tones of songs from the Isthmus, appreciated all over Mexico for their beauty.
Venancia Toledo Hernandez is an imposing woman herself, all the more so when adorned as she was at our first meeting: She wore a long, flowing, cotton skirt imprinted with blossoms in bright orange and red; over the skirt was a sleeveless tunic decorated with purple-and-yellow chain stitching. Her hair was in braids wrapped in shocking-pink ribbons; there was an oversized red hibiscus tucked behind her ear, and a heavy gold chain around her neck.
I met Toledo when I stopped at a combination butcher's stall and dress shop (!) in the Ixtepec market to ask where I could taste some regional dishes. The man behind the counter, Luis Armando Hernandez, told me that his mother, who owned the stall, prepared an assortment of local specialties for sale there every Sunday, and that he owned a catering business. As I started to jot down some of Hernandez's recipes, Toledo swept in with a decisive air—a businesswoman to be reckoned with—and introduced herself. As I quickly learned, she is the epitome of the Isthmus woman, strong and financially independent, with a take-charge attitude. An accomplished entrepreneur, she runs a small herd of cattle as well as the market stall. She also controls her family with an iron hand. When Toledo was a young mother with small children, her husband had an affair with another woman. Learning of his transgression, Toledo told me, she said to him, ''I love you madly, I will die without you, but if you love me so little that you can do this, go and never come back.'' After he left, she made a promise to San Geronimo Doctor that if her children (three sons and two daughters) survived to adulthood, she would host a spectacular celebration in his honor. When her youngest child was almost out of college, she did just that.
I learned all this when Toledo invited me home for lunch one day. We ate toasted corn soup, shrimp tamales, fried patties of dried shrimp, and a kind of meat loaf made with pork, beef, and sausage. But the real stars of the evening were two great Isthmus specialties: One was cochinito relleno de picadillo—suckling pig stuffed with vegetables and fruits, perfumed with Old World herbs and spices, its tender skin tasting of orange-and-red-chile adobo—extraordinary in its complex blend of flavors. The other was estofado de res, a famous Isthmus dish, which is one of the specialties Toledo sells in the market on Sundays. Pieces of a whole boned cow are layered with chopped fruits and vegetables in a huge pinecone-shaped ceramic pot on an outdoor stove. The pot is stirred all night over low heat until everything dissolves into a marvelous silky pastelike stew, at once sweet and tart, spicy and mellow. (Toledo sometimes makes a simpler version of the dish at home, in a pressure cooker.) It was a memorable meal, and one I wouldn't have found anywhere else in Mexico.
I had been introduced to Isthmus festive cooking not in Ixtepec but at a vela in nearby Juchitan, a year earlier. There, in a gaily decorated tent, while beautifully dressed women smelling of musky Maja perfume surrounded a brass band playing the songs called sones, simple but delicious food was served on paper plates. I was given a portion of something whitish and mashed—pure de papas, potato puree, I was told. I was stunned when I sampled it. There were so many different taste sensations—tangy, creamy, salty, spicy—exploding in my mouth like fireworks, one after another. In this simple dish I had found perhaps the richest blend of flavors I'd ever sampled in all of Oaxaca state.
One of the secrets of the dish, Venancia Toledo later told me, is pickled onions mixed into the potatoes. Her son, however, failed to share my enthusiasm. ''There is no real gastronomy in Juchitan,'' he snorted. Based on my subsequent experiences there, I'd have to disagree. The Bar Jardi­n restaurant is owned by Julio Bustillo and his wife Marta Toledo (no relation to Venancia). Toledo is a photographer, and a worthy representative of the juchitecas—the local women who have been much praised in songs and stories for their beauty. Bustillo is the president of a nonprofit environmental organization, and the restaurant is the intellectual and artistic center of the city—and something of a gastronomic center, too.
I had to remind myself that I was a food professional when the chef, Odilia Roman, offered me a daunting dish of stewed iguana with its black, leathery skin and globules of yellow fat swimming in an aromatic broth of tomatoes and chiles—but when I tasted it, I was pleasantly surprised by its rich, subtle flavor. I cleansed my palate with a spicy but comforting cheguiña (the name is Zapotec for masa-thickened chile soup) flavored with fresh epazote, and I loved the smoky flavor of the camarones enchilados, freshly caught shrimp cooked in a chile sauce laced with mayonnaise.
I wandered in the local market, which is set up around the town square and meanders into a white colonial building with graceful arches. The first time I went there, it was early morning, and I watched as the flower sellers put out their wares, illuminating the arches with a profusion of color. The air was suffused with the intense aroma of the corozo palm. Bouquets of primroses and basil sprigs abounded. (The herb is not used in cooking, but is placed on home altars as an offering or used in limpias—spiritual cleansings—to ward off evil spirits.) There were baskets of red flower petals to sprinkle on graves, and strings of fragrant frangipani blossoms in pink, yellow, and waxy white, to be worn like leis, draped around the statues of saints, and used to make a drink called bupu.
The market has a surreal quality about it, due at least partially to the fact that it is almost devoid of men. Women do the business here, both the buying and the selling, and the market is their world. Big and lush, they wear their girth proudly, swinging and sauntering at the same time. They are always impeccably groomed and sweet-smelling, despite the heat and humidity. They charm and cajole, knowing what they want and how to get it. ''Don't you watch television?'' one juchiteca said with ironic good humor to a less-than-friendly colleague as I passed. ''Don't you know that the tourist is the friend of the people?''
Even the food can have surreal aspects. At one point, I saw something that looked like dented Ping-Pong balls, and was horrified to learn that these were turtle eggs. Although illegal, they are still much in demand as an aphrodisiac. I also saw an iguana seller who wandered through the market looking like a Medusa, with live specimens clinging to her braids. And it was hard to avoid tripping over live armadillos, chickens, turkeys, rabbits, and piglets.
Elsewhere, there were mounds of dried pink shrimp, one of the indispensable Isthmus flavorings and the main ingredient in the famous local guetabingui, or oven-baked tamales. At one food stand, I had wonderful chicken stuffed with piquant beef picadillo. At another I tasted guiñado xuba, a soup of toasted cracked corn kernels and fat pieces of pork. I also sampled fat, chewy corn cakes called gordas, and the wafer-thin corn tortillas of the Isthmus called totopos, made in tandoorlike ovens. Bread sellers offered an astonishing assortment of wares, from simple bolillos (rolls) to squares of the pound cake-like marquesote, with its squiggles of white icing. I marveled at the variety of mangoes—manila, petacon, piña, criollo, manzana, melocoton, oro, and platano—each with a characteristic color, flavor, texture, and aroma. I bought a tiny mango piña, or pineapple mango, dripping with juice, and sucked it like a Jiffy Pop.
Of all the festivals I've attended on the Isthmus, my favorite was the one in honor of Santa Rita de Casia in Ixtaltepec. The first stage of the festivities, the calenda, began at 8 o'clock at night with a procession leaving the house of the mayordomo. At its head was a young man lighting firecrackers, followed by a brass band accompanied by the plaintive strains of the chirimia, an ancient oboelike instrument, and the beat of the teponaztli, a tree-trunk drum. The procession wound through the streets, ending at the neighborhood church, from whose ceiling hung hundreds of plastic pails, prized for their bright primary colors. By now the whole town had turned out for the party. In the plaza outside the church, old women, drinking lukewarm beer, danced with demure young girls in a whirl of color, while the men swigged mezcal from the bottle, and the children lost their pesos at the game stands. Around midnight there was a spectacular fireworks display culminating in elaborate castillos, fireworks mounted on turrets. Circles spun, stars exploded, and, as a climax, a figure of Santa Rita burned brightly.
The second stage of the festivities, held late the next afternoon, was an even more elaborate procession that ended with the traditional regada de frutas, or scattering of fruit. Young men dressed in black charro _outfits calmed their excited horses, which were decorated with paper flowers and gleaming silver ornaments. Fifty girls in intricate chain-stitched yellow-and-red dresses stood in a row behind their _capitana, a tall girl with a proud Zapotec face. Twenty men carried four-foot-high beeswax candles. Women seemingly emulating the dress of Juana Cata Romero fanned themselves in the shade of the almond trees. When the procession reached the church, the marchers threw out favors to the crowd—soap, candy, beans, plastic bowls, pottery mugs. Fruit was nowhere to be seen; maybe it isn't considered precious enough for special occasions these days.
For that night's vela, the community hall was gaily decorated, and a lavish spread of food was set out. The women, ignoring the men, again danced with each other, swaying sensuously. The celebrations came to a close two days later, after everyone had rested, with the lavada de olla, or pot-washing. This was another largely female affair, with more music, dancing, and food—a celebration of the independent spirit of women who would have made Juana Cata Romero proud.