Eating in Oregon: The Portland Farmers Market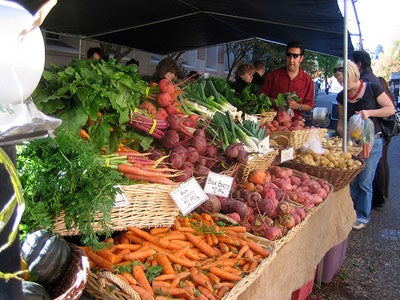 This weekend I hopped a train heading south to Portland with room in my suitcase to spare. I couldn't wait until Saturday morning, when I knew the famous Portland Farmers Market would be open in all its autumn glory. Sure, Seattle has plenty of farmers' markets that delight and dazzle. But Portland's sprawling Saturday market, laid out over the central grounds of Portland State University, is a gem. Maybe it's about being in a new city, and seeing things through the lens of a starry-eyed visitor. Maybe it's the Pinestate Biscuits that tip the scales. No matter. The sun shone bright through Portland's leafy trees. From blocks away as we approached, we passed happy customers with their bags laden with flats of berries and their arms wrapped around generous bunches of dahlias. But for all that tempted, nothing could compare with the fresh baby artichokes on sale for $5 a bag. Knowing we had a fridge in the hotel room, I quickly snapped up a bag, kept it cool the rest of the weekend, and tucked these babies carefully into my suitcase, cradled by clothes. Happily, food writer Cheryl Sternman Rule's wonderful recipe blog, 5 Second Rule has the perfect recipe to put my baby artichoke haul to use.
A.V. Crofts writes from Seattle and hosts the website Pepper for the Beast.